Chris Evans' Fourth Of July Tweet Included A Sneaky 'Avengers' Reference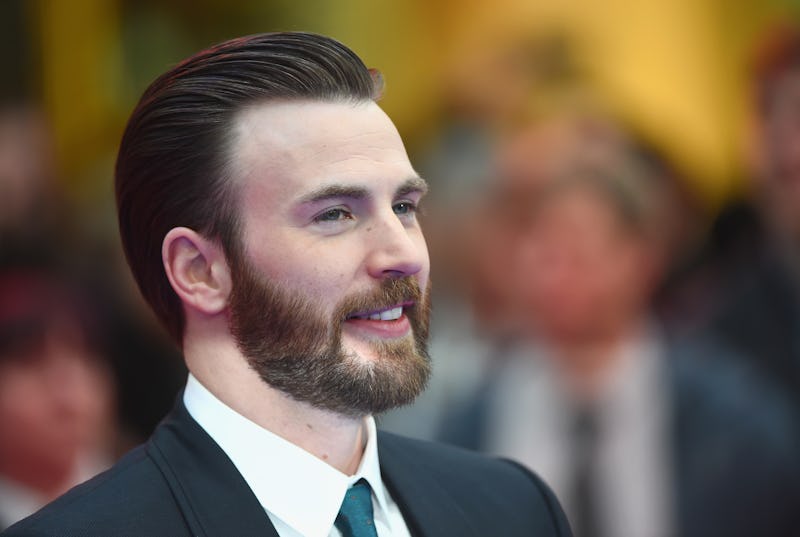 Ian Gavan/Getty Images Entertainment/Getty Images
Captain America is just about the most patriotic fictional character of all time, and he has the birthday to back it up. This year marks Captain America's 100th birthday, and Chris Evans wished Captain America a "happy birthday" with a clever Fourth of July tweet that doubled as an homage to his most famous role.
As ScreenRant explained, fans know Captain America's birthday thanks to a quick moment in 2011's Captain America: The First Avenger, in which Evans starred. When Steve Rogers applies for the army, his birth date — July 4, 1918 — is visible on his medical records.
Still, while Evans' version of Steve Rogers is officially 100, not every iteration of Captain America has the same birthday. ScreenRant also noted that in The Adventures of Captain America #1, Rogers was born in 1917.
In Evans' tweet, the actor wrote that he loves and is "proud of" the United States, before mentioning a "friend" who happened to be celebrating a July 4 birthday. Evans wrote,
"Happy 4th everyone!! I love this country and I'm proud of how far we've come. Be safe today! Also, Happy Birthday to a very good friend of mine. I hear 100 is the new 20"
But while Captain America may officially be at least 100 years old, he's in remarkably good shape for his age. After falling into a frozen lake, Cap stayed frozen for almost 70 years.
Plenty of fans also tweeted their well wishes for Captain America on his birthday.
And a number of fans pointed out that Captain America often displayed better politics than many people who are in office today. "I have decided: I'm celebrating Steve Rogers' birthday tomorrow so I don't feel awkward with how our country is being right now. Captain America > fascism," one fan tweeted on Tuesday.
13 Reasons Why actor Christian Navarro, who plays Tony on the Netflix series, also got in on the Captain America tweet action, pointing out that Cap "isn't a racist."
For some fans, though, Captain America's birthday is bittersweet. As ComicBook.com pointed out, the fourth Avengers movie could be Evans' last time filling Steve Rogers' shoes. In a March interview with Entertainment Tonight, Evans said that his Marvel contract will be over after the 2019 movie. He told ET,
"[I'll miss] everything [about Captain America]. I mean, it's not just the character, it's the people — the experience, such good movies, such wonderful memories. I'll miss a lot."
That's not to say that there's no chance of Evans landing a new Marvel contract. But then again, Avengers 4 could very well be Evans' last Marvel film. He's played Cap in nine Marvel movies, Entertainment Weekly noted, so it could be time for him to part ways with the character.
And for fans who are wondering just how Cap survived decades of being frozen, there might finally be an answer. Citing a fan who visited the Marvel Avengers S.T.A.T.I.O.N. exhibit in Las Vegas, The Express reported the fan's explanation:
"Physical examination of Capt. Rogers revealed that while thickened, his blood's water was not frozen. Blood tests revealed that his blood contained excessive amounts of glucose as a result of his liver processing his glycogen stores, thus lowering the freezing temperature of blood-borne water and creating a 'cryoprotectant.'"
The scientific explanation is way over my head, but I'll assume that the fan's theory (The Express identifies the fan only as DarthAlex22) is legit. If there's anyone who can put off the aging process and live through years of being frozen, it's Captain America.