Chris Harrison Just Weighed In On The Possibility Of Colton Being The Next 'The Bachelor'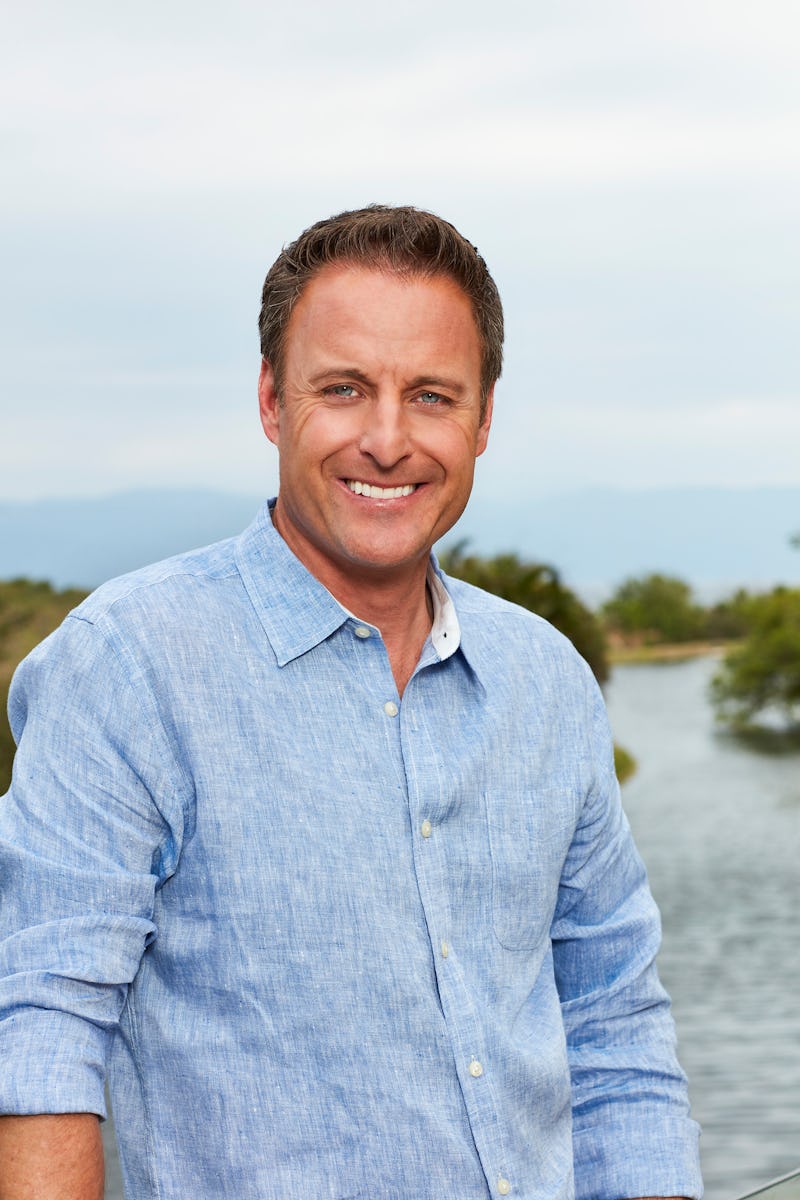 ABC/Craig Sjodin
The whole Bachelor franchise has taken up a ton of people's time (and sanity) over the last 16 years. Fans love the series, they love to debate about it, and they hold a candle up for their picks for the next Bachelor or Bachelorette. The next one up is The Bachelor, and fans of course have been speculating who's going to be be the next giver of roses in the franchise, with Colton Underwood rumored to have been given the coveted gig. Longtime host Chris Harrison spoke about the possibility of Colton as the next Bachelor in a recent interview with Entertainment Tonight, and he had some thoughts.
Harrison gave some insights into a few different topics in his recent interview with ET, one of them being his thoughts on how Colton would do as the next Bachelor. When asked about the off and on relationship between Underwood and Tia Booth, Harrison said "If he's single, Colton would be a very interesting Bachelor." The relationship status of those two could go either way — they've been on-again-off-again since before Colton was even a part of Bachelor Nation — and if he ends up single (again), being the lead of his own season may be the next move.
When he debuted in Becca Kufrin's season of The Bachelorette, Colton seemed like quite the catch. He was charming, pretty moral, and a sweet soul. There was a lot of talk over his virginity, but other than that, he didn't really have any major problems or drama in the mansion — except when it came to Tia. He built a strong bond with Becca, but Colton was eventually sent home after Tia expressed that she still had feelings for him. Despite giving Becca the blessing to date her ex early in the season, Tia came back later and said seeing the two together "made [her] sick." And that was the end of Becca and Colton.
The two were then (of course) cast on Bachelor in Paradise and have been a couple on the popular Bachelor nation spin-off. However, it's not a guarantee they'll end up together at the end of the season. And, if you were rooting for Tia and Colton to make it out of Paradise together, it looks like Harrison might have some bad news. Speaking about the prospect of Colton as the next Bachelor, Harrison said:
"We look at a lot of things when picking the Bachelor, and good TV and good story is a lot of it. Colton has all that in spades. There's the, "Is he ready for this?" angle with Tia, and is that still hanging over him? Obviously, we'll see how that plays out in Paradise."
As for what Colton would bring to the table as the next Bachelor, Harrison said that he'd be interested in seeing Colton have to navigate the journey as a virgin and what emotional conversations that might inspire in a hypothetical season:
"Then there's the virgin angle. We have this guy who was brought to tears during "Men Tell All" about dealing with this. If he's willing to put that on display as the Bachelor, I would find that fascinating in this day and age. … The women having to deal with that — I think it would be a fascinating story. And that's a lot of what makes a good Bachelor. It's a compelling argument if he's single and willing to do it."
It's likely that this interview took place before Reality Steve tweeted out a spoiler rumor that Colton will be the next lead of The Bachelor. "I know ABC has made last minute changes in the past so it's not technically official, but after the Paradise reunion taping yesterday, I'm hearing that they will be announcing the next 'Bachelor' soon and it will be Colton," he tweeted out Aug. 29.
According to Harrison, Bachelor production starts in a few weeks, so the announcement for who's going to be the newest face of Bachelor Nation should be coming soon enough. And with these rumors, Colton may very well just be the guy.