'The Bachelor' Host Chris Harrison Posted The Sweetest Instagram About Arie & Lauren's Wedding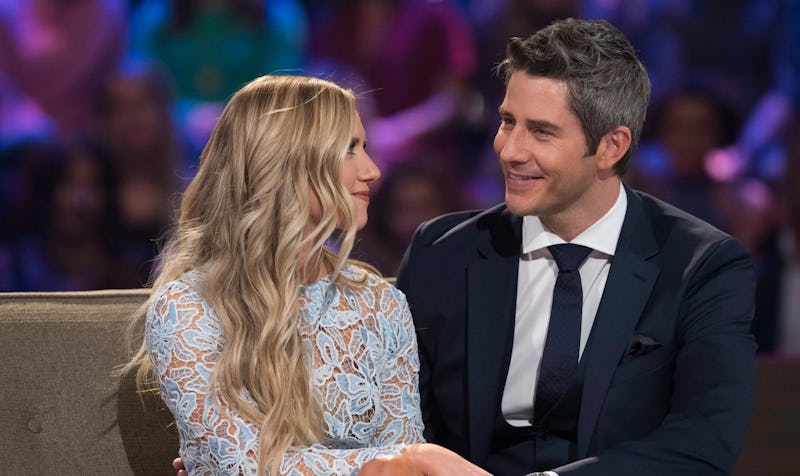 ABC/Paul Hebert
The Bachelor couple Arie and Lauren are going to officially tie the knot on Saturday, Jan. 12 on the Hawaiian island of Maui. Of course, The Bachelor host Chris Harrison posted about Arie and Lauren's wedding throughout the weekend as he was not just a guest, but the officiant for the nuptials.
Chris was present for Arie and Lauren's rehearsal dinner on Friday night, according to Us Weekly. The dinner was aboard a whale watching cruise on the Lahaina Harbor, reported the publication. On the day of the wedding, Chris posted a selfie with Arie and Lauren tagged at Lahaina Harbor with a sweet caption:
"It's been an incredible week full of love and laughs. Today I'm honored to stand before your friends and family and officiate your wedding. Love you both @ariejr@laureneburnham I now pronounce you....."
On Friday, Jan. 11, Chris posted an Instagram Story of a Hawaiian sunset. "Aloha @ariejr and @laurenburnham," he wrote, tagging their respective Instagram accounts. "Almost time for the journey to begin." Chris also posted an IG Story from the event as well: a photo from the boat and a whale in the water. He captioned the photo with a pun: "A whale of good time [whale emoji]."
Arie made headlines in 2018 when he broke off his engagement to Becca to get back together with Lauren. But these two appear to be a perfect match. Not only are they getting married on Saturday, the couple is expecting their first child this spring.
Chris has been supporting their relationship every step of the way. As the Bachelor Nation host, Chris always seems to be truly invested in the show's romances, and this time is no different. In December 2018, the Bachelor host revealed to Entertainment Tonight that the happy couple had asked him to officiate their big day.
"They said, 'We'd really love it if you would fly out and officiate the wedding for us. We can't think of anyone better,'" Chris told ET. "I was really touched. I'm honored... it goes to show just how much we do care and love these people, and how tight we are off-camera."
Chris definitely looks like he's part of the family in the sweet IG stories that the couple and their guests have been sharing in the lead-up to the wedding. As they prepared for the big day, Arie and Lauren treated their guests to a luau and a pineapple farm tour, in addition to the whale watching. It's been one adventure after another for the attendees, which include plenty of Bachelor alums like Jenna, Seinne, Maquel, Marikh, and Jacqueline.
One thing is certain, Arie and Lauren seem more than prepared to take the next step in their relationship, and they seem happy to have Chris play such a major role in their wedding. While their path to marriage may be a bit unconventional, The Bachelor brought these two together, and that's only going to make the moment when Chris pronounces them husband and wife all the more special for everyone involved.