Chris Hemsworth's New 'Men In Black' Photo Is A Perfect Nod To The Original Movie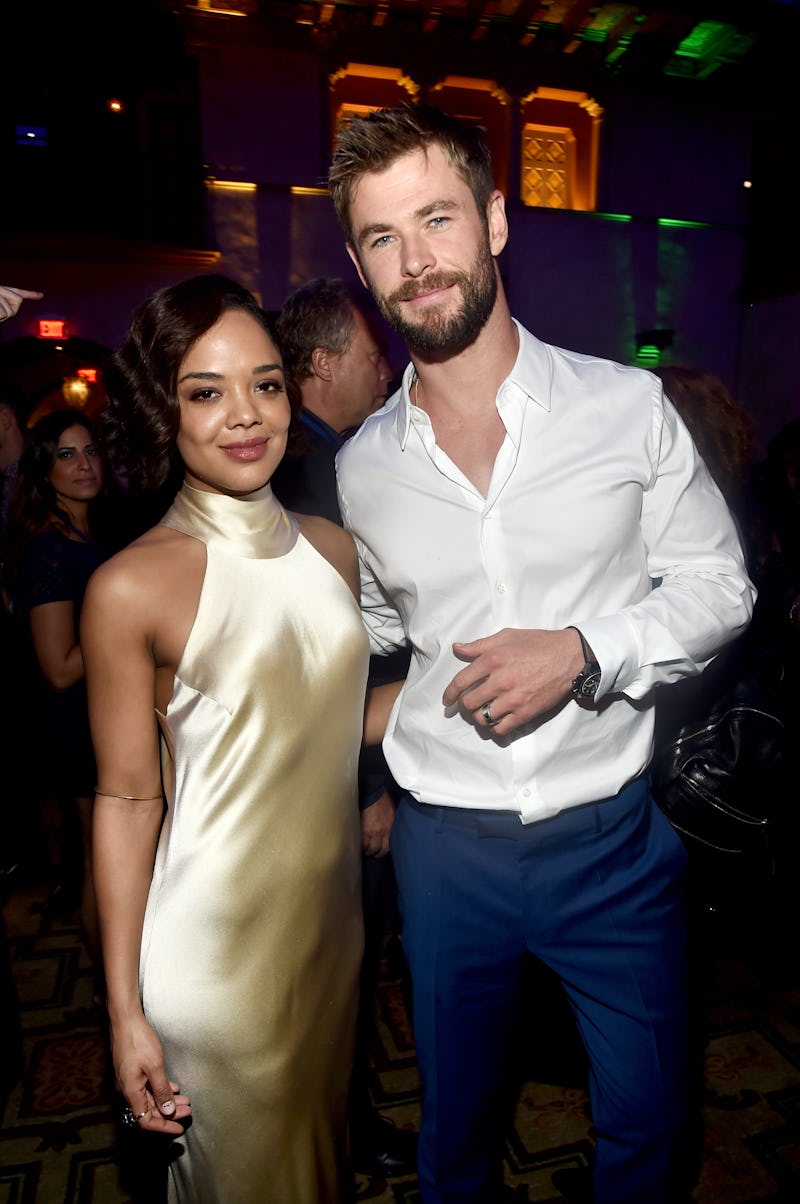 Alberto E. Rodriguez/Getty Images Entertainment/Getty Images
You have to admit, they make those suits look cool. On Dec. 7, Chris Hemsworth shared a new Men In Black International photo featuring him and his co-star, Tessa Thompson, in action as the newest alien-fighting agents. Seeing them suited up and ready for action is enough to make even the most die hard fan of the originals excited to see what the franchise's reboot has in store this summer.
Hemsworth's flashback Friday post of him and Thompson shows them wearing the classic black suit and white shirt attire of the Men (and Women) In Black. In addition to their snazzy outfits, they're getting down to business with their alien-fighting guns up. The scene seems tense, but Hemsworth wants everyone to know that he and Thompson have got it all under control. His caption reads:
#FBF shooting MIB with my partner in galaxy protection @tessamaethompson when we were ripping aliens a new one. From memory, this shot was taken in between set ups when Tessa and I noticed some criminal activity on the streets in London. We immediately drew our laser guns and took down one of the largest crime syndicates in the city. Happy to say the streets of London are now safe again. You're welcome world. #MIBInternational 🕶️ @meninblack
The super cool photo was promptly reposted by the official Men In Black Instagram account, which added, "Aliens won't know what hit 'em." After what viewers saw in Thor: Ragnorak, this duo is all sorts of a power team up, and any alien in their right mind wouldn't want to go up against them.
The original Men In Black, which came out in 1997, was about a regular cop, expertly played by Will Smith, who undergoes the most intense job conversion when he becomes a secret agent in an alien protection organization. He (Agent J) and Agent K (Tommy Lee Jones), had three movies about their adventures as partners. But the new movie will be about two completely different agents — reportedly, Hemsworth will play Agent H and Thompson will star as Agent M — living in the same universe as Agents J and K. Further tying the films together, Emma Thompson will return as Agent O, the chief of the MIB organization from MIB 3, and Liam Neeson will be joining the franchise as head of the London MIB office.
Thompson also posted a new picture to her Instagram over the weekend, reposted by the official account, with the caption:
"#FBF to me & @chrishemsworth (the 'Fred' to my 'Ginger') saving the universe, YES, even with sand in our shoes. Also, it was casual Friday— that's why we lost the jackets— which was handy because it was the Sahara. #MIBInternational @meninblack"
While there's no news about when a trailer will drop, the movie's release date is currently set for June 14, 2019. Until then keep your fingers crossed for more Tri Barrel Plasma guns, stylish black suits, and neuralyzers to come in 2019, because these new agents are already winning us over with their world-saving skills.