A 'Men In Black' Spinoff Is Happening & But If It Doesn't Have Female Leads, What's The Point?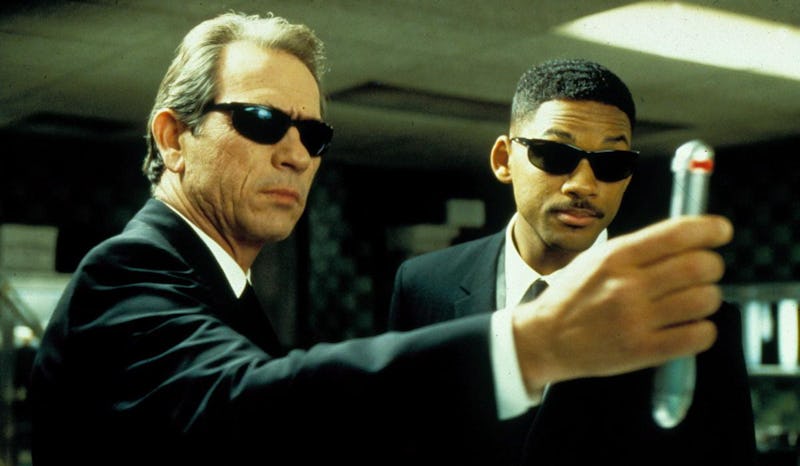 Sony
It's been over 20 years since the Will Smith and Tommy Lee Jones sci-fi comedy Men in Black hit theaters. And like any movie or TV property that's about that age, it's coming back. A spinoff of the franchise is already in the works, with Matt Holloway and Art Marcum of Iron Man and Transformers: The Last Knight penning the script. And this week, it was announced that F. Gary Gray, who directed Straight Out of Compton and The Fate of the Furious, will be taking the helm. It's awesome that a director of color is getting the reigns on a big budget film, but if the Men in Black spinoff is going to connect in 2018, perhaps it should be called Women in Black instead.
Hollywood has been experimenting with all-female reboots for a couple of years now. The summer of 2016 saw a lady-led remake of Ghostbusters, which was pretty darn good, and addressed some feminist issues of the modern era. This summer, we'll get the Sandra Bullock-led caper Ocean's Eight, also featuring Rihanna, Mindy Kaling, Cate Blanchett, pop star Awkwafina, Sarah Paulson, Helena Bonham Carter, and Anne Hathaway. Like Ghostbusters before it, Ocean's Eight is getting the misogynist backlash treatment online. But Bullock is clapping back, and many supporters are hoping that the movie will feature a massive heist pulled off by eight women, when the all-male versions of the series took 11, 12, and 13 dudes to accomplish the same goal.
So why not give the new Men in Black the all-female spin, too? Not only are we in different times than 20 years ago, but seeing all types of women on screen is more important than ever. Representation and diversity are in demand because women and people of color want to see themselves on screen, in the director's chair, and listed in the credits. Women led the three biggest movies of 2017, and with initiatives to bring more female faces into storytelling and to get more women making movies, it would be utterly stupid for a Men in Black spinoff to cast two guys again in its lead roles. Heck, I don't think the movie would even survive the inevitable backlash.
And in addition to bringing on female leads, perhaps the reboot could bring back Emma Thompson as Agent O, or revisit the mysterious disappearance of Agent L (Linda Fiorentino). In the first movie, L was a medical examiner who got caught up in the hijinks of alien secret agents J (Smith) and K (Jones). She was super smart, brave, and persistent in solving cases despite getting flack from the guys. Heck, they needed her. So when Agent K retired at the end of Men in Black, Agent J brought on L as his new partner. But 2002's Men in Black 2 brushed off her character and gave her a lame exit, with Agent J referencing that she wanted to go back to the medical field.
Reboots and spinoffs aren't always great ideas, be they traditional or all-female. Women on screen deserve original stories, with original scripts, and diversity in front of and behind the camera. But let's face it, this Men in Black spinoff is going to happen, and if it's going to happen, we might as well push for gender parity as it goes down. All-female reboots might be all the rage right now, but it's for an important reason, and if Men in Black wants to avoid being seen as just another male-dominated tentpole, it better add that W and O to its title.