Chris Hemsworth Thinks Charlize Theron Should Be The New Bond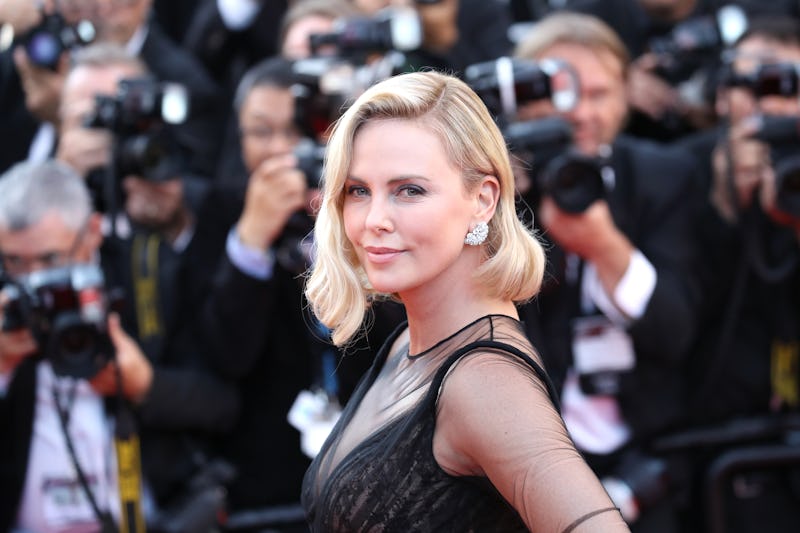 Chris Jackson/Getty Images Entertainment/Getty Images
Bond, Charlize Bond. It has a certain ring to it right? Well, Chris Hemsworth thinks Charlize Theron should be the new Bond, and he argues the point eloquently enough that hopefully someone out there in Hollywood is going to be swayed. But, as right as Hemsworth's reasons are, Theron has other qualities that would make her an amazing Bond. And these are, in fact, qualities that have previously been cited by The Telegraph as what an ideal Bond has to embody.
In a video interview for W Magazine, Hemsworth claims that he was the first person to suggest Theron for the role of Bond because "...she scares the hell out of me and I think she could beat the sh*t out of me and most villains out there." But he didn't stop there. "She embodies every ounce of strength and nobility and dignity and integrity that that character should have," he continued. "She's smart as hell. She's physically able, I've worked with her on Snow White and the Huntsman watching her in those fight scenes, doing it in high heels by the way and an eight foot long gown was even more impressive and I just think why not. It's time."
If you were fortunate enough to see Theron's turn as the cyberterrorist Cipher in The Fate of the Furious, then you'll know that she's perfectly capable of being an intimidating onscreen presence and action heroine. Her role was one of the most watchable parts of the eighth installment in the car series, proving that she's got what it takes to front a Bond movie. But being Bond is about more than being a convincing badass.
The Telegraph argues that, to be a good James Bond, the actor must "be age appropriate." Which apparently means "old enough to have convincingly risen to rank of Naval Commander, but significantly younger than Roger Moore in A View To A Kill (57), by which point 007's bedroom antics make him look like Her Majesty's finest dirty old man." If you consider the three most highly rated Bond films on Rotten Tomatoes, then Sean Connery was 34 when Goldfinger came out while Daniel Craig was respectively 38 when Casino Royale came out and 44 when Skyfall dropped. As such, at 41 years old, Theron is of an ideal age to assume the role.
The same article argues that the ideal Bond will have "good looks" and will "ooze sexual charisma," and there's little to say here except that, presumably, you have eyes and therefore know this information to be true about Theron.
More interesting, perhaps, is The Telegraph's claim that "physical intensity" was what Craig brought to the role and is what the next Bond should strive to meet or exceed. Watch the trailer for Theron's current movie, Atomic Blonde, (in which she plays a spy, just saying). Or go and re-watch Theron's work in Mad Max: Fury Road. There's all the proof that you need that Theron doesn't disappoint on this score either.
Finally, the article also claims that Bond, he of the perfectly-pressed suits and the powder blue toweling playsuit (in Goldfinger) before onesies were a thing for men, should have "universal style." Obviously, Theron takes the crown here. With her classic, pared back style (which in its restraint and attentiveness to tailoring, is curiously reminiscent of Bond's own personal style), she often makes best dressed celebrities lists.
Theron is everything Bond is. She's impeccably attired, strong, sexy, brutal when she needs to be, and mature enough to know what's up. While there are plenty of contenders to replace Craig, it's going to be hard for someone from a similar demographic to the British star — i.e. white, male — to compete, simply because Craig was much too beloved as Bond and any similarities will only be held against the next star. If the studios are smart, they'll opt for a whole new spy, and make that Bond a woman.