The 'Bachelorette' Showdown Between Chris & Lincoln Got Really Ugly & Twitter Is OVER It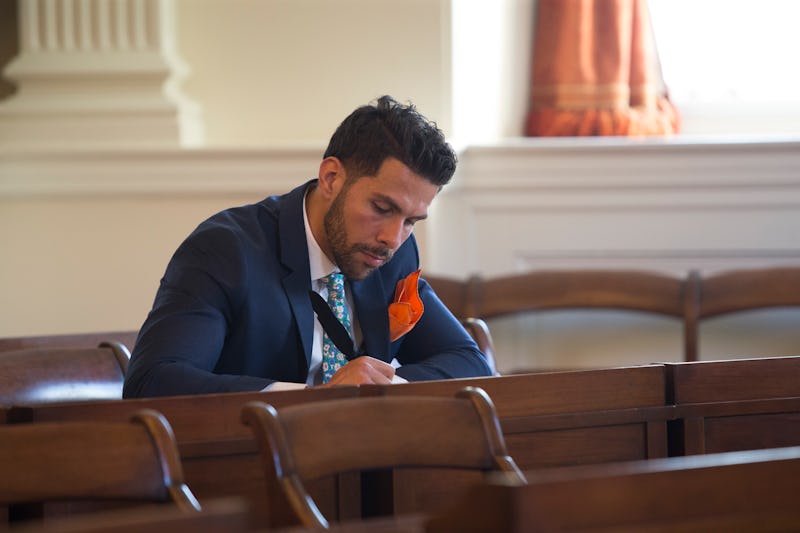 Paul Hebert/ABC
Just in case you thought that David and Jordan leaving The Bachelorette last week would mean that this week's episode would be low key, think again. There's a new contestant feud, and it doesn't seem like it's going to end well. On Monday night's episode, Lincoln and Chris got in a verbal fight on The Bachelorette, and let's just say it didn't paint either of the men in a positive light.
They first started bickering at the beginning of the episode, but then things got even worse when the guys were both on the same group date, where they had to debate in front of a crowd as part of a "Beccalection." After Chris slung a little mud Lincoln's way, hinting that he wasn't there for the right reasons and would break Becca's heart, everything went downhill fast. At one point, Chris even said that Becca would be "disgusted" if she knew what Lincoln was really like... and it all went terribly, terribly downhill from there.
Once Becca had the chance to talk to Lincoln and Chris one-on-one after the debate, things somehow got worse. They both used their time with her to talk about the other one, which is never a good strategy, and Becca didn't seem impressed by their behavior in the slightest. They continued their argument well into the evening, and one point, the other guys even started getting involved because Becca wasn't in the right headspace to talk to anyone, let alone Chris and Lincoln.
Of course, fans have now taken to Twitter to share their feelings about the fight, and let's just say that collectively, everyone is far beyond over this.
Everyone Was Definitely Uncomfortable
The whole thing was awkward to witness, and somehow, it just kept getting worse. Can you imagine how Becca must have felt, sitting next to Chris Harrison and watching it all play out? Not a date anyone would have wanted to be on.
The Twitter Debate Commentary Was On Point
To be totally fair, this was not an official political debate — it was The Bachelorette. Did they really have to go so low?
Willis' Face Really Said It All
In case you missed it, he looked like he was just about the most over it that any single person can be. Same, Willis. Same.
People Even Started Missing Jordan
You know it's bad if the people want Jordan (and his golden booty shorts) back.
There's This Really Good Point About Becca's Mood Lately:
Anyone would be in a bad mood if they were constantly having to deal with these shenanigans, right?
Lincoln's Comments Were Taking Things Too Far
That line was just petty... and probably very unnecessary.
The Real Truth: These Guys Need To Go Home
Any person would want to send Chris and Lincoln home after watching all of this play out, but unfortunately, it makes really good TV for a show like The Bachelorette. It's no wonder why they both stayed as long as they did, but nobody would blame Becca if she wanted to give them both the ax.
How The Producers Might Have Been Feeling That Day
If anyone needed to fill that villain slot, these two were going to be it.
The Chris and Lincoln fight may have gotten way out of hand, but at least Bachelorette fans are keeping their sense of humor about it — and hopefully, Becca is too. This whole situation is so ridiculous that she doesn't deserve to be upset about it. Soon enough, she'll be laughing about this with her friends at home... if she isn't already.