These Two 'Bachelorette' Contestants Have One The Most Unnecessary Feuds Of All Time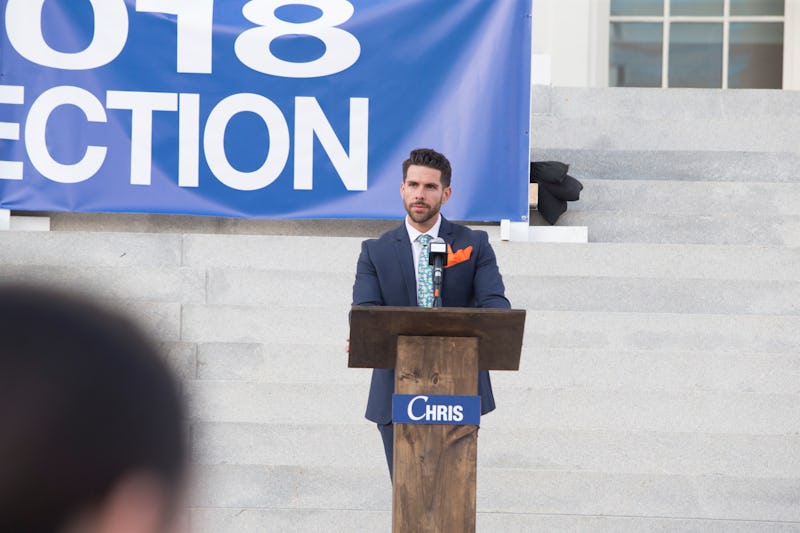 Paul Hebert/ABC
Watching The Bachelor or The Bachelorette is like witnessing 30 rapid-fire breakups. It's not pleasant, but it passes for entertainment these days. What's really fun to watch, instead, is how the contestants, who are forced to spend so much time together, become fast friends. On Becca's season of The Bachelorette, some friend groups have been forming. But there are two contestants who don't seem to be huge fans of each other and can't keep themselves from bickering nonstop. So, are Chris and Lincoln friends after The Bachelorette?
There are still a lot of guys left on Becca's season of The Bachelorette — I don't really even start learning names until the eighth or ninth week because there are too many men and not enough time for me to care. But two of the most memorable ones are Lincoln and Chris, sheerly because of the negative attention both have managed to garner. Lincoln thinks the Earth is flat because he hasn't seen enough credible evidence to decide that it's not, and Chris was mad at Becca on her last group date because she didn't actively seek him out to talk to him. Then, he said she owed him "50,000 kisses." What a pair, these two! And while it seems like Chris and Lincoln had been getting along on the show, the July 2 episode of The Bachelorette showed that the two couldn't help but be constantly at each others' throats during a simple chat about how they didn't get the one-on-one date.
Uh, guys, you're not the only ones who didn't get a one-on-one date. Not everyone can get a one-on-one date. Duh. That's how this show works. So why fight about it? And while we don't know everything that happened between Lincoln and Chris to get them this angry (the cameras can only record so much idiocy at once), we can take a peek at their social media to see if they're friends at all post-Bachelorette.
Lincoln's Instagram is private and he doesn't have a Twitter, but Chris is public on both channels, which makes perfect sense considering how much he likes to talk. Chris' Instagram doesn't have any pictures of him and Lincoln on it, though he has posted a couple shots from his time on the show, and one photo of him with friends including Nick Spetsas and Mike Renner, who both went home earlier this season, with the caption "Some old friends mixed with some new friends." So clearly, Chris hasn't completely isolated himself from the rest of the men from his season of The Bachelorette. But whether him and Lincoln have cleared the air since their spat on the show remains to be seen.
On Twitter, Chris said that all he did in the July 2 episode of the show was defend himself:
Ugh, he's not even using the right hashtag. In any case, the problem with Chris (and the good thing about him in terms of producing) is that he's so reactive that if anyone says anything to him or about him, he's gonna go off. It makes for really good television, but when it comes to building friendships or bonds in this very unusual situation, it definitely doesn't help.
It's not that Lincoln is a saint. Far from it. He has his own problems, including an arrest and conviction for indecent assault and battery in 2016. ABC and Warner Bros. said, in a statement to Deadline, that they had no idea that Lincoln had been charged with a crime when he was cast. Again, Lincoln's channels are private, so it's hard to say whether or not he's friendly with the other men after the show. But for now, we can assume that both Lincoln and Chris are not buddies with each other.