'Sharp Objects' Will Be A Worthy Successor To 'Big Little Lies'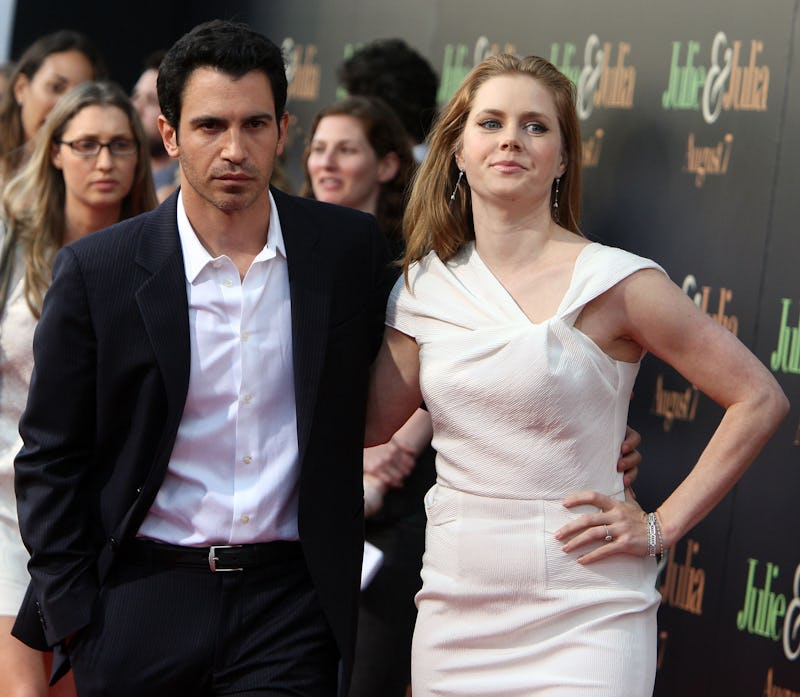 Frazer Harrison/Getty Images Entertainment/Getty Images
We're five episodes into HBO's Big Little Lies, and, so far, pretty much the only thing wrong with the show is that it will all be over in just two short weeks. But thankfully, the HBO series Sharp Objects, starring Amy Adams, is coming up soon, so we won't have to wallow in our despair for too long. On Monday, the network announced that The Mindy Project's Chris Messina had been cast on Sharp Objects in a main role as Detective Richard Williams, the cop investigating the grisly case at the heart of the story.
This is exciting news not just because Messina is a talented actor who deserves to be on as many high-profile projects as possible, but also because it signals movement for this exciting new series… which simply can't get here fast enough to fill the void that Big Little Lies will leave in our lives all too soon. Interestingly, Sharp Objects will make for a perfect replacement for Big Little Lies for several reasons; the two shows actually have a shocking amount in common. Here are just some of the similarities that Sharp Objects shares with its predecessor:
1. It's On HBO
In its early days, HBO was the home of such male-driven dramas as The Sopranos, Oz, Deadwood, and Entourage. (And Sex And The City, to be fair.) These days, female-driven shows are everywhere you look on the premium channel, as evidenced by the above promo created for Women's History Month: not just Big Little Lies, but also Game Of Thrones, Westworld, Veep, Girls, Insecure, Divorce, Getting On, and The Comeback. Sharp Objects will fit right in with that list.
2. It's A Murder Mystery
There's a lot going on in Big Little Lies; but at its core, it's a murder mystery. The whole show is framed by flash-forwards in which the gossipy townspeople are being interrogated about what led to the death of a (still undisclosed) victim on the night of a fundraising gala. Similarly, Sharp Objects frames the psychological exploration of its character with the story of a serial killer targeting preteen girls in a small town in Missouri.
3. It's Based On A Best-Selling Novel By A Female Author
Big Little Lies sprang from the mind of Australian author Liane Moriarty, who also wrote such captivating novels as The Husband's Secret and Truly Madly Guilty. HBO's Sharp Objects is also a literary adaptation, based on the 2006 debut novel from author Gillian Flynn — who would go on to write Dark Places (which was made into a movie starring Charlize Theron), and her most famous work, Gone Girl (which was made into an Oscar-nominated movie starring Rosamund Pike and Ben Affleck).
4. It Features A Compelling Female Protagonist
While the murder mysteries are the narrative hook that Moriarty and Flynn used to grab their readers' attentions, it's arguable that both books (and their adaptations) would be just as interesting if they focused solely on the day-to-day lives and loves and tribulations of their female protagonists. Madeline, Celeste, Jane, and Renata are all fascinating women with varied personalities and problems. Likewise, Sharp Objects' Camille Preaker is a wonderfully complex protagonist: an intelligent journalist who was recently released from a psychiatric ward where she was committed for harming herself, whose psychological issues are only made worse when she's forced to return to her hometown to cover a series of murders.
5. It Stars A Lot Of Award-Winning Women
Big Little Lies stars Reese Witherspoon, Nicole Kidman, Shailene Woodley, and Laura Dern, who all have a boatload of nominations and trophies between them. Continuing the migration of movie stars to the small screen, Sharp Objects has also attracted top-shelf talent: including five-time Oscar nominee Amy Adams, fellow Oscar nominee Patricia Clarkson (Pieces Of April), and multi-Emmy nominated actress Elizabeth Perkins (Weeds).
6. It Also Boasts A Handsome Male TV Star
While Big Little Lies recruited actresses best known for their work in feature films for the lead roles, it filled out its supporting male roles with actors most famous for their work on TV — including Alexander Skarsgård (True Blood), Adam Scott (Parks And Recreation), and James Tupper (Revenge). The recently-cast Messina also fits that mold, as he's most widely recognized for his work on The Mindy Project, as well as other shows like Six Feet Under, Damages, and The Newsroom.
7. Its Actors Have Worked Together Before
Prior to starring in Big Little Lies, Reese Witherspoon and Laura Dern starred together in Wild, and Shailene Woodley and Laura Dern starred together in The Fault In Our Stars. Sharp Objects star Amy Adams also has a prior working relationship with one of her co-stars: Messina, who played her husband in the acclaimed 2009 film Julie & Julia. (Messina and Patricia Clarkson also appeared alongside one another in both Six Feet Under and Vicky Cristina Barcelona.)
8. It's Written By A Prolific TV Producer
Big Little Lies was developed for the screen by David E. Kelley, who also wrote every single episode. Kelley is a big name on the small screen, having previously created such popular shows as Picket Fences, L.A. Law, and Ally McBeal. Sharp Objects is also being shepherded by a proven name in the industry: Marti Noxon, who cut her teeth writing popular episodes of Buffy The Vampire Slayer, and also wrote for shows like Grey's Anatomy and Mad Men before winning a Peabody Award for creating the acclaimed Lifetime Channel drama UnREAL.
9. It's Directed By Jean-Marc Vallée
If all of those factors weren't enough to draw a connection between Big Little Lies and Sharp Objects, consider this: Jean-Marc Vallée, who directed every single episode of the former show, will direct every single episode of the latter show as well. (You may also be familiar with his work on feature films like The Young Victoria, Dallas Buyers Club, and Wild.)
Oh, and both shows have one more thing in common: they'll be over way too soon. Big Little Lies will end in two weeks after only seven episodes, while Sharp Objects will consist of a slightly longer (but still woefully short) eight episodes.
But if Sharp Objects is as successful as Big Little Lies, HBO could have a new calling card on its hands: limited series about female characters adapted from best-selling mystery novels that attract A-list talent from the big screen… and that also happened to be directed by Jean-Marc Vallée.