Chris Pratt & Anna Faris' Best Moments Will Make You Feel Forever Nostalgic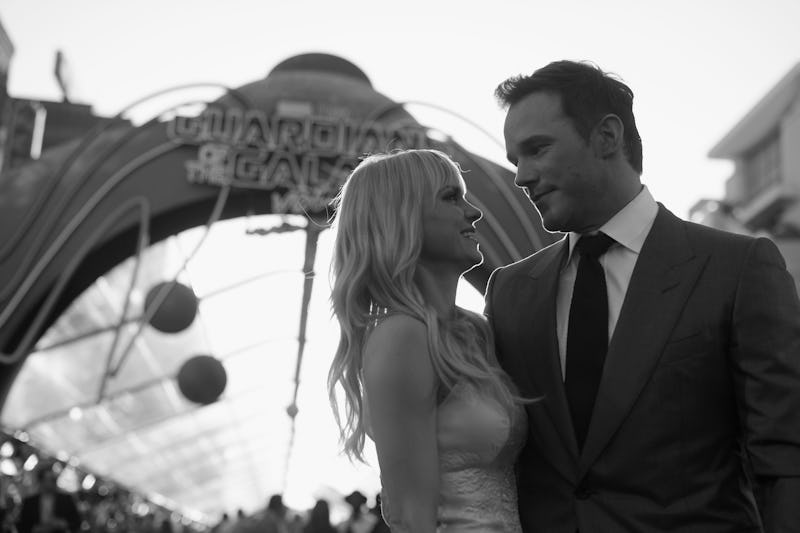 Charley Gallay/Getty Images Entertainment/Getty Images
One of Hollywood's most beloved couples, Anna Faris and Chris Pratt, announced their separation on Sunday evening via their official social media accounts. Faris and Pratt have been married for eight years and have one child, Jack, together. Though we will no longer be able to look forward to their future moments together as a couple, we can always look at their best moments from the past.
In both of their statements, Faris and Pratt indicated that they had been trying a long time to make their marriage work and expressed deep sadness that they had been unable to succeed. In light of the news of their split, fans of Faris and Pratt, who have often been heralded on social media for seemingly defining "relationship goals," have expressed shock and sadness. One Twitter user noted that she "doesn't believe in love anymore" because Pratt and Faris are separated, while another lamented why Pratt and Faris had ever made the world fall in love with them in the first place.
In hopes of trying to lift everyone's spirits, taking a look back at some of Pratt and Faris' happier times might just do the trick. This list reflects some of the Hollywood couple's cutest, sweetest, and most memorable moments from their past eight years together — something which will hopefully provide at least some nostalgic comfort as you come to terms with the news of their split.
1. Bug Soulmate
On The Late Late Show with James Corden in 2015, Faris lovingly described how she knew Pratt was the one for her early on in their relationship because he had a bug collection — just like her.
2. "Funny, Strong, and Beautiful"
During an interview following a ceremony to receive his star on the Hollywood walk of fame, Pratt gushed about his wife, sweetly describing the many things he thought were sexy about her.
3. Naming A Penguin
In 2015, Pratt, Faris, and their son, Jack, were given the honor of naming a penguin for the Woodland Park Zoo. The trio chose the name "Eagle" and adorably announced their decision on YouTube.
4. "Main Men"
Faris tweeted this adorable photo of her son and husband last month.
5. "Happy Boy, Happy Wife"
Pratt similarly Instagrammed this equally sweet photo of Faris and Jack.
6. A Thankful Tribute
In this photo on Instragam, Pratt sweetly thanked Faris for accompanying him on his recent press tour, saying "Thank you for the support honey! You look so beautiful. These press tours can be such a whirlwind. I'm grateful to have you and the boy with me on this one."
7. Nose Kisses
This sweet selfie posted by Faris certainly tugs at the heartstrings.
8. Guest Appearance
Earlier this year, Pratt guest starred on Faris' show, Mom, with adorable results.
9. Thanksgiving Wishes
Both Pratt and Faris shared this super sweet family photo to commemorate Thanksgiving in 2014.
10. Saturday Night In
Faris posted this photo of a cozy weekend night with her husband and son back in 2015.
11. Mother's Day
Pratt's European Mother's Day tribute to Faris earlier this year certainly highlighted the profound love her has for her.
12. Learning New Skills
One time, professional wrestler Dave Bautisa taught Faris and Pratt how to wrestle — and the results were hilarious.
13. Thanksgiving Round Two
Pratt shared this hysterical photoshopped Thanksgiving card on his Instagram account in 2015.
14. French Braid
Pratt adorably shared a photo of a French braid he did on Faris' hair, something which was reportedly a regular evening ritual.
15. On Ellen
In 2014, Faris sweetly gushed about the love and affection she has for Pratt.
16. Porch Snapshot
Back in 2015, Faris tweeted this adorable photo of her guitar-strumming husband and their son, Jack.
17. "My Sweet Husband"
Faris' love for Pratt is very evident from this photo.
18. Mutual Admiration
Pratt promoting his wife's book — for which he wrote the forward — on social media was the epitome of sweet.
19. Limo Selfie
This selfie the couple took in 2015 on the way to a red carpet event certainly captured the fun-loving nature of their relationship.
Hopefully these nostalgic photos and moments helped provide some lighthearted memories for those feeling down about Pratt and Faris' separation. They certainly seemed to have a pretty amazing eight years together.