Chris Pratt's Latest Quote About Anna Faris Will Make You Believe In Breakup Goals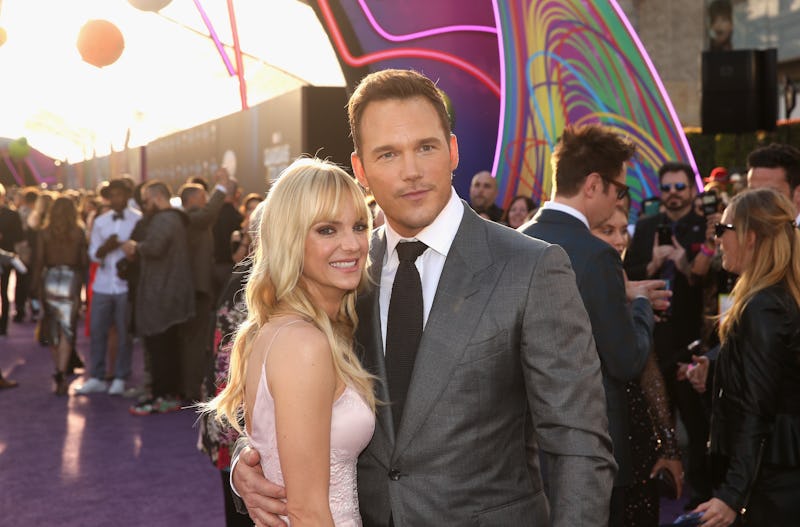 Jesse Grant/Getty Images Entertainment/Getty Images
At the 2017 Prime Time Emmy Awards, actor and author Anna Faris appeared alongside her Mom co-star Allison Janney to present the award for Outstanding Variety Sketch Series. It was her first public appearance since it was announced that that Faris and Chris Pratt were separating. Pratt was not in attendance, but TMZ caught up with him after the Emmys and he not only praised Faris' appearance, but also plugged her hit show. In offering up pubic support for his ex, Pratt is definitely making for a good example of how a couple can remain cordial after their relationship ends.
Faris and Pratt shared the news that they decided to separate a little over a month ago, on Aug. 6. "We are sad to announce we are legally separating," a joint statement they posted on social media read. "We tried hard for a long time, and we're really disappointed." The couple noted that their young son has parents "who love him very much," and asked to keep their separation "as private as possible" for his sake. "We still love each other," their message read, "and will always cherish our time together." The news was unexpected and somewhat shocking to fans of the couple, who had been married for eight years.
Since the announcement both Faris and Pratt have remained relatively out of the public spotlight until this past weekend when Faris attended the Emmy Awards on Sunday, Sept. 17. Although Faris wasn't herself nominated for an Emmy, Faris' Mom co-star Janney was nominated for Outstanding Lead Actress In A Comedy Series. In addition to supporting Janney, the duo also presented together and their hilarious presentation was easily one of the highlights of the show.
When TMZ photogs caught up with Pratt on the same evening, he admitted that he wasn't invited to the Emmys, and offered nothing but praise for Faris and Janney.
"I know she did great," Pratt told TMZ after being asked whether or not he saw Faris at the Emmys. "Anna did an amazing job. She rules. Her and Allison, they both looked great." Even if he was unable to attend the Emmys, or even watch the show, it's really cool that he used the opportunity to praise the fact that she got to present at the awards show. He could have easily ignored the question all together, but the fact that he showed public support for Faris suggests that there isn't any animosity between the two of them.
If you missed Faris and Jenny's epic presentation during the Emmys, check out a clip of their appearance below.
What a hilarious duo! The way Faris played a version of herself who couldn't nail her timing only proves how great her own comedic timing is. It really was great to see the actor take the stage with confidence, and to see her in a funny skit alongside her Mom co-star undoubtedly put a smile on the faces of her fans.
Faris had previously spoken out about her breakup on her podcast, Unqualified. According to USA Today, she thanked her fans for their support on the episode, and said, "I just want to thank you all so much for all the love I've been receiving, and I truly love you." She also answered a caller's question about relationships, but kept things pretty general. "Life is too short to be in relationships where you feel this isn't fully right or somebody doesn't have your back, or somebody doesn't fully value you," Faris said. "Don't be afraid to feel your independence if things aren't right."
When a couple separates, it can be incredibly difficult. Kudos for Faris and Pratt for keeping the details of their own separation out of the spotlight, and choosing to support and praise each other instead. You can absolutely remain friends after a breakup, and Faris and Pratt really seem to be a great example of that fact.