Chrissy Teigen's Comments About Post-Partum Depression Are A Must-Read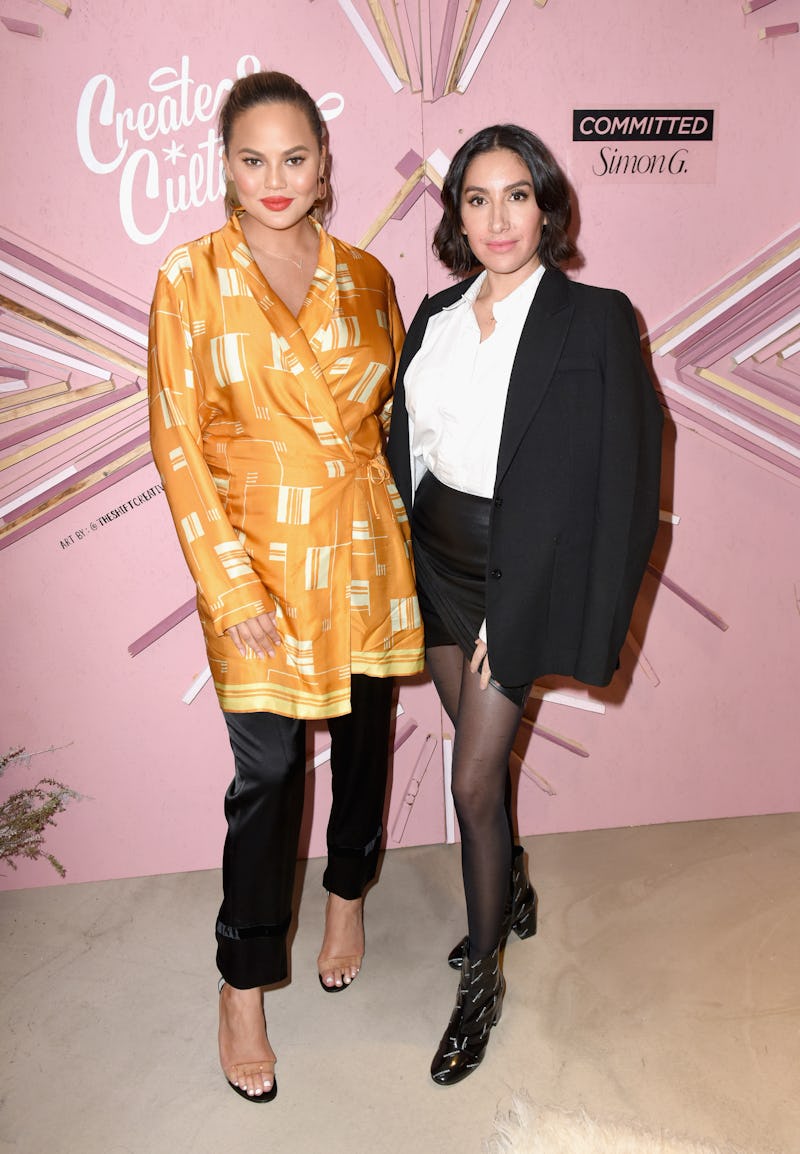 Vivien Killilea/Getty Images Entertainment/Getty Images
There are so many reasons to love Chrissy Teigen, from her political activism to the potato casseroles she brings on airplanes. On Saturday, Nov. 24, Teigen discussed her struggle with postpartum depression, and her effort to help break the stigma around mental health issues, especially for women, is so important. The conversation occurred with celebrity hair stylist Jen Atkin during a Create & Cultivate event in Downtown Los Angeles. The organization curates conferences with creatives, entrepreneurs, and bosses who are doing significant work. Kim Kardashian and Lauren Conrad also appeared as keynote speakers at the event on Saturday.
It makes sense that Teigen, who started her career as a model and went on to become a best-selling cookbook author and TV host for Lip Sync Battle, would appear. In addition to her many career accomplishments, she's also known for her advocacy and for being candid and open with fans on social media. Teigen and Atkins' conversation covered many topics, including the star's hilarious Twitter feud with Donald Trump and how she changed the trajectory of her career. One of the most poignant moments from the conversation came when Atkins asked the star about her history with postpartum depression.
Teigen discussed openly about for the first time in 2017. In an essay penned for Glamour Magazine, she revealed that, while she is blessed with a great family life and often seems outwardly happy, she struggled during the period after her first daughter, Luna, was born. At the event on Saturday, Teigen revisited her experience with postpartum depression and shared tips for working through mental health struggles while remaining focused on work and career goals.
The first thing Teigen noted was the flexibility of her schedule, and how it allowed her to seek support more easily. "If I didn't have the kind of career that allows you to set your own schedule, I don't know how I would have done it once I realized I actually had it," Teigen said at the event. "I cannot explain how much I look up to people that really are still trying to grow into what they want to be. I'm lucky enough that I'm older now, and I've been through the dues of it all. I don't know if I would be able to handle it now if I were still paying the dues." She also noted how much she admires people who worked through PPD while at this stage of their working career, and offered some advice.
Teigen said one of the most important steps in working through Post Partum is to identify what is happening. "I didn't know I had it, I just had Luna, I knew I had an incredible life, incredible husband and family, and all the resources necessary," she said. "I knew that I was personally unhappy, but I didn't know there was anything wrong with it. I thought that was the way it goes, you have a kid and you lose those endorphins. I do wish more people had spoken up around me, and that's something I encourage."
In the past couple years, celebrities and mental health organizations have started to speak more candidly about PPD. It's a fairly common experience among women - according to the American Psychological Association, 1 in 7 women will experience PPD after giving birth. It's more serious than what is colloquially known as "baby blues", and can last for weeks and even months after the baby is delivered, especially if untreated.
In the past, PPD hasn't been discussed as publicly, and there is a lot to be said about breaking the stigma. In her essay for Glamour, Teigen noted that the fear around mental illness made her initially hesitant to discuss the issue openly, but that's why she knew it was so important. "I still don't really like to say, 'I have postpartum depression,' because the word depression scares a lot of people. I often just call it 'postpartum,'" she wrote in her Glamour essay. "Maybe I should say it, though. Maybe it will lessen the stigma a bit."
As for coping mechanisms, Teigen urged expectant or new mothers to have a support system in place, if possible. "I think the strongest thing for me, the best thing for me, was having family around and having John [Legend] around," she said at the Create & Cultivate event. "[I was] really realizing that just because I was blessed in all other aspects doesn't mean that my brain realized that. It's such a separate thing from what your brain realizes and it's a true chemical imbalance."
There are many reasons that Teigen is loved by her fans, and her conversation at Create & Cultivate shows how her honesty and candor connects with people in a powerful way. Her story is certain to resonate with many women, and shows how crucial it is to encourage for an open-conversation around mental health issues.