Chrissy Teigen Dresses Up As Spider-Man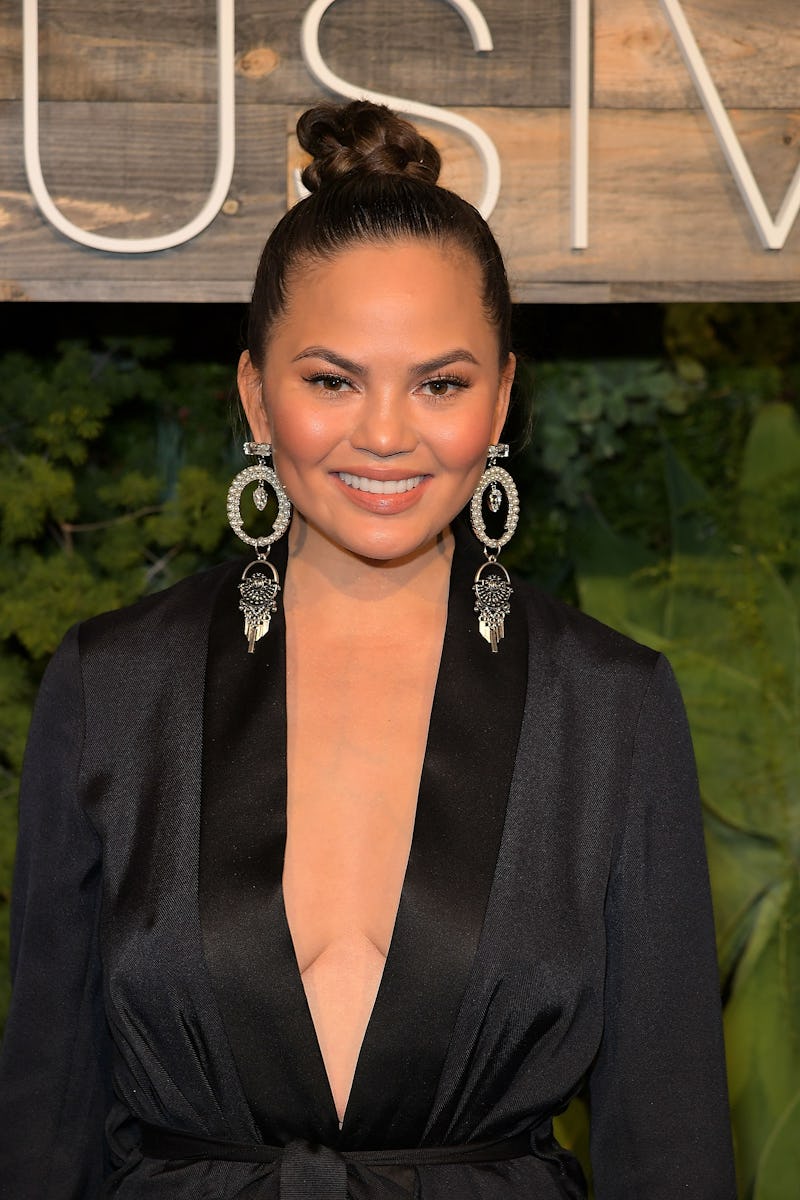 Charley Gallay/Getty Images Entertainment/Getty Images
As every die-hard Chrissy Teigen fan knows, she is basically the most amazing human to have ever walked the Earth. Oh, and she is also the only celebrity worth following on social media. I realize I just made some bold statements there, but I'm about to back them up in a major way that will most certainly make you agree with me — you know, if you don't already. In another hilarious video shared on Twitter Monday, Chrissy Teigen dressed up as Spider-Man. She wore the full-blown costume, all while dancing around and making sounds as if webs were being shot from her wrists.
Unfortunately, it doesn't look like the model has been cast as the leading Marvel superhero in another Spider-Man movie, but rather that she donned the suit for a Season 4 episode of Lip Sync Battle. "Thank you @SpikeLSB for making all my dreams come true last night," she tweeted. "See you in SEASON 4!"
First of all, I can't wait to see that episode. Secondly, this made me realize that not only does she need to be cast as the lead in a superhero movie, stat, but also that she is a real-life superhero in more ways than one. Luna Simone, you are one lucky little girl to have such an empowering mother, but I'm sure you already know that.
As a model, as a woman, as a wife, as a mother, as a daughter, as a human being, the 31-year-old proves time and time again that she is someone everyone should idolize, just like they do most every superhero out there.
If Teigen wearing a Spider-Man costume isn't reason enough for you that she is a superhero IRL, here is further proof.
She Has Multiple Superpowers
From her wit to her sense of humor to her modeling talent to her ability to throw Oreos into milk, Teigen has a wide range of skills proving she'd make an accomplished superhero.
She Protects Those She Loves
You don't mess with her family. If you do, you will receive the wrath of Chrissy. Her husband, child, mother, and everyone else she loves mean the world to her and if you have something bad to say about them, you better believe Teigen is going to defend them.
She Stands Up For Her Beliefs
Teigen has never minced words or kept her opinions to herself, especially when it comes to politics. She will always stand up for what she believes in, no matter how anyone else feels or what they have to say. Teigen fights for her beliefs.
She Doesn't Care What Others Think
Say what you want, feel what you want, like what you want, Teigen doesn't care. She let's the comments slide pretty easily and continues to be herself in the process.
She Has A Sidekick
Every hero needs a sidekick, right? Not necessarily, but if Teigen were to have one it would be her mom, Vilailuck Teigen. She is just as hilarious as her daughter, so they'd make the most entertaining superhero duo of all time.
She Has A Love Interest
A love interest certainly isn't needed nor does one make a superhero, but sometimes that romance factor makes a superhero's story better. Obviously, John Legend is Teigen's love interest — and will forever be.
She Inspires Others
She continues to inspire others daily, but Teigen definitely did when she opened up about suffering from postpartum depression. She is real and has her fair share of battles to fight.
Despite Teigen not playing a superhero (yet) in a movie, at least her fans get to see her be a real-life one. What's better than that?