Chrissy Teigen's Mom Is Queen Of The House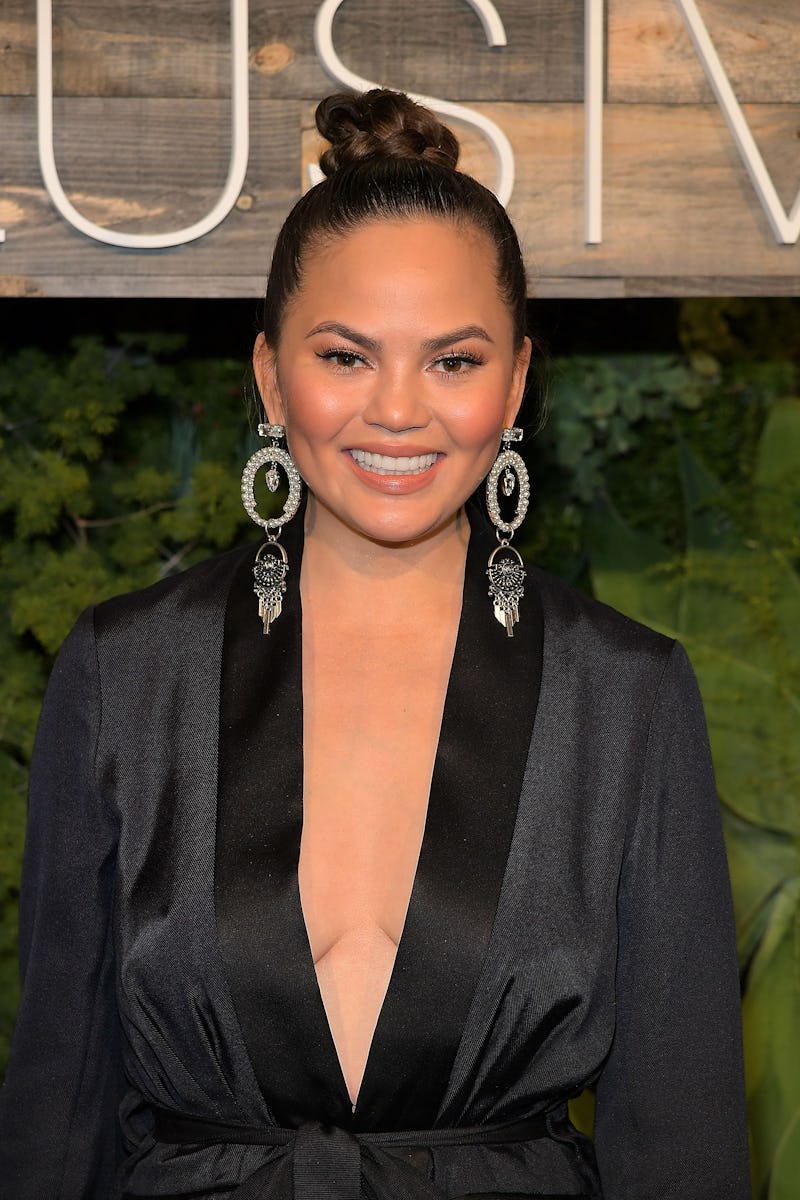 Charley Gallay/Getty Images Entertainment/Getty Images
There's plenty to love about the Chrissy Teigen-John Legend home: their beautiful daughter, Luna, their small pack of adorable dogs, their general wonderfulness as a couple. And, of course, Chrissy Teigen's mom, Vilailuck Teigen, who is undoubtedly the queen of the household. Not only does she have a wildly popular Instagram account, Vilailuck is beautiful, nurturing, and a fantastic cook. Not to mention downright hilarious.
She and Chrissy are clearly the best of friends, and they like to goof on each other. Just recently on Chrissy shared a saga of videos on Twitter of her mom hand-making sausages in the kitchen and, for some reason, hanging them from the light fixture, which Chrissy was horrified by. (Honestly, I'm right there with her.) But Vilailuck doesn't care! She's Snapchatting those sausages and carrying them around the living room calling herself the sausage queen. And let's be real, those sausages were probably delicious.
If you don't follow Vilailuck on Instagram, I highly recommend it — not only for even more cute photos of the Teigen-Legend family than you can find on Chrissy's social media, but for her own amazing food pics. She had a big hand in Chrissy's chef life, as she's an expert in Thai cooking. Some of her recent culinary offerings are shrimp and curry, papaya salad, and pad thai.
And you'll get a good look into daily life at the Teigen-Legend household, where life seems almost annoyingly idyllic — at least, it would be infuriating if Teigen and Legend weren't such a great couple and pretty damn great individually. But Vilailuck is the clear matriarch and is very appreciated.
In a recent interview with Yahoo! Style about being a mom, Chrissy answered that inevitable question on how she "does it all," and she said, "Having help. My mom lives with us. I have hair and makeup people. I'm not getting up and doing all this by myself." She added that she had the "utmost respect for mothers and single mothers" who are doing it alone. Not everyone can be blessed with a queen like Vilailuck.
She and Chrissy even paired up for a new Smirnoff ad, and there's some great behind-the-scenes footage that both she and her daughter shared on their Instagrams of them messing up their lines and having a great time doing it. But my own personal favorite Vilailuck moment is a screenshot Chrissy posted after the sausage saga debacle. Apparently, when trying to cook them, they almost burned down the house. And here's the text message exchange in the aftermath of the smoke between Chrissy and her mom:
Long live the queen!