The Teigen-Legend Family Is Too Cute In New Summer Vacation Pics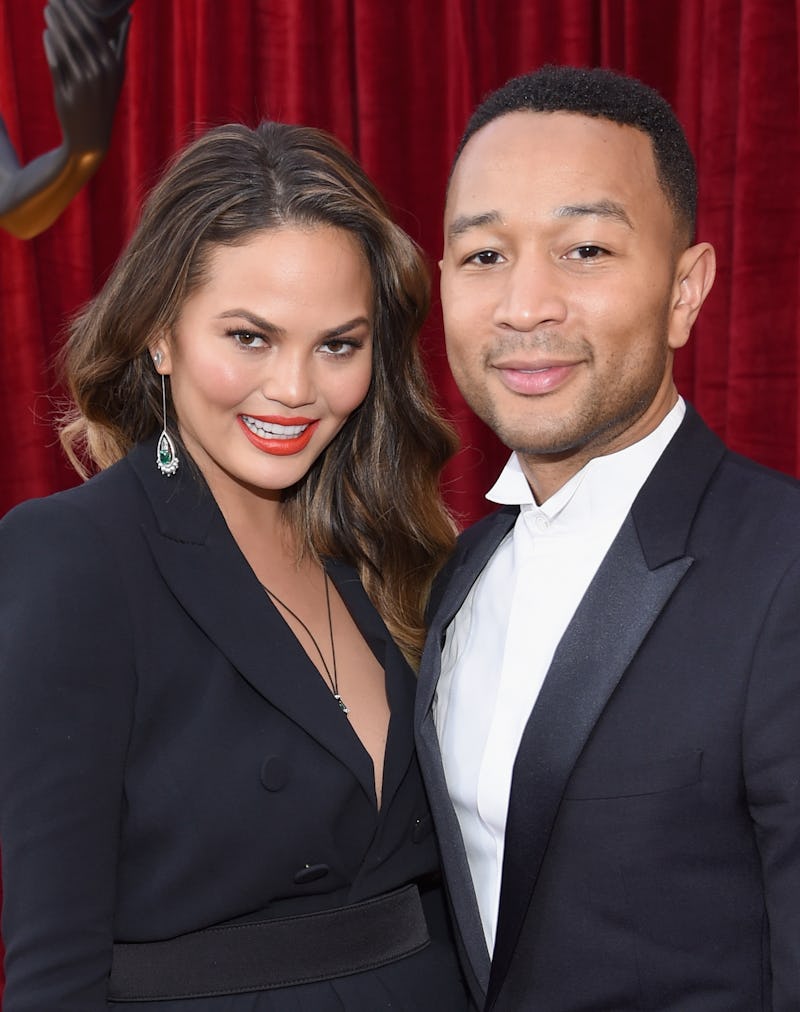 Dimitrios Kambouris/Getty Images Entertainment/Getty Images
There are a lot of adorable celebrity families out there, but few reach the cuteness levels of Chrissy Teigen, John Legend, and their daughter Luna. If you need proof, then look no further than Teigen and Legend's summer vacation photos. The couple, along with Luna, are enjoying some downtime in Lake Como, and they've shared a few of their family pictures on Instagram.
Fans of this celeb family are sure to remember that Lake Como holds a special place in Teigen and Legend's hearts. The Italian destination is where they got married in 2013, and it's also where Legend's "All of Me" video was filmed. They've made several trips back to Lake Como in the past, and they even took Luna to the "All of Me" house when she was just three months old. Now they're back, and baby Luna is officially toddler Luna. The couple's little girl gamely poses with her dad in two photos that are nothing short of vacation goals — even for a one-year-old.
So far, Teigen seems to be the trip's official photographer, but even though she's not in the two photos that have been posted, she's having an amazing time. She shared her excitement at being at her favorite vacation spot on Twitter. Teigen wrote,
"In Lake Como! Home of my wedding, the "all of me" video, my favorite cacio e pepe and my entire heart. Love it here."
Hold your "awws" because there's even more delightfulness to come. For instance, take a look at Luna and Legend's matching grins.
The daddy-daughter duo is looking quite pleased with themselves. And the scenery's not bad either. No one can say Lake Como isn't photogenic. If anything, the next picture is even more stunning than the last.
Legend's caption reads, "Home away from home since 2007." It's so special that the singer and Teigen now have the chance to share Lake Como with their daughter. The locale seems to have played a huge role in their relationship, and now Luna will have plenty of opportunities to visit the romantic place that has been such a big part of her parents' lives.
As People pointed out in 2016, the couple has always been open about the role that Lake Como has played in their romance. Last July, Teigen revealed on Instagram that their love affair with the beautiful vacation destination began back in 2007. She wrote,
"Back to where it all began — Lake Como, Italy — first came here in 2007. A boat tour guide took us to a little spot on the lake and told us to make a wish. I asked for this to be the man I marry and have children with. I think John asked for the most perfect bite of cacio e pepe. Both came true, and here we are."
OK, now you can "aww" all you want.