Chrissy's New Photo Of Baby Miles May Be The Cutest One Yet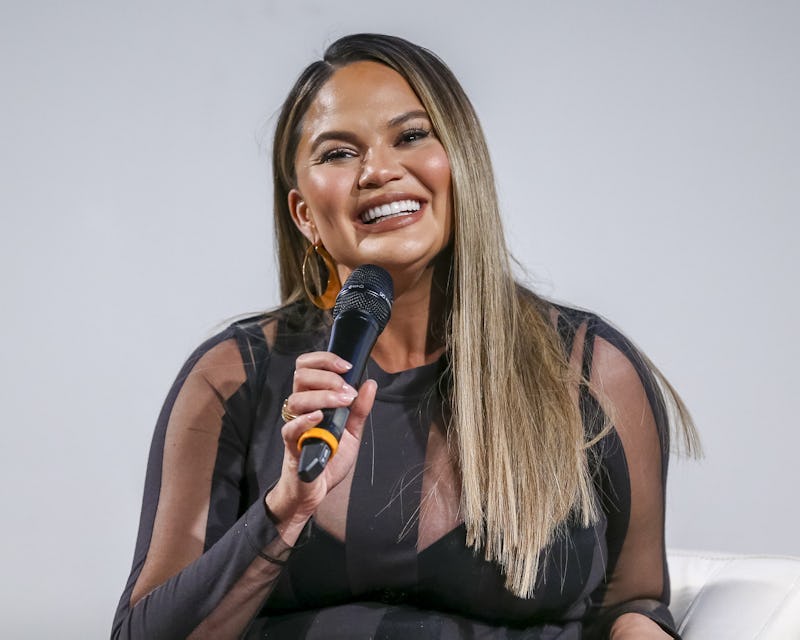 Rich Polk/Getty Images Entertainment/Getty Images
Warning: Cuteness overload ahead. On Tuesday, Chrissy Teigen shared a new photo of baby Miles, and it's seriously the cutest one yet. It might be hard to believe there could be a sweeter photo than the one of Luna and Miles together, but just wait until you see it before you come to a conclusion. The image features the tiny 1-month-old as he stares at the camera with his little fingers and toes in the air. He's also wearing an adorable giraffe onesie. Teigen captioned the sweet image, "hey dudes."
Teigen and John Legend make really cute children. The fact they share their kiddos with the world is something fans should truly cherish. They could easily choose to keep their family private, like many celebrities do, but they don't. The Cravings: Hungry for More author and singer have been extremely open with their lives since pretty much the beginning.
And now that they are a family of four, everyone gets to enjoy even more photos from them. Being able to watch Luna and Miles grow up is truly special, but, obviously, even more so for Teigen and Legend. As the "A Good Night" musician told reporters (via Us Weekly) at the June 11 Los Angeles Dodgers Foundation Blue Diamond gala about becoming a father of two, "It made us more of a team, even more so than we were before. When you have a joint project like this, raising kids together, I think for us, it's brought us closer together."
You can see how close they've grown in the pictures both Teigen and Legend share. They couldn't be happier than they are right now. Like the cookbook author posted on Father's Day in honor of her husband, "What a man, what a man, what a mighty good man. Thank you for the beautiful life and these beautiful lives you have given me. My best friend and partner always, the most loving and generous and kind human in the world. And the smartest. I didn't say funniest so you know I'm not lying here. We love you with all our hearts. Happy Father's Day."
Oh, and this is the photo she accompanied with the beautiful message for Legend:
You bet Legend also posted something in honor of his wife on Mother's Day. "Happy Mother's Day to my wonderful wife Chrissy," he wrote. "I see so much of you in Luna and I love it so much. I can't wait to meet our little boy and to see you give him so much love and get so much love in return. I'm so happy to be on this journey with you."
Yeah, they're loving life currently. Legend even dished to Access in May after Miles' birth that they'll most likely expand their family. "I think we'll probably have some more," he said. "We'll take it as it comes and won't try to rush into it. We love having two kids. It feels more like a family. It's really exciting to see them interact with each other and for us, as a couple, to take care of two kids, it's very exciting."
Can you imagine if they have more kids? The photos will just keep getting cuter and cuter, which doesn't even seem possible. Until then, fans will just have to cope with pictures of only Luna and Miles. Ugh. What a struggle, right?
Teigen may not think they are exciting like most everyone does, but many fans would disagree. Next to a June 7 Instagram of Miles, she wrote, "Today was your original due date but you heard how cool we are since that's all we talk about (how cool we are) and you wanted to see what all the fuss was about, 3 weeks early. Well we tricked u! We are boring AF but we love you!" Yes, you all are really that cool, Chrissy.
When it comes captions like this, how can fans not look forward to the next cute photo Teigen and Legend will share of Miles and Luna? Keep 'em coming.