Chrissy Teigen & John Legend Finally Spoke Out About THAT 'RHOA' Fight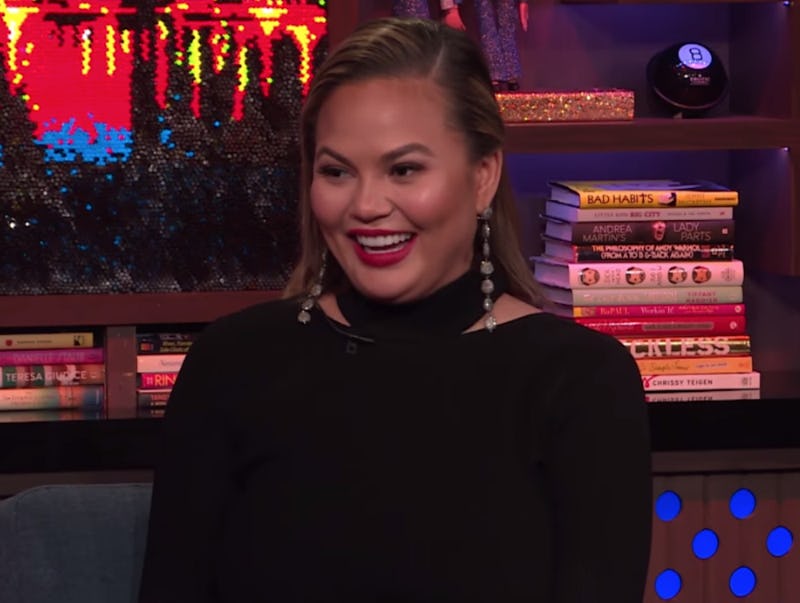 Bravo
Chrissy Teigen and John Legend have finally spoken about Kim Zolciak and Kenya Moore's huge Season 10 Real Housewives of Atlanta brawl. During Thursday's Watch What Happens Live with Andy Cohen, Teigen and Legend reacted to Zolciak and Moore's RHOA fight and they gave very different responses. What made the extremely heated Atlanta Housewives argument all the more entertaining is it got Teigen and Legend mentioned on the show.
"I was just so happy," Teigen said with a huge smile across her face. "I was absolutely thrilled. It almost went to actual blows over John tickets. It was so cool." Regarding the fact that Legend became an actual part of a Housewives story line, the singer said, "Yes, I was proud."
However, when it came down to what the two Housewives were arguing about, well, Legend was a bit more serious about the matter. And Teigen? She just laughed it off.
In a November 2017 episode, Zolciak and Moore, who notoriously don't get along, went at each other over many touchy subjects, including Moore's husband, Marc Daly. Eventually, the fight got to a point, where Moore yelled at Zolciak, "Worry about your life and the daughter you pimp out for John Legend tickets. See who's d*ck she'll suck for John Legend tickets, b*tch. Worry about pimping your daughter out, b*tch." Obviously, Zolciak didn't take that lightly, jumped out of her seat, and had to be held back from fighting Moore.
Moore was referring to a May 2017 tweet from Zolciak, in which she tweeted Teigen, "sooo ur hubby is comin to ATL may19 & Kash is beyond OBSESSED w him! who does Brielle have to blow in order to meet him?? LOL". Teigen replied, "Plz don't blow anyone it's not that good of a show. Jk it's good but I'll get you tix without the oral."
It was nothing but a joke on Zolciak's part, but it caused quite the controversy across Twitter because, joke or not, Brielle Biermann is her 20-year-old daughter. Biermann seemed to be in on the joke, because she eventually tweeted, "yessss let michael do it instead pls thnx chrissy :)"
According to Teigen on WWHL, "It was a joke." She also wanted to stand up for Zolciak when her fight with Moore happened. "I wanted to jump in and defend Kim. I wanted to be like, 'Yeah, we are friends. Like, we text and she came to the show and we're friendly.'" She continued, "But I got scared. Honestly, I'm scared to jump into any Atlanta fight."
As for Legend, well, he wasn't a fan of what Zolciak tweeted. "I don't think that going to my concert is enough to offer your daughter's services in that way." Teigen chimed in, "Well, now I'm going to stop offering it, John."
Host Andy Cohen asked the "All of Me" singer if he was honored about being part of the episode and he answered he was, but also said, "Yeah, I mean, everybody should want to come to my show. It's a great experience just don't offer your daughter up for it."
As you can see above, Zolciak, her husband, Kroy Biermann, and four of their six children ended up going to Legend's concert — and meeting the singer. "Such a great way to end my birthday!!" the RHOA star wrote. "If you haven't seen @johnlegend in concert you are missing out! He is incredible!! Kash is a huge John Legend fan and watching Kash watch John made me cry! So inspiring!"
However Teigen and Legend feel about the Housewives' fight and Zolciak's tweet, it's about time they became a topic of conversation on Real Housewives — after all, they are massive Bravo fans.