Chrissy Teigen Met A 'Below Deck Mediterranean' Star & The Pics Are So Good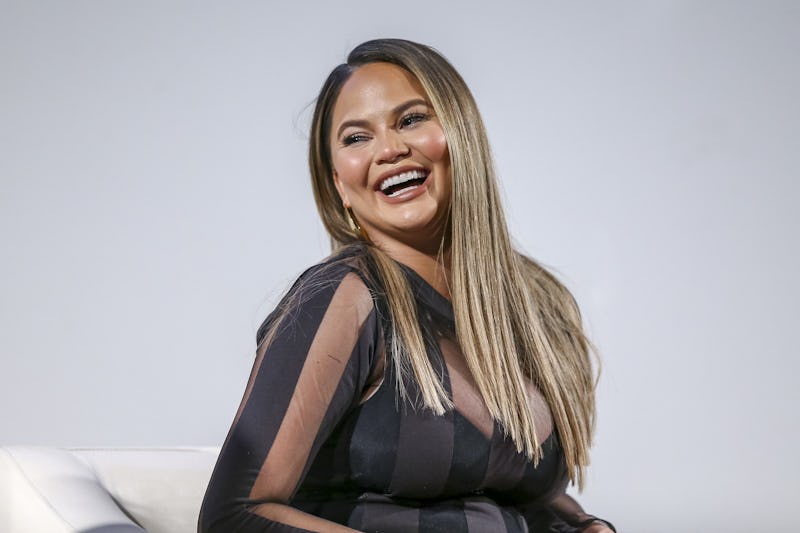 Rich Polk/Getty Images Entertainment/Getty Images
A celebrity Bravo superfan and a Bravo superstar walk into a valet line at Nobu Malibu and... Oh, there isn't a joke here. That's just what happened today. Chrissy Teigen met Hannah Ferrier from Below Deck Mediterranean on Monday, July 2, and both left the interaction shaking. But you know, in a good way. The Cravings author was starstruck, Below Deck Mediterranean's chief stew was starstruck, and we fans were overwhelmed by this important pop culture moment. And we fans know this meeting happened because Teigen and Ferrier tweeted all about it. And yes, there is photographic evidence.
Ferrier kicked things off on Monday afternoon with a selfie she snapped with Teigen. She wrote,
"So THIS just happened and I have never had such a mutual fan-girl experience in my life!!!!!! @chrissyteigen - my life is now complete!"
A few minutes later, Teigen tweeted,
"I just saw hannah from below deck let me tell you, I am shaking."
And we fans were shaking over that tweet. Ferrier quote-tweeted Teigen's post, adding,
"I literally went around the corner and started shaking so badly … I cant believe my luck on a Monday afternoon at 2pm."
And no one can believe our luck on this momentous day. For on Monday afternoon, two of the greats bumped into each other at a restaurant, snapped some photos together, and tweet-recounted the encounter. Please behold this outstanding picture of Chrissy Teigen, Hannah Ferrier, and baby Miles.
Ferrier also shared the picture, tweeting,
"So this just happened!! I ran into @chrissyteigen at the valet today and we had the biggest fan girl with each other!!! My life is now complete!!!!"
And as for us fans? Our lives are complete, our hearts are warm, and our glasses are full of espresso martini.
Speaking of fans, Teigen is a real-deal Below Deck stan. The Lip Sync Battle host has been following the Below Deck franchise for quite a while, as evidenced by this tweet from 2014:
And by her Below Deck-themed vacation lookbook:
And by her feelings on inflatable slides:
And by her commitment to watching the show no matter the time zone:
And by what she wished she and Ferrier talked about when they ran into each other at Nobu:
Wait. Can you imagine if that happened? Can you imagine if you were sitting at a table at Nobu and you looked over your shoulder only to see Chrissy Teigen and Hannah Ferrier chatting it up about the lady who genuinely could not seem to figure out if lobster was her thing? (Or duck? Or chicken? Or seafood in general?) Oh, no big deal, it is just one of the best Bravolebrities talking to a legendary Bravo superfan about one of the most iconic Below Deck Mediterranean charter guests ever.
Or could you imagine if you were standing in line at the valet kiosk at Nobu, only to see Hannah Ferrier waiting a few feet away? And then Chrissy Teigen appears? And they lose it when they see each other? Could you even begin to imagine being in that valet line while Teigen and Ferrier were taking that picture together?
Or how about the moment when you realize Teigen and Ferrier are wearing matching sandals?
Whoa. Whoa. Teigen and Ferrier ended up at the same restaurant at the same time wearing the same shoes? What are the odds? Man, when the Bravoverse wants to give the Bravo fans something to gnaw on, it really lights up some sparklers while it's still in the galley, i.e., it pulls out all of the stops.