Chrissy Teigen Has Offered Serious Support To McKayla Maroney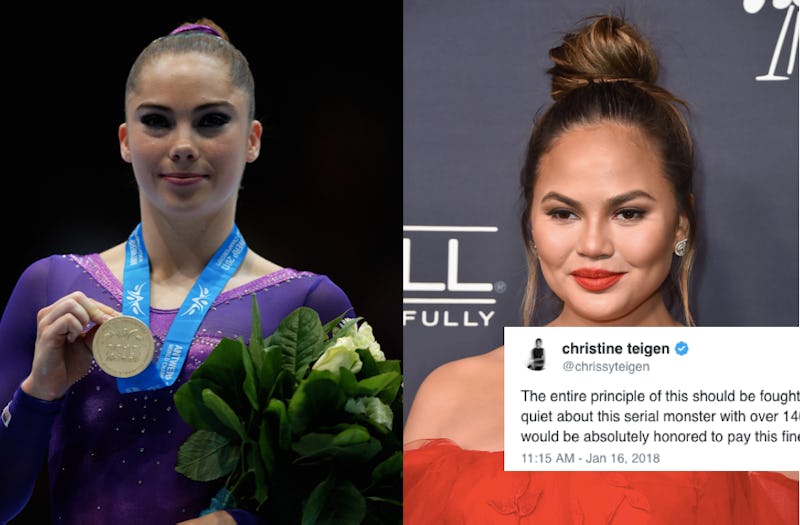 Frazer Harrison/Getty Images Entertainment/Getty Images; Dean Mouhtaropoulos/Getty Images Sport/Getty Images; Chrissy Teigen/Twitter
When The Daily Mail reported that gymnast McKayla Maroney could be fined $100,000 if she speaks at Larry Nassar's sentencing on Tuesday, model Chrissy Teigen offered to pay for Maroney's penalty. Maroney, who was a member of the women's gymnastics team at the 2012 Summer Olympics, could potentially face the aforementioned fine if she were to talk at the former team doctor's sentencing because of an NDA she reportedly signed back in 2016. It's a wildly unfortunate situation, and Teigen has offered to stand with the Olympian, no matter the cost. (Bustle has reached out to Maroney's manager for comment, but has yet to hear back.)
On Tuesday, Teigen tweeted a screengrab of a Daily Mail headline that reads, "Revealed: McKayla Maroney faces $100K fine if she speaks at Larry Nassar sentencing after USA Gymnastics made her sign an NDA ordering her to say quiet about abuse as part of her $1.25M settlement." Her tweet added, "The entire principle of this should be fought — an NDA to stay quiet about this serial monster with over 140 accusers, but I would be absolutely honored to pay this fine for you, McKayla."
As reported by The New York Times, the former USA Gymnastics team doctor pled guilty to seven counts of sexual assault in November 2017 and received a sentence of 25 years or more. The following month, he was sentenced to 60 years in prison for possession of child pornography. Nassar has been accused of sexual abuse by over 140 people, and, on Jan. 16, his sentencing commenced. According to CNN, nearly 100 victims are expected to present their statements during the victim impact testimony.
In October 2017, Maroney spoke out against Nassar in a Twitter post, alleging that the now former team doctor abused her for years. Two months later, she filed a lawsuit against the United States Olympic Committee, USA Gymnastics, and Michigan State. According to CNN, the lawsuit claimed the gymnast was "forced to agree to a non disparagement clause and confidentiality provision" or else be faced with "a six-figure liquidated damages clause over the head of McKayla Maroney and her parents." According to The Wall Street Journal, she reportedly settled with Team USA Gymnastics in 2016 for $1.25. The aforementioned suit claimed that the settlement required she sign a nondisclosure agreement.
USA Gymnastics refuted this, claiming Maroney's legal team proposed the NDA. In a statement to the New York Times, the organization said,
"Contrary to reports, the concept of confidentiality was initiated by McKayla's attorney, not USA Gymnastics. USA Gymnastics cannot speak to the mediation process, which is confidential and privileged under California law. The process culminated in a settlement agreement that included a mutual nondisclosure clause and a mutual nondisparagement clause."
After the suit was filed in December 2017, Maroney's attorney, John Manly, told ESPN that she did enter the settlement willingly, but did so at a time when she was severely emotionally impacted by the situation at hand. Manly continued,
"I want people to understand that this kid had no choice. She couldn't function. She couldn't work. They [USAG] were willing to sacrifice the health and well-being of one of the most famous gymnasts in the world because they didn't want the world to know they were protecting a pedophile doctor."
He added, "Confidentiality agreements in child sex abuse cases are unlawful in the state of California and have been for years." In a statement to the Huffington Post, USA Gymnastics said,
"The settlement in 2016 was in accordance with state law, despite what has been alleged. At all times, McKayla was represented by [Gloria] Allred, a California-based attorney, who actively negotiated and approved the settlement agreement signed by McKayla."
On Tuesday, Maroney replied to Teigen's tweet via Us Weekly:
"I'm not on social media right now, but I wish I was for this! I'm shocked by your generosity, and I just want you to know how much hope your words bring to all of us! I just can't get over the fact that someone I don't personally know is sticking up for me, let alone a strong women that I've looked up to for years! Thank you Chrissy, you're so inspiring, and things are starting to change because of people like you! Just saying that was worth the decision to speak up regardless of a fine. You're heart pure gold. God bless. All my love, McKayla"
And Teigen isn't the only celebrity showing the Olympian their support. After the cookbook author made her offer, The Good Place creator Michael Schur chimed in, "I'll split it with you." And then, actor Kristen Bell added, "I'll 1/3 it with you guys."
Like every other person who has accused Nassar of these crimes, Maroney deserves the opportunity to share her side of the story at this sentencing. And it's an opportunity that Teigen is more than willing to give her.
If you or someone you know has been sexually assaulted, call the National Sexual Assault Telephone Hotline at 800-656-HOPE (4673) or visit online.rainn.org.