McKayla Maroney Just Made A Bombshell Accusation Against USA Gymnastics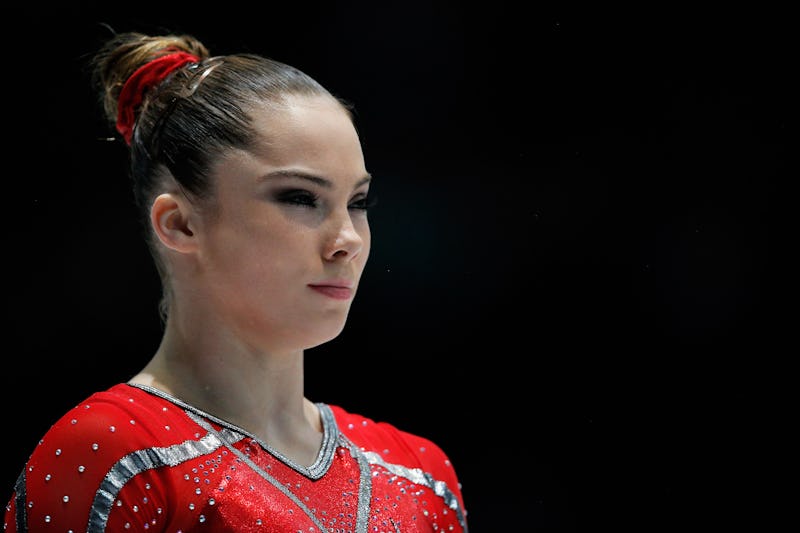 Dean Mouhtaropoulos/Getty Images Sport/Getty Images
In the weeks leading up to the recent conviction of a former USA Gymnastics team doctor, it came to light that dozens of Olympic gymnasts suffered sexual abuse while training for the sport. Now, a lawsuit is shedding light on whether anything could have been done to stop it. One survivor, Olympic champion McKayla Maroney, is accusing USA Gymnastics of attempting to stop her from sharing her story of abuse by giving her a financial settlement last year.
The lawsuit, filed in Los Angeles Superior Court on Wednesday, accuses the United States Olympic Committee and USA Gymnastics of contributing to a "culture and atmosphere that conceals known and suspected sexual abusers" by covering up knowledge of sexual misconduct within the organization. In the suit, Maroney alleges that "USAG had a plan to keep the sexual abuse of [Larry] Nassar quiet, and allow Nassar to quietly leave USAG, further silencing his victims."
Maroney claims that last year, USA Gymnastics officials had her sign a non-disclosure agreement to keep the abuse she suffered at the hands of disgraced team doctor Larry Nassar a secret. She alleges that in exchange, she was offered a hefty settlement to pay for psychological treatment to help her cope with the abuse.
Maroney's lawyer is attempting to get his client released from that agreement, arguing that it's illegal in the state of California to have a survivor of child sexual abuse sign a non-disclosure agreement as a condition of a settlement.
The lawsuit also details the trauma that Maroney continues to suffer because of Nassar's abuse. It claims that Maroney still struggles with depression and anxiety, and is worried that Nassar may have taken photos of her sexual abuse and shared them with other pedophiles online. The lawsuit seeks damages from USA Gymnastics, the U.S. Olympic Committee, Michigan State University and Nassar himself, claiming that the Maroney lost out on thousands of dollars because her trauma drove her to retire from the sport.
Maroney, a member of the USA's gold medal-winning "Fierce Five" gymnastic team at the 2012 Olympic Games, made headlines in October when she announced via Twitter that Nassar began sexually abusing her when she was just 13 years old. She said in her statement that she was inspired to come forward with the allegations because of the #MeToo movement.
Dr. Nassar told me that I was receiving "medically necessary treatment that he had been performing on patients for over 30 years." It started when I was 13 years old, at one of my first National Team training camps, in Texas, and it didn't end until I left the sport. It seemed whenever and wherever this man could find the chance, I was "treated."
She went on to say that "the scariest night of her life" was when she took a flight to Tokyo with Nassar for a team event. "He'd given me a sleeping pill for the flight, and the next thing I know, I was all alone with him in his hotel room getting a treatment," Maroney claimed. "I thought I was going to die that night."
Nassar had been treating patients for USA Gymnastics for two decades before he was quietly fired by the organization in June 2015, after the organization received complaints about him from athletes. While USA Gymnastics privately contacted the FBI about those complaints, Nassar continued to treat patients at his Michigan State University sports medicine practice, where he allegedly continued to abuse patients behind closed doors.
Nassar was convicted on child porn charges earlier this month and sentenced to 60 years in prison. But based on Maroney's bombshell new lawsuit, it looks like Nassar could be facing further consequences.