Chrissy Teigen Is Teaming Up With Blue Apron To Bring Her Fave Recipes Right To Your Door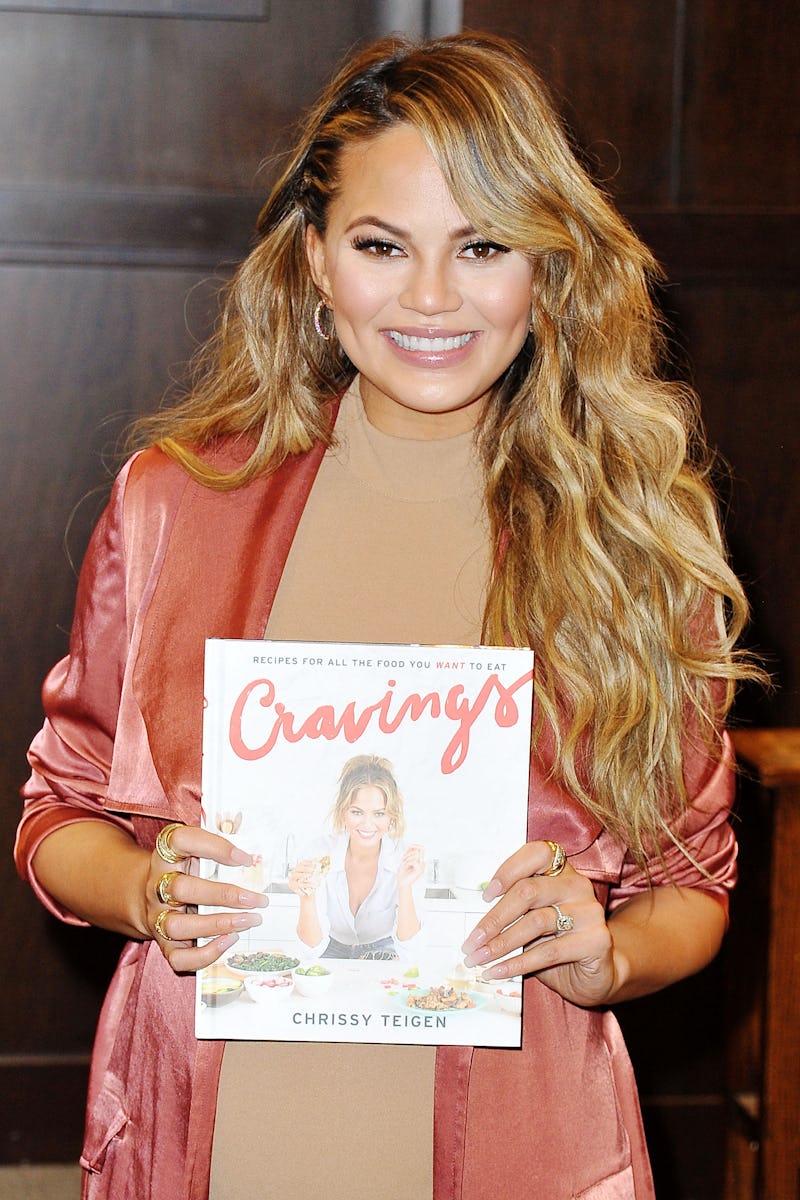 Jerod Harris/Getty Images Entertainment/Getty Images
If you drool over the elaborate meals Chrissy Teigen posts on Twitter, I've got good news for you: You'll be able to cook her meals with minimal effort very soon. Teigen is partnering with Blue Apron this summer, and the Blue Apron collaboration will bring recipes from Cravings right to your door. The partnership, which will last from June 4 to July 9, includes six of Teigen's favorite home-cooked meals from her cookbook, and they all sound amazing.
Not only am I super pumped for this partnership, which sounds like pretty much the tastiest thing ever, but Teigen is also excited that her meals are going to be more accessible to fans. "It's no surprise to anyone that I love cooking at home. I'm constantly experimenting with new recipes and sharing both my hits, and my misses! I am excited to partner with Blue Apron to share some of my favorite recipes directly with my fans, followers, and home cooks, making it easy and convenient for them to cook with me in their home kitchens," she says in a press release about the partnership.
Although Cravings was released a couple of years ago, she's had a secret food blog for a long time, according to BuzzFeed. "This partnership is a natural fit for Blue Apron, namely because we share Chrissy's passion for addictive, incredible, and unforgettable recipes. We are so excited to bring Chrissy's recipes to our menus this summer so that home cooks across the country can enjoy her original creations," Christine Fu, head of partnerships for Blue Apron, says in the release.
Here's a sneak peek at the meals to expect from Blue Apron's press release about the collaboration.
Week of June 4, 2018: Garlic & Soy-Glazed Shrimp with Charred Broccoli & Hot Green Pepper Sauce
Week of June 11, 2018: Sesame Chicken Noodles with Bok Choy
Week of June 18, 2018: Chinese Chicken Salad with Crispy Wontons
Week of June 25, 2018: Chicken Lettuce Cups with Sweet Peppers, Mushrooms, & Jasmine Rice
Week of July 2, 2018: Chipotle-Lime Chicken Fajitas with Mushrooms, Monterey Jack, & Crema
Week of July 9, 2018: Pork Banh Mi Sandwiches with Pickled Cucumbers & Carrots
Teigen has another cookbook on the way — the book is slated to release in September, and it's aptly titled Cravings 2. (The pork banh mi sandwiches are featured in the upcoming cookbook.) The first edition of Cravings was 2016's second best-selling cookbook, according to Publisher's Weekly, on the heels of Ina Garten's Cooking for Jeffrey, which was an instant cult-classic. Fu says in the release that Teigen's "love for food is absolutely infectious" and she's become "authentic and trusted" when it comes to food.
Naturally, Twitter is freaking out about the collaboration, which isn't surprising when you consider that Teigen uses the website to share her culinary creations (and unreal sense of humor) with her fanbase. As someone who doesn't ever cook but hasn't tried a home delivery service, I'm all about it — adding Chrissy Teigen's recipes makes it even more of an incentive to buy. Teigen's recipes are pretty straightforward, but if you don't enjoy cooking, even trying to whip up a simple meal can be overwhelming. Blue Apron sends you all the ingredients, so you get an Instagrammable meal without *that* much work on your part.
Right now, the collaboration is slotted to end after six weeks, but it'll be interesting to see how Blue Apron responds based on customer feedback. If the responses online are any indication, people are really stoked that this partnership is happening. Teigen's realness is one of the things that makes her so likable. Most of us won't ever have a chance to live like Teigen, but at least we'll get a shot at cooking like she does.