Chrissy Teigen Just Had The Perfect Comeback For A Mean Remark About Luna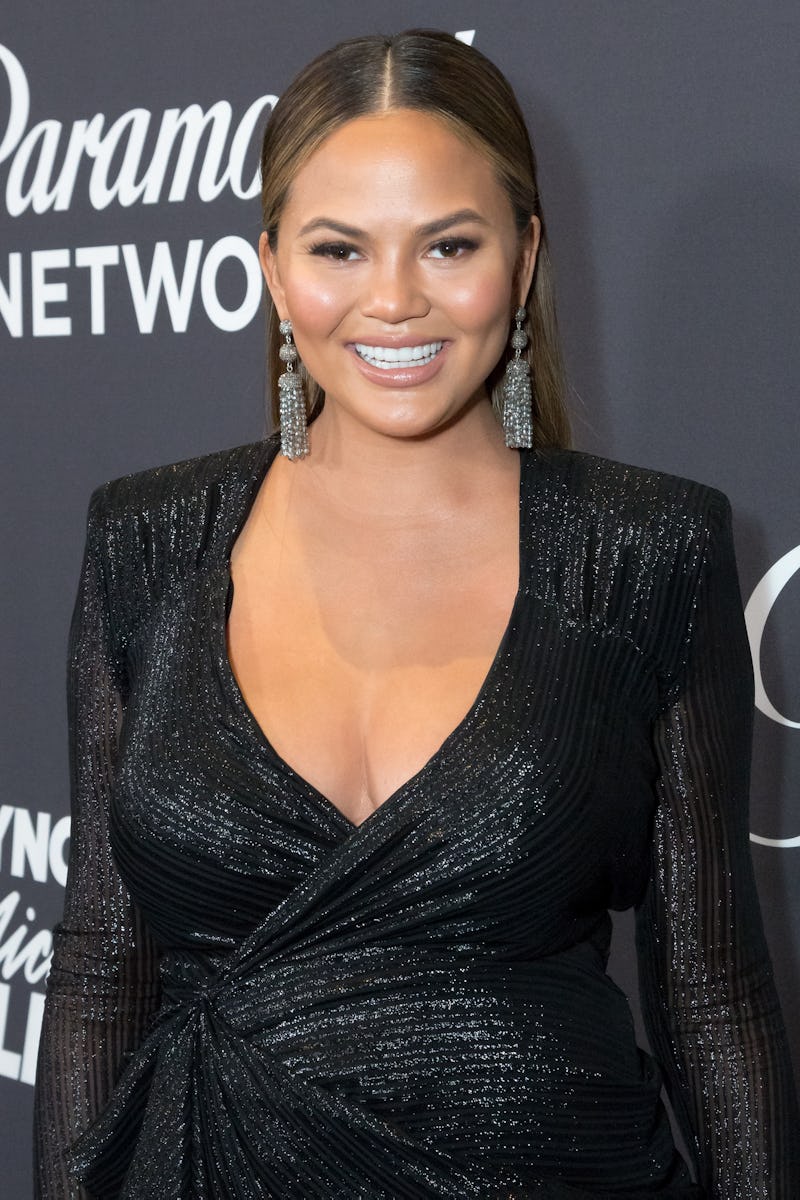 Greg Doherty/Getty Images Entertainment/Getty Images
Trolls, beware, because the Teigen-Legend family doesn't have time for your bitterness. In the latest installation of razor-sharp comebacks to come out of a Teigen-manned social media account, Chrissy Teigen shut down an Instagram user who dared to say something rude about the model's picture-perfect family. (Like, literally picture-perfect. Have you seen these photos?) As reported by Just Jared, the 32-year-old celebrity, who has long reigned as social media's unofficial clap-back queen, whipped out a masterful retort for the ages Sunday, Feb. 25, in response to a snarky Instagram user who had some oddly critical things to say about Teigen's parenting.
On Saturday night, Feb. 24, Teigen's superstar husband, John Legend, took to Instagram to share a sweet photo of himself essentially embodying what it means to be a "cool dad." The photo sees Legend looking supremely dapper, donning an all-black ensemble (and a pair of sunglasses to match) as he meanders down a city sidewalk carrying his and Teigen's 1-year-old daughter, Luna, in the crook of one arm. Sounds like some Grade A wholesome content, no? Judging by the outpouring of enthusiasm in the post's comments, it seems pretty safe to say that most of Legend's fans would probably agree. But, it seems one Instagram user was feeling particularly surly, and made their conceivably bizarre grievance quite clear. And, suffice to say, they probably should've known better than to mess with Teigen.
The Instagram user posted the following comment in response to Legend's photo. Oddly fixating on the fact that Legend was carrying his own daughter in the photo, the user wrote,
"So tired of seeing them carrying her. She need no legs then."
Huh? First of all, parents should really have full discretion on the issue of carrying vs. not carrying their own kids. (This kind of seems like a no-brainer when the kid in question is hardly old enough to walk.) Secondly, the photo appears to have been snapped along a busy city sidewalk — finding a parent who doesn't feel the need to carry their 1-year-old amid the bustle of metropolitan city chaos is probably no easy feat. Conclusion? There's absolutely nothing wrong with the photo. In fact, it's almost too cute for words — just ask Luna's mom.
Of course, upon seeing the comment, Teigen summoned all the clap-back prowess she could muster with a retort that doubles as a "how-to" lesson in crafting the perfect internet comeback. Because, while Teigen is probably well-aware that the Instagram user's ludicrous attack on her and Legend's parenting is just that — ludicrous — she's certainly never been one to ignore the throngs of social media trolls who feel the need to offer her unwanted advice. So, it doesn't come as much of a surprise that, in responding to an attack on the ways in which her and Legend are raising their daughter, Teigen made sure to show the hater who's boss.
Responding to the comment with one of her own, Teigen wrote,
"Are you so tired of it? Does it make you so sad and upset? We are so sorry to make you, queen holland meissner of the universe sad and upset. What can we do for you to make it better, sweet angel"
As far as clap-backs go, they don't get much fiercer than that one.
And, as is characteristic when it comes to the die-hard loyalty of her social media following, Teigen's fans appear to be in full support of her. Her comment has received more than 20,000 likes on Instagram, and some users are even chiming in with sly retorts of their own, a la Teigen. Praising Teigen's retort, one Instagram user wrote, "I hope she wins a gold medal as a track star for the sake of that comment." And another chimed in to share their love for Teigen's comeback skills. They wrote, "@chrissyteigen queen of comeback remarks."
If Teigen hadn't already solidified her status as social media's prevailing Comeback Queen, she certainly has now.