Chrissy Teigen's Post About Watching 'Crazy Rich Asians' With Luna Will Make You Teary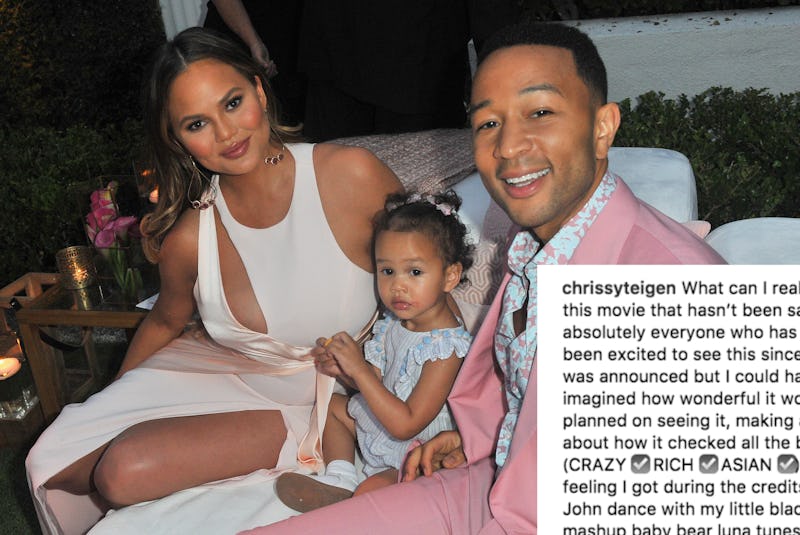 Jerod Harris/Getty Images Entertainment/Getty Images; Chrissy Teigen/Instagram
Crazy Rich Asians continued to dominate the box office this weekend, and the movie's success is so meaningful. On Sunday, Chrissy Teigen posted about taking Luna to see Crazy Rich Asians, and their experience shows why on-screen representation is so important. The mom-of-two was excited to see the film, which is the first movie with an all-Asian cast in over 20 years. In her Instagram, Teigen revealed that the movie made her even more emotional than expected. In particular, her daughter's response to the film was especially moving.
The photo series showed Teigen admiring a wedding dress from the film with Luna, as well as her daughter watching the movie with Legend and the two dancing during the credits. The Lip Sync Battle co-host told the story of their movie-going experience in the post's caption.
"What can I really say about this movie that hasn't been said by absolutely everyone who has seen it. I've been excited to see this since production was announced but I could have never imagined how wonderful it would be. I planned on seeing it, making a few jokes about how it checked all the boxes for me," she wrote. "but the feeling I got during the credits, watching John dance with my little black asian mashup baby bear Luna tunes, was a feeling I haven't had at the end of any other movies."
Luna, who is 2 years old, recognized her own experience in the characters, making it a unique film-going experience. As Teigen wrote,
"Luna, aside from being blown away by the general movie-going experience (yep she's 13 now, time flies) looked up at Constance Wu's mother and yelled 'yāy!' ('Grandma' in thai) because she saw someone who looked like her yāy. Someone beautiful and aspirational. It was something that simple that made my heart just...warm. That made me happy. It made me happy to see this over the top story done from so many angles, some I could totally understand because of my own confusing Asian American upbringing."
This moment of recognition captures why representation on screen is so important, and hopefully the success of the film will mean Hollywood commits to telling more inclusive stories in the future. The last film to feature an Asian-American cast was Disney's Joy Luck Club, released in 1993. Not only has it been 25 years since the film's premiere, but Joy Luck Club was, until now, the only film with an Asian-American ensemble to have a theatrical release in the United States, according to The Hollywood Reporter.
In her post, Teigen talked about what on-screen representation meant for her daughter, but also for herself. "You never know how much you miss being represented on screen until you actually see what it's like to be represented," she wrote. "And represented by all different types of characters with all different types of personalities, just like any other great movie."
Teigen wasn't alone in her experience. Director Jon M. Chu and writer Kevin Kwan, who penned the book the movie is based on, reportedly passed on a movie deal with Netflix for this reason. It was important to the film creators that Asian-American viewers have the opportunity to see themselves reflected in theaters, on the big screen. For this reason, Crazy Rich Asians is a landmark film, and Teigen's post demonstrates exactly why this cinema moment is long overdue. In the future, her own kids, Luna and Miles, shouldn't have to wait as long to feel seen and represented on screen.
In Teigen's post, she also highlighted how striking and fun the movie was, making it an all-around positive experience, and thanked the creators for bringing the film to life. She wrote: "God I love a rom com. God I loved it all. Thank you guys for making this movie." The film has similarly resonated with audiences across the country, and it'll likely continue to for this very reason.