Chrissy Teigen's Dog Suffers Heart Failure & Her Tweets Will Make You Tear Up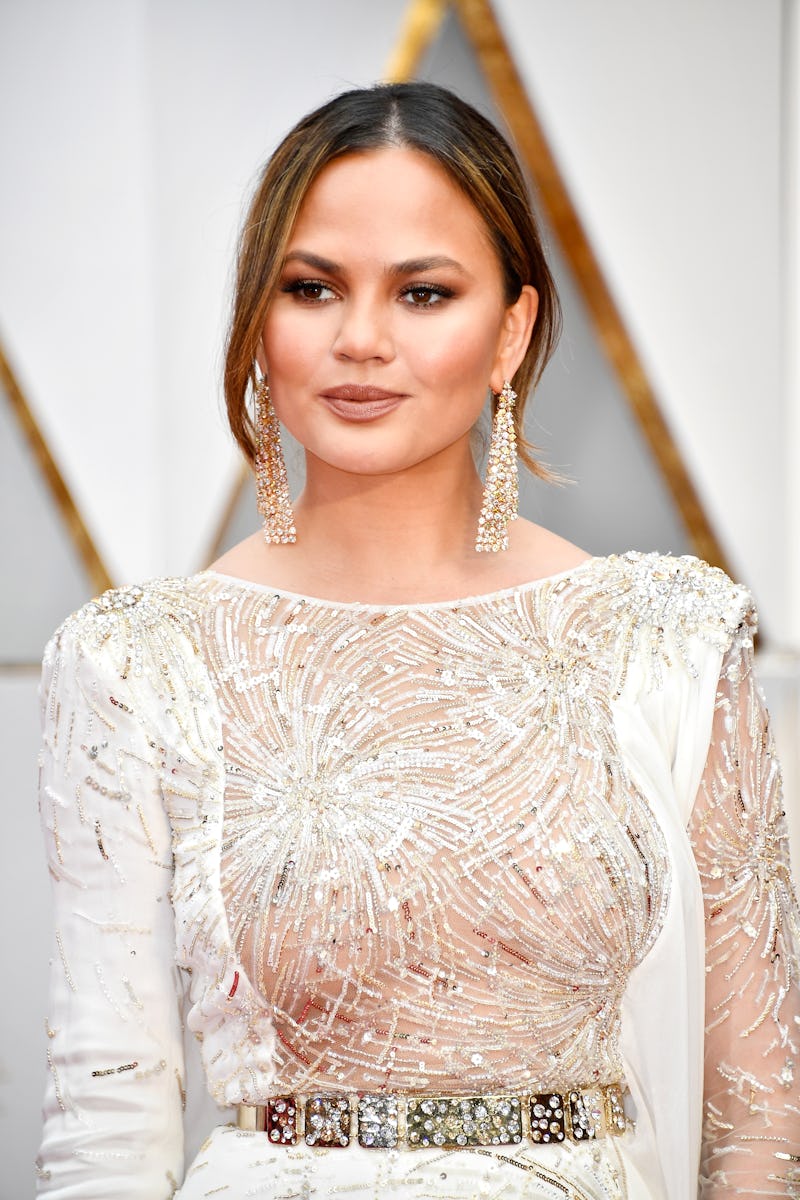 Frazer Harrison/Getty Images Entertainment/Getty Images
This is so sad. John Legend and Chrissy Teigen's dog Puddy was rushed to the vet over the weekend due to heart failure. On Sunday night, the Lip Sync Battle co-host tweeted, "At the emergency vet with my old man bulldog puddy. Please send him happy doggy thoughts :( my first born baby." When one follower asked about Puddy later that evening, Teigen replied, "Heart failure but he is stable at the moment. not sleeping tonight that's for sure. Thank you."
It's an all too familiar feeling to any human who has been through something like this with a pet: Your mind is like a high-speed ferris wheel that won't stop spinning, even when your stomach has been pushed past its limit. You worry about what will happen next. You worry what the vet will say. You worry about whether or not there was anything else you could've done. You worry about whether or not there's anything else you can do right then and there. You spend tens of minutes scouring petMD for answers, but your research only fans the flame of the bonfire that is your worry. You can't focus on anything else for too long. You most certainly cannot relax. Oh, and you're worried. So, so worried.
And in Teigen's time of need, the right story crossed her path. No, the story wouldn't make everything OK; it wasn't some magical, fix-all salve that would cure Puddy or lessen Teigen's fear. However, for a fleeting moment, the story appeared to bring her a much-needed laugh. At 3:34 in the morning, Teigen shared a link to a Hello Giggles article about a certain sound effect featured in "The Call" by the Backstreet Boys. Yes, that "The Call" sound effect.
AJ McLean's anecdote, as goofy and sophomoric as it might be, seemed to deliver a brief bit of lightness during this difficult time. And when you're experiencing serious pet-related stress, small moments of levity can be so valuable. They give your emotions a chance to exhale, you know?
After reading about what really went into creating the Backstreet Boys' hit single, it was back to the animal hospital. Once she got there, she'd make a point to fuel up on Keurig coffee and tweet-invite The Real Housewives of Orange County stars Meghan King Edmonds and Peggy Sulahian to her home. On Sunday afternoon, Teigen tweeted about last week's RHOC episode, and her posts led to Edmonds and Sulahian getting into it on Twitter the next day. The OC Housewives' back and forth prompted Teigen to request that they come over to her place and make nice. All of this probably came as a welcome distraction. Or at the very least, a weird distraction. A weird distraction that, once again, would let those exhausted feelings catch their breath for a second.
Puddy is the eldest of the Teigen-Legend family's four dogs. The nine-year-old English bulldog has been featured in a lot of Instagram posts over the years, including this video he and Pippa the French bulldog did that's set to Legend's "All Of Me."
There are no words for this video. Same goes for this picture of Puddy choosing to snooze in the smaller of two dog beds.
Oh, and here's Puddy with Pepper the French bulldog.
And here he is with Luna.
And here he is in a magazine like the true celebrity that he is.
At the time of writing, neither Teigen nor Legend have tweeted any further updates about Puddy. All of the love to the Teigen-Legend family, and may this precious gem of a pooch make a speedy recovery.