Chrissy Teigen's Struggle To Get Luna To Smile Is Way Too Relatable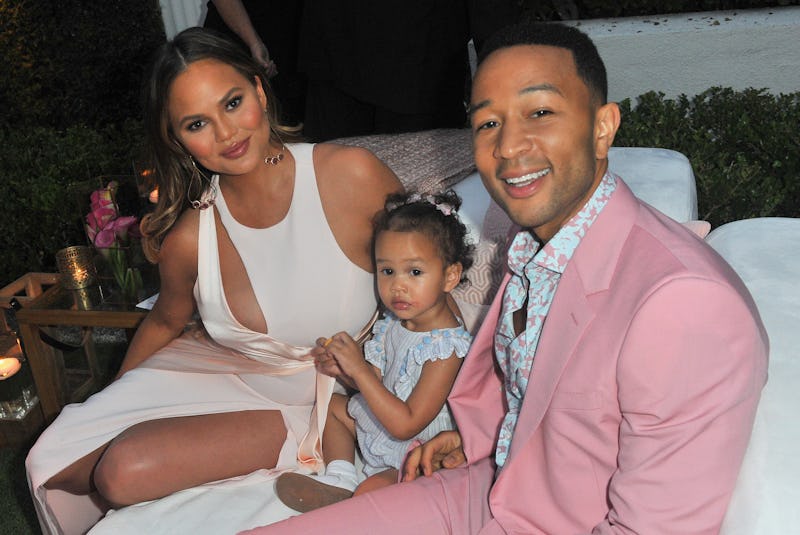 Jerod Harris/Getty Images Entertainment/Getty Images
Chrissy Teigen has always been open about the ups and downs of parenting her kids, Luna and Miles. And now, she's getting so real about what it's like to take a picture with a toddler — a task that can, more often than not, be impossible. In the caption of her new Instagram post, Teigen shared her dialogue with Luna while trying to get her to smile for her picture, and this is probably a conversation that every mom has had at some point or another with their kid.
If you're a mom or even if you've ever spent time with a toddler, you already know that it's hard to get them to do something you want them to do, unless it's something they want to do, too. And for Teigen, the struggle was real. She wrote:
"Luna. Luna please. Luna one smile. Please for mama. Okay that's fine you don't have to. Don't listen to people that tell you to smile. But please can you smile. No it's ok nevermind [sic]. Maybe one smile?"
And as you can see from the photo, Teigen is smiling as she looks at Luna and holds Miles, and Luna... well, let's just say she didn't exactly do what her mom asked.
There's such conflict in Teigen's caption, and that's what makes it so real. Of course, you want your daughter to smile for a picture, but do you really want her to grow up thinking she has to smile when someone tells her to? No. But still, you really want that nice picture with both your kids in it while you're on vacation, so you reason with her. It makes sense. And Teigen had to be at least a little frustrated.
And honestly, it's kind of cool that Luna is so strong-willed. If she doesn't want to smile, she's not going to smile... and in the end, her mom still got a good picture, because everyone can relate to a child not cooperating in a photo. And Luna's grumpy face is nothing new to anyone who follows Teigen on social media; there have been plenty of times where she's obviously just not into the whole picture taking thing.
Remember this gem? Despite the fact that her mom was celebrating another collaboration with BECCA — and that Teigen and Legend kept trying to get a reaction out of her — Luna remained completely nonplussed about the situation. Does a toddler care about highlighter? Probably not, not even if her mom is on the display in Sephora. One day, though, she'll undoubtedly think that was very cool.
One of the best things about Teigen's social media presence is that she always keeps it so real about parenting, even on topics that might still be taboo for other moms... and even when it means sharing when her daughter isn't cooperating. All the angry face photos of Luna are so worth it, because seeing her personality shine as she grows is so much fun for Teigen's followers.