Chrissy Teigen's Take On "Lady Doritos" Is Glorious & You're Going To Love It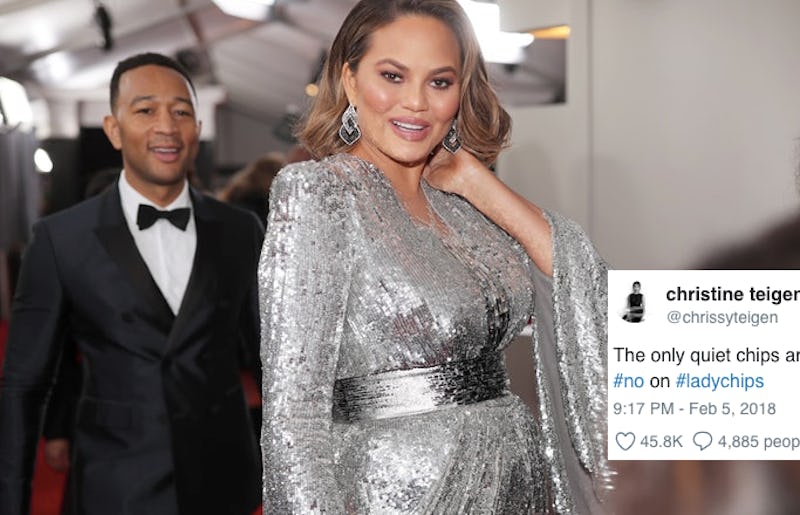 Christopher Polk/Getty Images Entertainment/Getty Images
She's never been one to shy away from the tough, hard-hitting issues, but on Feb. 5, Chrissy Teigen tweeted about the "Lady Doritos" controversy — and her response was spoken like a true politician. The self-proclaimed "de-motivational speaker" took to Twitter to share her thoughts on the gender-driven Doritos development, and announced that "This Tuesday I'm voting #no on #ladychips."
The Doritos dispute in question stems from a Jan. 31 interview on the Freakonomics podcast, wherein PepsiCo CEO Indra Nooyi spoke about a new product launch that was driven by consumer insights. According to Nooyi, women "don't like to crunch too loudly in public" when they're snacking on chips. "And they don't lick their fingers generously and they don't like to pour the little broken pieces and the flavor into their mouth," Nooyi continued.
Nooyi also revealed that — in addition to developing a "low-crunch," "full taste" chip that won't "have so much of the flavor stick on the fingers" — Doritos is also planning on rolling out a new, women-focused packaging design, because "women love to carry a snack in their purse."
The interview drew a lot of attention and "lady Doritos" trended on Twitter for much of Monday afternoon. In response to the reports about the topic, PepsiCo released the following statement:
The reporting on a specific Doritos product for female consumers is inaccurate. We already have Doritos for women — they're called Doritos, and they're enjoyed by millions of people every day. At the same time, we know needs and preferences continue to evolve and we're always looking for new ways to engage and delight our consumers."
Teigen's tweet focused on Nooyi's comment about women being crunch-conscious in public. "The only quiet chips are stale chips," Teigen wrote. Which is, one, so true, and, two, a great example of a risk we all take — men, women, children, whomever — when we enjoy snacks. Just like we risk them crunching or not fitting in our purses properly. Chips crunch. They always have. And it definitely wasn't something that I've been conscious about, unless I was trying to secretly snack on some chips in a quiet place where noise, of any kind, would be inappropriate (like, say, a library or Catholic Mass).
But it was the next part of Teigen's tweet, where she said she'd be "voting #no on #ladychips" this Tuesday, that has led me to believe she should consider running for office. Which office? Any of them, doesn't matter. Actually, whichever office can prevent any sort of #ladychips from ever happening. "Say #No to #Ladychips" could be the only platform Teigen runs on, and considering the fact that her tweet has already been liked by more than 45,000 people, she'd have a landslide victory on her hands in no time. Besides, if her Instagram profile is any indication, she's already "making america great again."
Of course, this isn't the only issue of major importance that Teigen has shared her opinion on. She's spoken out on Twitter about everything from the way Pokémon GO victimizes its users, to the everyday challenges of photoshop — she's even addressed the hot-button issue of chicken pot pie awareness. Teigen is truly the candidate (for whatever office) we deserve.
And so, my fellow Americans, the next time you head to the polls to choose a leader you can trust, a leader who has the courage to stand up and say #no to #ladychips, make sure you cast your ballot for Chrissy Teigen.