Chrissy Teigen Posted An Adorable Family Photo With Some "Sea Puppies" (AKA Stingrays)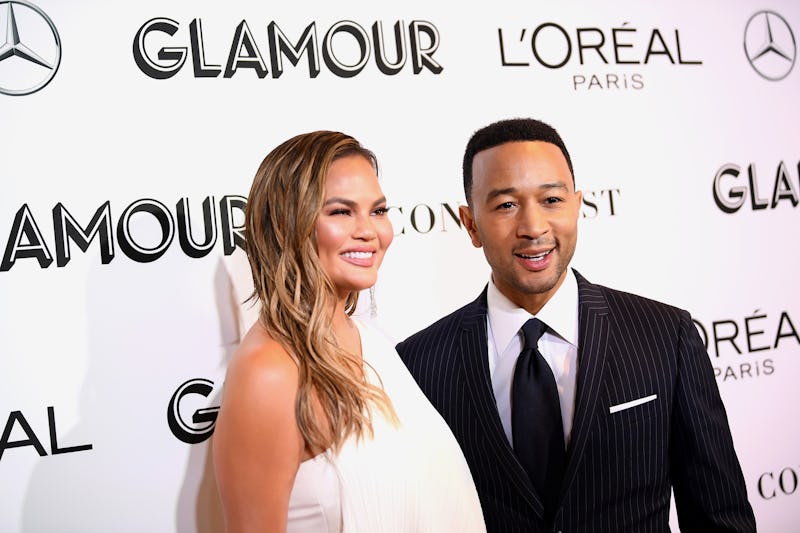 Dimitrios Kambouris/Getty Images Entertainment/Getty Images
Chrissy Teigen, John Legend, and their friends recently enjoyed a tropical vacation to kick off the new year. And the cookbook author's latest Instagram post shows just how fearless this crew is. Chrissy Teigen's new family vacation photo might make fans jealous of their close encounter with stingrays — or it may make others glad to be at home, far away from the creatures.
In the picture Teigen shared on Friday, the family is going for a swim, along with a few unexpected guests. Even though the model looks like she's being engulfed by two stingrays, she's smiling through the ordeal and even dubbed them "sea puppies" in her caption. Legend, meanwhile, is reaching out to pet a ray as daughter Luna stays on his shoulders, safely away from the animals. Basically all four people in the water don't seem afraid of the swimming creatures at all.
FYI, the fourth person in the photo appears to be Mike Rosenthal, a director and photographer. Rosenthal is married to Teigen's friend Jen Atkin, a celebrity hairstylist who joined in on the tropical vacation. Although absent from this particular pic, Atkin is credited in the caption for capturing the adorable moment.
Based on the geotags in Atkin's own Instagram posts, it looks like the group was visiting Bora Bora to kick off the new year. The two couples were also joined by their other pals, talent agent Meghan Mackenzie and her partner, Luke Dillon.
The trip is over at this point — Teigen tweeted about her plane trip home on Thursday. (She also tweeted a video of herself cooking short rib once they got back, and honestly it looked amazing.) But Atkin and Teigen seem to still be in that vacation mindset, since they both shared new pictures from the Bora Bora visit after their return.
Unfortunately, though, Teigen is no stranger to mom-shaming, and her post did bring in some comments about Luna's safety around the stingrays. But as marine biologist Alan Henningsen explained to NBC News, stingrays don't tend to harm people if they aren't provoked. Tourists who swim with stingrays should avoid swimming right over them or stepping on their tails, NBC News reported, since that's what they use as defense mechanisms. But it's clear from Teigen's photo that they practiced safety measures around the animals by standing alongside the rays and avoiding their tails.
Based on everything the group has shared from the trip, Legend and Teigen started the year off with some serious rest and relaxation. And after the Legendary Christmas Tour, along with Teigen's now-infamous moment getting hit by Leslie Jones' umbrella at the New Year's Eve ball drop, the two of them definitely deserved a break.
Teigen's latest photo shows off her adventurous side, and it appears she's passing that trait on to Luna, too. Despite NBC News' reassurance, I'll be staying away from swimming with any potentially dangerous creatures in the near future, but it looks like it was the perfect way for them to have fun.