Chrissy Teigen May Not Share Pics Of Her New Baby ASAP — Here's Why You Need To Learn To Deal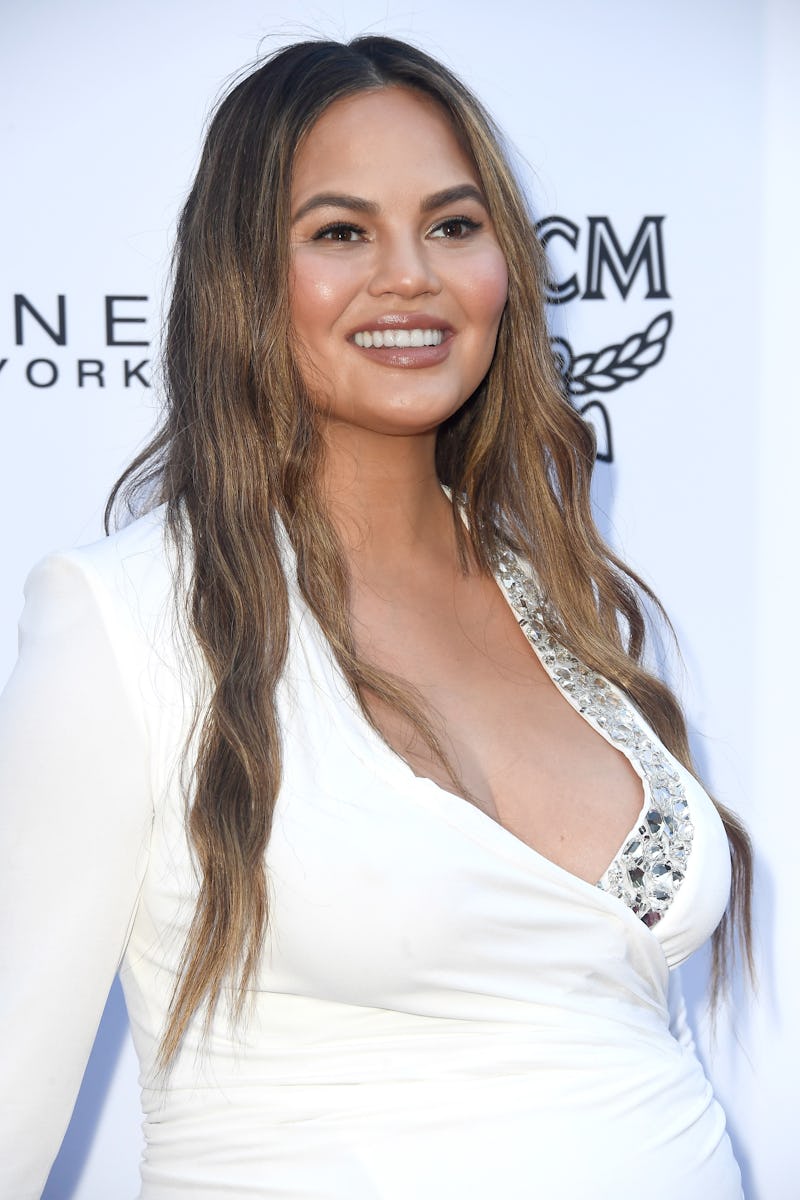 Frazer Harrison/Getty Images Entertainment/Getty Images
If you haven't heard the exciting news, Chrissy Teigen and John Legend's second child has arrived. The model announced her son's birth on Twitter late Wednesday by posting, "Somebody's herrrrrrre!" Legend also retweeted her post. And now that their baby boy is here, photos of Chrissy Teigen's new baby are something fans probably want — and expect from the 32-year-old. Well, Teigen shares a lot about her life, doesn't mean fans are owed images, nor does it mean either Teigen or Legend have to share them.
Overall, it seems people have unrealistic expectations of Teigen and not only when it comes to her posting photos of her children. Whether it's how she is as a mom, a pregnant woman, or her politics, those who follow Teigen want a lot from her.
The Lip Sync Battle commentator is extremely upfront. She's one of the most vulnerable celebrities and is extremely generous about inviting the public into her life via social media. It's been Teigen's choice from pretty much the beginning to basically be an open book with her fans. From her marriage to Legend, to revealing her pregnancies, to discussing her journey with IVF, to admitting she's dealt with postpartum depression, to posting videos and photos of her daughter, Luna, the Cravings author has shared a lot.
It's rare for a celebrity to be this open, but it's Teigen's choice. She has always set her own terms and has written her own narrative. It's one of her many beloved qualities. So, if you're demanding pictures of her new baby or get mad if she doesn't share a photo of him right away, well, that's not OK. It also goes against who she is as a person. She doesn't allow anyone to dictate what she will or won't do. Her social media is on her terms.
In not-so-shocking news, fans are already dying to see pictures of the baby, but who isn't? One Twitter user shared a screenshot of a text conversation with their friend, which partly reads, "I want to see pics of Chrissy Teigens baby". Even before his arrival, fans were expressing how much they wanted to see the baby. Someone tweeted on May 15, "I just want to see @chrissyteigen and @johnlegen's and second child! Is it too much to ask? Where you at baby legend?"
And if people are worried there aren't pictures yet, there's no need. You know Teigen's going to share photos eventually. Two days after Luna's birth announcement on April 17, 2016, Teigen shared her first photo of her (as seen below) on April 19. Luna's full face was shown in another pictures on April 20, which is very fast when it comes to fans getting to see one of their favorite celebs' baby.
But just because Teigen posted a picture of Luna that quickly and shares plenty of photos and videos of her, that doesn't mean anyone is entitled to any form of media featuring her second baby — or of Luna for that matter. It's up to her to decide when, where, how, and why to post images and videos of her children.
It's totally understandable why people want to see pictures of the new baby. Teigen and Legend seem like amazing parents and to see how they interact with Luna is heartwarming. Plus, Teigen's social media presence makes her feel like a friend. It's why so many people adore her. She doesn't hold back about anything and it makes her all the more likable. She's real. Plus, Luna is super cute, so, yeah, it makes sense why fans are already so desperate for photos. That said, it's important to remember fans shouldn't demand anything from Teigen, especially images of her children.
Fans actually expect a lot from the cookbook author, and not only when it comes photos of her kids. For example, people think Teigen's entire life is their business. They also think she wants their opinions, which isn't the case all the time. For example, in April, followers were concerned when Teigen said she was flying to New York City for an event, because many felt she shouldn't be traveling via airplane this far along into her pregnancy.
Of course, Teigen didn't want their advice — or appreciate their intrusiveness. As she tweeted about the person, "She is referring to the fact I am pregnant and flying. Why can't people mind their own uteruses? I have a doctor, I'm good, thanks for the fake concern!"
And when it comes to Teigen expressing her opinion, people either want her to comment or they don't want her thoughts. She can never please everyone. There's always someone who isn't happy enough with her, whether it be a Teigen lover or hater. But, that's what makes her so great, because she doesn't usually seems able to brush it off, save for the mom-shaming comments every now and again.
As one of the most famous and open celebrities currently on social media, it's important to remember Teigen is a human being. Just because she puts her life out there for the world to see doesn't mean anyone is entitled to telling her how to be a mom, let alone asking to see pictures of her babies. People should just grateful Teigen shares as much as she does of her life.