Chrissy Teigen's Next Cookbook Is Going To Be Aimed At Kids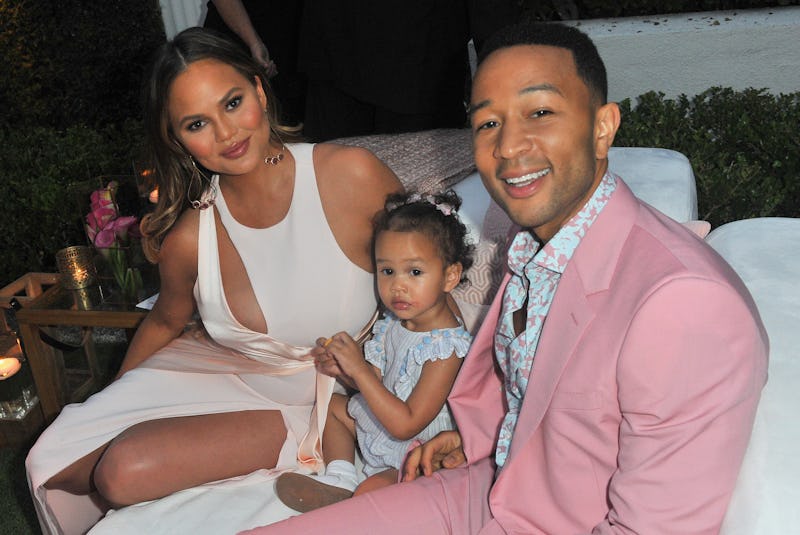 Jerod Harris/Getty Images Entertainment/Getty Images
The little ones in your life may never be in a play group with Luna or Miles Legend, but soon enough, they will be able to eat like them because Chrissy Teigen is writing another cookbook, and this one is for kids. Will it include a fabulous twist on the classic PB&J, a healthy version of buttered noodles, a recipe for dino-shaped chicken nuggets, or a guide to making homemade fruit snacks? More importantly, will it feature any photos of the ever adorable Legend kids, perhaps helping their mom cook? We don't know all the details yet, but what we do know is that we are ready to eat just about anything Teigen cooks up, no matter what age group its meant for.
During her #CRAVINGSFEST in New York on Saturday, where she served signature dishes from latest book, Cravings: Hungry for More, Teigen announced that she is working on a kid-friendly cookbook. According to People, the model, cookbook author, and all around badass mom shared the news at the event, which was a part of this year's New York City Wine and Food Festival, with her husband John Legend and their daughter Luna, who is two, by her side.
"I really wanna make it awesome," Teigen told a fan who asked her about writing a children's cookbook. "I know kids have really simple palates and we all want to make them more refined, but they're just kids, so we're gonna do stuff that kids are going to love." If the next project is anything like her last two, we can only imagine the kind of feel-good, taste-better kind of creations will be included.
Cravings: Hungry for More by Chrissy Teigen, $29.99, Amazon or Indiebound
Teigen, who is as good at creating delicious dishes as she is at trolling Donald Trump online, even asked fans to tweet her with ideas to include in the upcoming book. If you've ever dreamed of having your dad's famous chicken noodle soup or your grandmother's secret chocolate chip recipe shared with the world, this is your chance.
The forthcoming cookbooks for kids will be far from the first time Teigen has showed fans just how good of a cook she is. In 2016, she published her debut cookbook Cravings: Recipes for All the Food You Want to Eat, which includes recipes for her now iconic Lemony Arugula Spaghetti Cacio e Pepe and Mac & Cheese with Cheesy Garlic Breadcrumbs. She followed it up with Cravings: Hungry for More, which was released in September and includes mouthwatering dishes like an Everything Bagel Cream Cheese Breakfast Bake, a Jalapeño Parmesan-Crusted Grilled Cheese, and a Roasted Butternut & Pomegranate Salad.
Cravings by Chrissy Teigen, $29.99, Amazon or Indiebound
In addition to being the first to know about the upcoming cookbook for kids, guests at #CRAVINGSFEST got a chance to sample some of the recipes in Hungry for More, including her Fluffy Corn Dogs and Crispy Coconut Chicken Tenders, which she served throughout the event. Teigen, her husband, and her mother, Vilailuck Teigen, also gave cooking demos and took audience questions throughout the day. Of course, Teigen and Legend's adorable children made a few appearances as well, and Teigen even assured the crowd that her next book of recipes will be "Luna-approved."
While there are no details yet as to when this kid-friendly cookbook will be released or what dishes it will include, fans are already excited for the chance to add to their growing library of Teigen's recipes — and another excuse to break out their "Cravings by Chrissy Teigen" kitchenware from Target. In the meantime, there are plenty of divine dishes, including that viral Twitter Banana Bread, to try from the first two volumes of Cravings.