Chrissy Teigen's Video Of Luna Getting Her Passport Photo Taken Will Make Your Heart Burst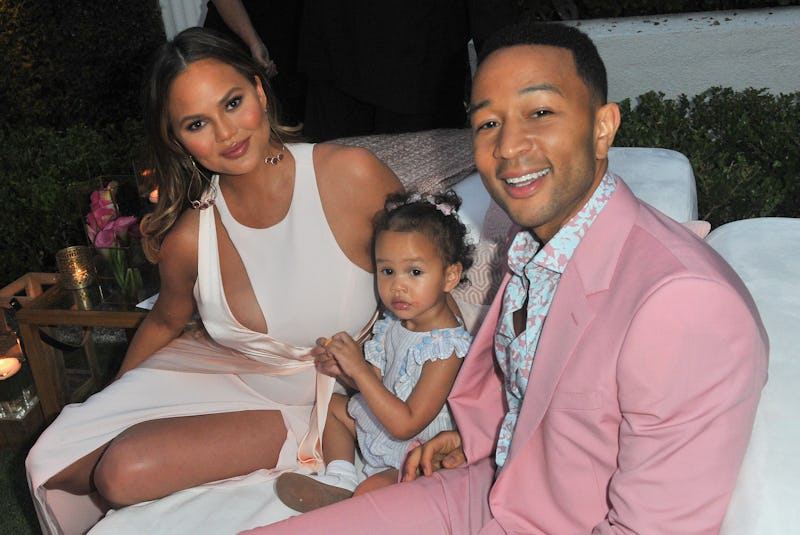 Jerod Harris/Getty Images Entertainment/Getty Images
Though fans of Chrissy Teigen and John Legend are still celebrating the arrival of the couple's new son, Miles, his older sister Luna is always ready to steal the show. In fact, Chrissy Teigen's videos of Luna getting her passport photo taken are just peak Luna. The toddler is equal parts stylish, hilarious, and uncooperative during the experience, which just feels so right. "Let's get this sh*t over with," Teigen tweeted, adding a video of Luna marching into the FedEx/Kinko's in their neighborhood on June 29. It quickly becomes evident that that little Luna seems to be showing lots of toddler attitude during this amazing milestone.
Those that first had passport photos taken at a young age will likely not remember the experience, but it's safe to say it went something like this: First, you got glammed up in your favorite outfit and hairstyle. Then, someone drives you to Kinko's, or wherever it is that they still take passport photos these days. After that, the photoshoot began, and you and your parents were locked in the eternal dance of "Who will give up first?", but it's always the parents, because when a toddler doesn't feel like smiling for the camera, they will not be smiling for the camera any time soon.
Was that Luna's experience? Fans don't know for sure, but it very well could have been based on Teigen's adorable videos of the day. Watch and appreciate Chrissy Teigen's incredible video of Luna's passport photo shoot right here:
"We are f***ing up this Kinko's right now," she tweeted in between videos of Luna. Teigen's other tweet, captioned "I'm crying," shows that that might not really be the case. In fact, Teigen and Legend's experience with Luna was probably equivalent to the average parent's experience. (No offense to the famous, fabulous couple, of course.) And if you weren't sure how a toddler takes passport photos, Teigen's video can show you how. It appears as if Legend is seated with Luna on his lap and the bright white background in between them, because aww, she's too little to sit there on her own. It looks like the ultimate balancing act.
After all, the U.S. Department of State has strict guidelines for passport photos. According to those guidelines, the photo must have a plain white or off-white background and the person should have a neutral expression or natural smile — but not a smile with teeth showing. That could explain her indifferent expression in the videos when the photos are taken — it's actually a requirement for the photos.
This is all up to interpretation, of course, because it could be that Luna is communicating something entirely different than what fans have assumed. On June 27, for instance, Teigen tweeted that Luna speaks in a language only a parent could understand:
So, really, maybe Luna's loving the entire thing, and just practicing her best Blue Steel-level model face for the camera. Truly, only Teigen and Legend can know for sure. Either way, the knowing that people as wealthy and famous as them having to lug a blasé toddler to a FedEx/Kinko's is amazing. Truly, celebrities are just like us. Well, they can be. Remember when Khloé Kardashian brought her own lighting to the DMV to get a new license photo? Apparently, that level of care hasn't reached every A-list person just yet.
Still, knowing celebrities have to comply with government-issued photo identification procedures just like anyone else is such a relief. Just something to remember the next time you have to renew your driver's license or passport and need to take a brand new photo for it.