Christian Siriano's Barbie Collection Celebrates His Most Fierce Celeb Fashions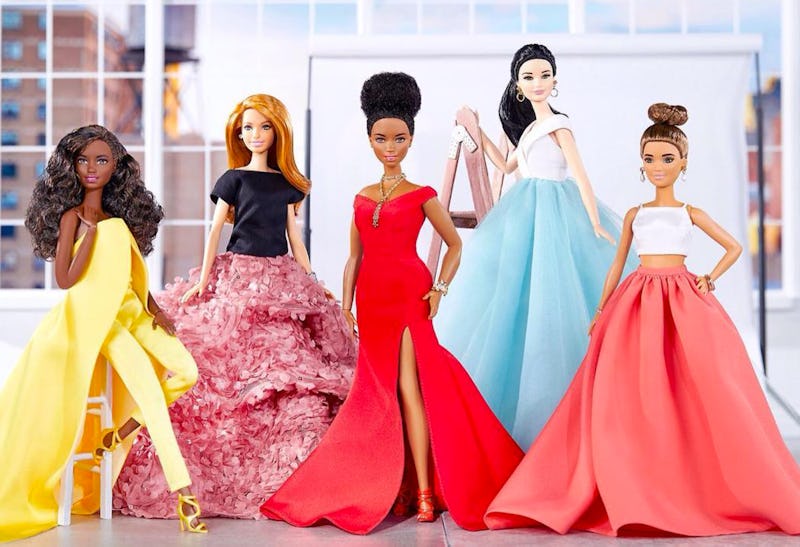 Courtesy of Mattel
While Christian Siriano is still referenced as a "Project Runway winner" and remembered for elevating the word "fierce" in the pop culture lexicon during his season, the designer is also celebrated for something way more important. Siriano has a serious commitment to fashion inclusivity, and it is fully showcased in the Christian Siriano x Barbie collection.
Siriano stands out from so many of his peers not simply because of the originality of his designs, but because he refuses to ignore plus-size women. Rather, he creates custom gowns specifically for them. Remember when he crafted two looks for This Is Us star Chrissy Metz for the 2017 Golden Globes. While she opted not to wear either, Siriano's plus-size designs and diversity when it comes to which celebs he dresses are his hallmarks.
Ultimately, Siriano's Mattel x Barbie collab captures the most important aspects of his design aesthetic and philosophy. The range features five dolls wearing replicas of red carpet designs that Siriano, created with an array of celebs of different backgrounds.
The standout is SNL star Leslie Jones' off-the-shoulder, clingy, and tomato red gown with the mega slit from the Ghostbusters premiere, which Siriano created after Jones was vocal about her difficulty in finding a designer to dress her.
Solange's lemon yellow pantsuit with a voluminous and strapless cape was recreated in doll form, too. The full, coral-hued skirt and white crop top ensemble worn by Modern Family's Sarah Hyland was also among the bunch.
The Carrie Bradshaw-inspired pink skirt Siriano crafted for Sarah Jessica Parker made an appearance in the collection, paired with a black tee. Finally, a blue and white dress with an equally epic and voluminous skirt referenced one of Siriano's 2018 resort designs.
This image of all five of the dolls and designs spotlights other Siriano signatures — namely an appreciation of volume and a keen understanding of bright, adventurous colors.
"Barbie is a fashion icon — she's been dressed by a multitude of designers over the years who have used her as a canvas to reflect beauty of the moment," said Sejal Shah-Miller, vice-president of global marketing at Barbie, according to Us Weekly. "We are thrilled that Christian is the next designer to be inspired by Barbie and is showcasing a diverse and inclusive view of red carpet looks."
Unfortunately, the Siriano Barbies won't be available for purchase, which is a major bummer, especially for collectors with a predilection for high-fashion, couture-wearing versions of the time-honored doll.
However, there are plenty of inclusive and representative Barbies from a variety of backgrounds available for sale as part of the regular range of dolls. The body positive Barbie makeover began back in 2016.
Barbies has come a long, long way since the days when I used to play dress up with her. My Barbies always had working girl backstories — and not just because I was a writer from the age of six with her own typewriter. I actually came up with elaborate bios for my Barbies in order to make playing with them more interesting.
I would get bored changing their clothes and hairstyles three or four times after an hour, simply because I had five blonde, blue-eyed dolls that all looked largely the same. Plus, they didn't look anything like me, with my dark eyes and hair, or any of my friends.
I needed to get creative in order to remain engaged.
Barbie now represents more girls of all sizes, shapes, and backgrounds, and that makes her an even more inspiring cultural icon. She has certainly caught up with the times — and Siriano's seal of approval is proof.