If You Watch One Billboard Music Awards Performance, It Should Be Christina & Demi's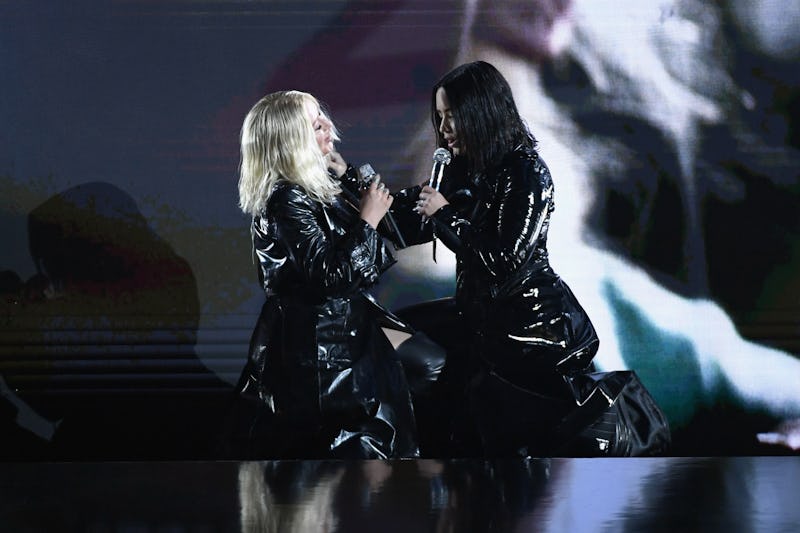 Ethan Miller/Getty Images Entertainment/Getty Images
Talk about a dynamic duo. Christina Aguilera has been releasing songs from her upcoming album Liberation over the past few weeks, including the empowering "Fall In Line," which features Demi Lovato. Then, on Sunday night Aguilera and Lovato performed the song at the Billboard Music Awards for the first time.
Aguilera kicked the performance off on her own, surrounded on a simple stage by robotic soldiers. A screen flashed red, white, and blue lights, Lovato joined her on the second verse, and, dressed in matching black patent leather coats, the two belted out the track side by side, showing off their respective vocal abilities, while the soldiers kneeled and clapped beneath them.
Towards the end of the passionate performance, on the screen behind the singers, two little girls ran through a field of flowers. The children laid down in the grass and laughed, before two soldiers, their faces obscured, came and picked them up as they cried. The artists then kneeled across from one another, embracing and setting their foreheads against one another as a mechanical male-seeming voice chanted,
"Yea, two, three.
Right, two, three.
Shut your mouth, stick your a** out for me.
March, two, three.
Who told you you're allowed to think?"
The soldiers marched around them in unison as the song came to a close, and the singers stood up and thanked each other while they held hands and the crowd cheered excitedly.
After teasing a collaboration for months, Lovato and Aguilera finally released "Fall In Line," an empowering anthem for women, calling out inequalities they face and reminding young girls and women to know their worth, with lines like,
"Little girls, listen closely.
'Cause no one told me,
but you deserve to know.
That in this world, you are not beholden.
You do not owe them your body and your soul."
Upon the track's release, Lovato, a longtime fan of Aguilera's, posted a photo of the two on Instagram, writing, "I hope you love this song as much as I do. It's such an honor to lend my voice to this anthem for women with one of the most inspiring individuals I've ever met."
That same day, Aguilera also posted the photo on her Instagram, and raving about Lovato in the caption. She wrote,
"I believe our paths were destined to cross and I am so proud to come together from the pasts we've overcome; to the strong women we are today! You are truly a GEM, I have immense love and respect for you! You are an inspiration for future young girls of your generation. Beautiful work!"
While the song is thematically timely — given the #MeToo and Time's Up movements and increased participation in a national dialogue about the need for equality — Aguilera told W magazine that she began working on "Fall In Line" quite a while back. "You hear 'Fall In Line' and maybe think it was inspired by this time and it's not," she told the magazine. "It was created years ago. It's something I've always felt very strongly." The song's timeline certainly emphasizes that these issues women face have existed long before they were given hashtags.
Fans who enjoyed their BBMAs performance can look forward to seeing Aguilera and Lovato together again soon. Aguilera recently posted a photo of the pair kneeling in a field and surrounded by flowers, captioning the post only with video camera and heart emojis, seemingly hinting that a music video for the song is on the way. Until that drops, fans can also hear more new music from Aguilera when Liberation comes out on June 15.