Xtina's Oreo Dunks Are Something To Behold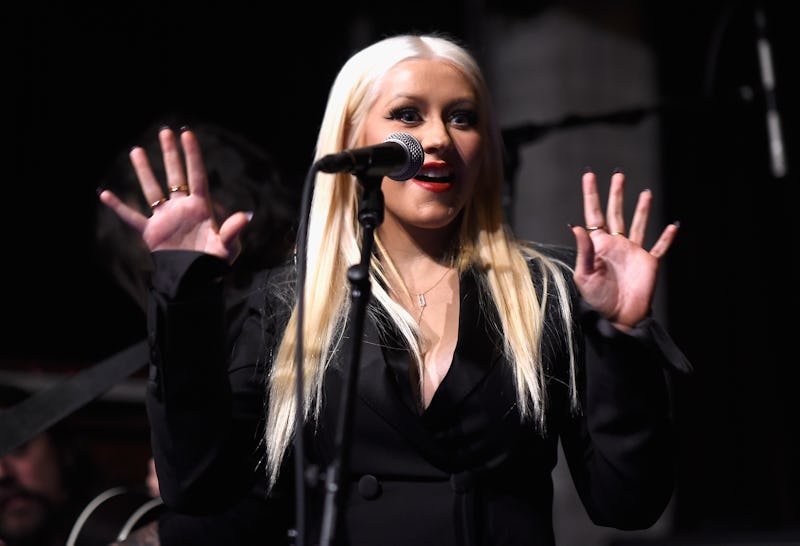 Frazer Harrison/Getty Images Entertainment/Getty Images
The most dunkable sandwich cookie on the planet has launched a dunk competition, and Christina Aguilera is one of three celebrities leading the charge. This week, Oreo kicked off the Oreo Dunk Challenge, a new contest that dares Oreo eaters to show off their own cookie and milk moves on social media. And yes, Xtina shared her Oreo dunks. And yes, Xtina's Oreo dunks really raise the Oreo dunk bar.
"I'm so excited to join the OREO Dunk Challenge," Aguilera said via press release. "Dunking OREO cookies was a part of my childhood and I am excited to join [Shaquille O'Neal] and Neymar [da Silva Santo, Jr.] in this campaign! I can't wait to hear of all the different dunks fans will come up with."
In one of the new Oreo Dunk Challenge TV spots, the "Ain't No Other Man" singer rides a bicycle across a circus tightrope, cookie in hand. Once she reaches the middle of the rope, both Xtina and the bike flip upside down. The wire sags, but Xtina does not fall. Instead, Xtina reaches for the glass of milk waiting below the wire and submerges the sandwich cookie. Still upside down, Xtina takes a bit of the freshly dunked Oreo. The crowd goes wild for the high-wire, high-dive dunk.
Name a duo more iconic than Xtina and the bike. I'll wait...
Now, as impressive and gravity-defying as that high wire dunk is, I don't know if it would, say, inspire all four The Voice chairs to spin around simultaneously during the blind auditions. Xtina's perfect pitch dunk, on the other hand, would totally nab a four-chair turn. No question. You can watch the perfect pitch dunk below.
This Oreo dunk literally hits all of the right notes.
Want to give the Oreo Dunk Challenge a shot? Think you have what it takes to dunk with the best of 'em? You can check out the rules here.