Christine Baranski Should Totally Play Betsy DeVos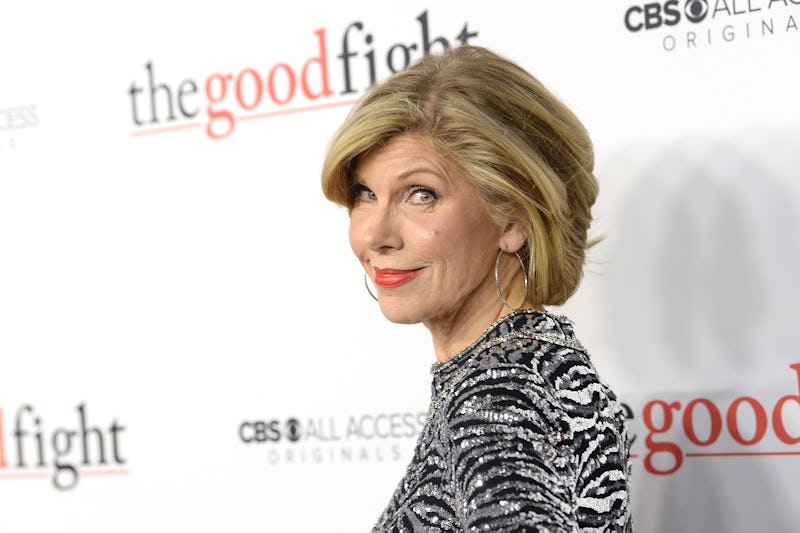 Ben Gabbe/Getty Images Entertainment/Getty Images
Celebrities have a long history of playing politicians onscreen. Tina Fey riffed on Sarah Palin on Saturday Night Live, Meryl Streep stunningly captured Margaret Thatcher for 2011's The Iron Lady, and Natalie Portman is fresh off an Oscar-nominated turn as Jackie Kennedy in Jackie. Now, another star is throwing her hat in the ring: Christine Baranski wants to play Betsy DeVos. When asked by Vanity Fair if she'd want to stop by SNL to do a guest impression of anyone in Donald Trump's inner circle, she immediately suggested the new U.S. Secretary of Education.
"It would seem somewhat logical — we have that strong jawline, don't we?" Baranski said. "I can play people with whom I drastically disagree. The [SNL] sketches have been unbelievable all through the election, and the post-election. So yeah, we could have a revolving door of people playing the cabinet members and all."
And Baranski is right: She and DeVos do bear an uncanny resemblance. They both have blue eyes, a penchant for blonde lobs, and yes, the aforementioned jawline. Plus, we already know Baranski looks damn good in a blazer. It's actually so spot-on that SNL should reach out to her agent immediately. (But if that falls through, Felicity Huffman should be next in line).
Jamie McCarthy/Getty Images Entertainment/Getty Images
Chip Somodevilla/Getty Images News/Getty Images
True, Baranski hasn't played many political figures in the past. In fact, she told Vanity Fair her Good Wife character, Diane Lockhart, would "be outraged" by today's political climate. But she does have experience tackling villainous roles, and while DeVos isn't Cinderella's wicked step-mother in Into the Woods, she isn't exactly well-liked.
Kate McKinnon may have already made a brief appearance as DeVos in Melissa McCarthy's Sean Spicer sketch, but something tells me she wouldn't mind passing the torch. Your move, SNL.