Christine Blasey Ford's Lawyer Just Took Trump To Task For Mocking His Client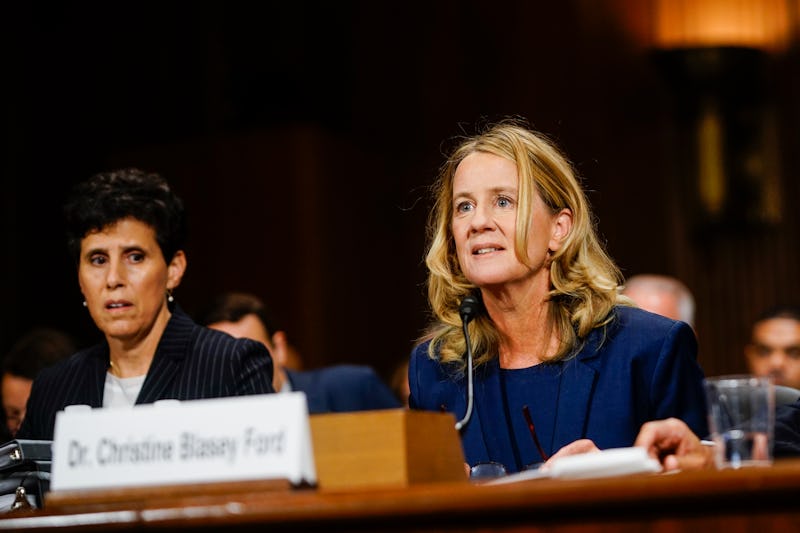 Pool/Getty Images News/Getty Images
In the wake of the president's Mississippi rally, Christine Blasey Ford's lawyer called Trump a "profile in cowardice" after he openly and repeatedly mocked Ford's testimony. From labeling her allegations as "false" to calling her credibility into question, Trump attacked Ford's allegation against Kavanaugh from several angles. "Think of your son," Trump said to the crowd. "Think of your husband."
At one point, Trump acted out a dialogue, playing both Ford and the senators she testified before last Thursday. He said, "How did you get home? I don't remember. How did you get there? I don't remember. Where is the place? I don't remember. How many years ago was it? I don't know." To applause, Trump continued imitating Ford, saying, "I don't know. I don't know."
Trump then brought Brett Kavanaugh into the picture, saying, "A man's life is in tatters. A man's life is shattered. His wife is shattered. His daughters, who are beautiful, incredible, young kids – they destroy people. They want to destroy people. These are really evil people."
Michael Bromwich, one of Ford's lawyers, had plenty to say about Trump's derision of Ford. Following the rally, Bromwich tweeted, "A vicious, vile and soulless attack on Dr. Christine Blasey Ford. Is it any wonder that she was terrified to come forward, and that other sexual assault survivors are as well? She is a remarkable profile in courage. He is a profile in cowardice."
Ford has not spoken publicly since she testified before the SJC last Thursday. Kavanaugh, too, has kept a low profile, ever since he appeared before the SJC as well, asserting that he has never sexually assaulted anyone, ever.
Though it's not necessarily surprising for Trump to attack individuals at his rallies, his mockery of Ford was a strong contradiction to the way that he has spoken about her in the last few weeks. Less than a week ago, Trump called Ford a "credible witness" and then said to reporters on Friday afternoon, "I thought her testimony was very compelling, and she looks like a very fine woman to me."
And a day before the rally, Trump told reporters that he had been nothing but respectful to Ford throughout the process. "With all of that you cannot say that we've done anything but be respectful, and I do," he said. "I respect her position very much. I respect her position very much."
Clearly, his opinion has changed. But Ford's lawyers aren't just concerned about Trump's "cowardice": they've also called out the depth and scope of the FBI investigation that's currently underway to examine the allegations against Kavanaugh.
According to CNN, Ford's lawyers sent a letter to FBI Director Christopher Wray on Tuesday, requesting a phone call and confirming that they have received no contact or response from the FBI so far. In the letter, Ford's lawyers wrote, "It is inconceivable that the FBI could conduct a thorough investigation of Dr. Ford's allegations without interviewing her, Judge Kavanaugh, or the witnesses we have identified in our letters to you."
They also pointed out that there are several rumors circulating that the FBI doesn't intend to question Ford at any point. They wrote, "We hope that this reporting is inaccurate."
Bustle has reached out to the FBI for comment.