A NYFW Show Featured Bandelettes Because Fighting Chub Rub Is A Real Struggle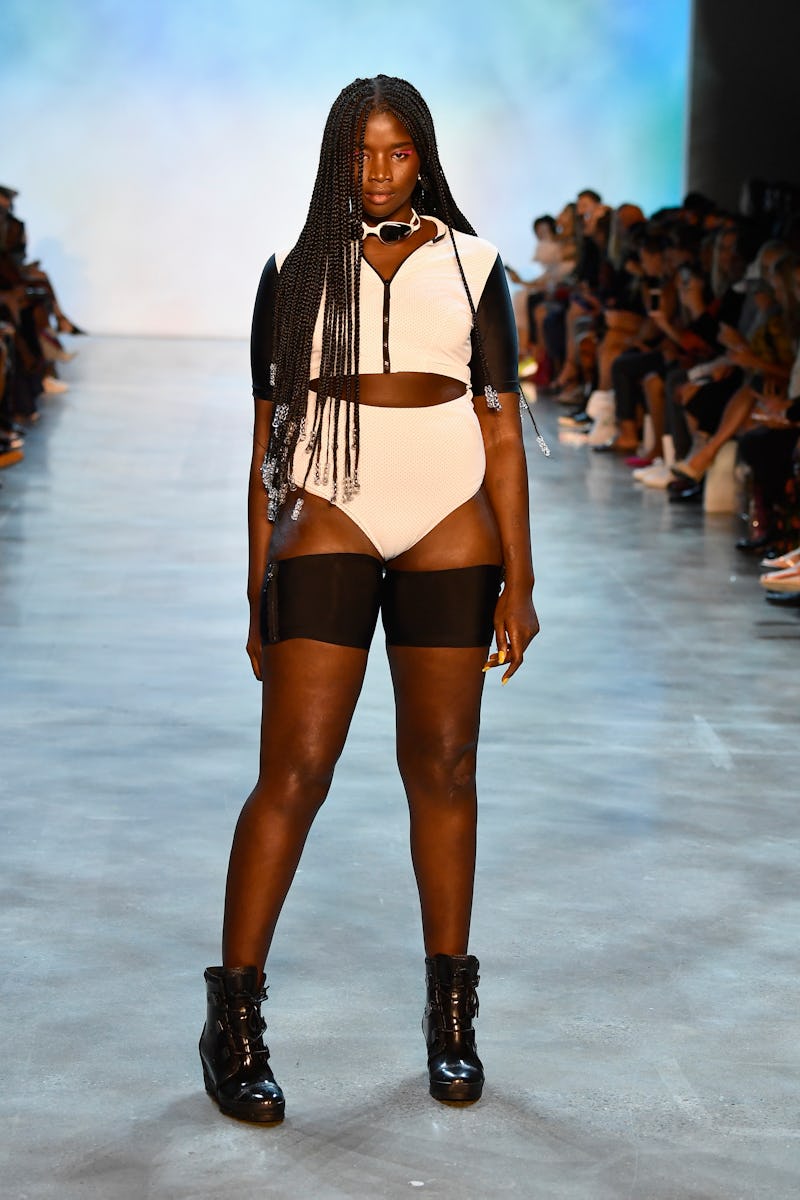 Frazer Harrison/Getty Images Entertainment/Getty Images
Chub rub is real. No matter your size, height, or gender, if your thighs touch (and most people's certainly seem to), you've probably experienced some form of chafing. Thankfully, though, Chromat's NYFW show featured Bandelettes (Chromat offers sizes XS-3XL; Bandelettes offers thigh measurements from 21 to 32 inches around) showing everyone that fighting chub rub is serious business, and there's no shame in your non-chafing game.
What exactly are Bandelettes? Glab you asked. Have you ever worn bicycle shorts under a dress or skirt to prevent your thighs from rubbing together? Well, Bandelettes takes that idea and makes it cute. Yes, really. In fact, you could call some of them lingerie. The brilliant designs are basically thigh bands that fit securely on your leg to create a barrier between your skin. Plus, they're a lot cuter than bicycle shorts, and because they're just bands, you don't have to worry about continuing to pull something up to your waist.
Bandelettes come in all sorts of colors and fabrics from classic black unisex bands to lacy (and kind of racy tbh) versions with everything from bow details to corset sides. They're more than just practical to combat chub rub, but they're cute, too. Now, Chromat has used the product in their 2018 New York Fashion Week show, and honestly, it was so good.
If you've never heard of Chromat before, you're missing out on some seriously great swimwear and athletic wear. The brand's colorful, structured aesthetic is both classic and fashion forward, and if their clothes weren't enough to get you excited, the brand's outlook will.
Chromat is known for being an incredible inclusive, diverse brand, and that extends all the way into their runway shows. They're a brand that is all about embracing all genders, sizes, and abilities, and that's clear in their everything from their campaigns to New York Fashion Week. If Chromat weren't already doing the Lord's work, they're now letting people know that it's totally okay to fight your chub rub.
For their show, they sent three different models down the runway wearing Bandelettes' unisex style thigh band in black. Honestly, all the models looked great, and no one had to return to the back stage area and immediately ice the insides of their thighs. It's a win for everyone. You can shop Bandelettes for your own look.
Bandelettes are available online via the brand's official website, and they're actually so affordable. You can get your own pair for just $16.99, and they've got tons of choices. Whether your want the unisex style that Chromat used or you're looking for something a bit sexier like a lace band, Bandelettes has got it, and nothing is over $16.99. If you do want something that rises to the waist, the brand also features a high-waisted panty short. See? They've got everything.
If thigh chafing is low key the bane of your existence, never fear. Chromat is working to normalize the fight against chafing, and thanks to Bandelettes, you can officially combat your chub rub in style.