Cinnabon French Toast Sausage Bites Exist & The Pics Are Glorious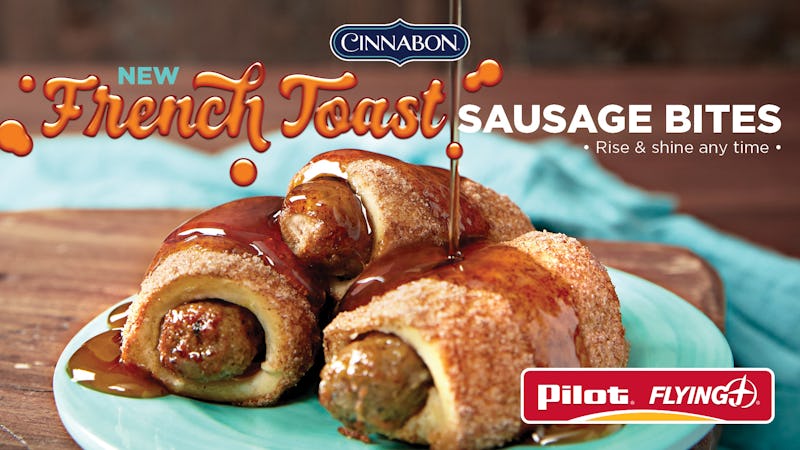 Pilot Flying J/Cinnnabon
Cinnabon has been on a roll lately — and not just a cinnamon roll, either. Amid the tons of new items and services the company has dropped recently, we've just gotten news of another: Cinnabon French Toast Sausage Bites, which take everything you love about Cinnabon and stuff it full of meat. But you won't be able to get these treats at any ol' Cinnabon; they're exclusive to Pilot Flying J service stops, which means you'll only be able to find them when you're literally on the road. Somehow, though, that seems kind of… perfect? I can honestly think of no better road trip snack than sausages wrapped in Cinnabon dough. Everything about that is delightful.
Cinnabon French Toast Sausage Bites are pretty much exactly what they sound like: They're sausages wrapped in a Cinnabon-inspired dough, rolled in Cinnabon French toast seasoning, and served with a side of maple syrup. At the same time, though, I would also argue that they are much, much more than the sum of their parts, because, I mean… there's a lot going on there. Sausage. Cinnabon. French toast. Maple syrup. Yes to all of that. They're available for a limited time at Pilot and Flying J Travel Centers at $3.09 for three pieces and $4.29 for five — so if you're hitting the road for the holidays this year, congratulations! You'll be perfectly positioned to give these suckers a shot.
At the center of their meaty little hearts, these treats are basically a variation on pigs in a blanket. Exactly what a pig in a blanket is depends on where you are, but they generally consist of a sausage or hot dog wrapped in… something. In the UK, that "something" is typically bacon, while in the United States, it's usually pastry — often biscuit or croissant dough. Although the modern incarnation of pigs in a blanket first hit the scene as a Betty Crocker recipe in 1957, the concept itself dates back to the 1600s; stuffing meat inside dough was a common on-the-go meal for field laborers, according to Foodimentary.
Cinnabon French Toast Sausage Bites also bear a resemblance to a relative of pigs in a blanket: Pancakes on a stick. These portable foodstuffs are kind of like the breakfast version of corn dogs, consisting of sausages (on sticks, of course) that have been dipped in pancake batter and then fried. Less commonly, they might consist of sausages wrapped in actual pancakes and pinned closed with a stick. They're not quite as old as pigs in a blanket — corn dogs date back to the 1930s-40s — but they're equally delicious. Because, I mean… carbs. Meat. Unless you're vegetarian, what's not to love?
(Somewhat curiously, my spouse actually refers to pancake-wrapped sausages as pigs in a blanket, rather than pancakes on a stick; he's the only person I've ever known to do this, though. Maybe it's a regional thing — he grew up on the West Coast, while I'm a lifelong East Coaster. Any other Californians care to comment?)
Anyway, for all their similarities between pigs in a blanket and pancakes on a stick, Cinnabon French Toast Sausage Bites also remain their own thing: The pastry is described as "inspired by" the dough used in Cinnabon rolls — which to me implies something similar to, but not exactly, cinnamon roll dough. Not biscuit dough; not croissant dough; not pancake batter; not straight-up bread; cinnamon roll dough. The addition of the "French toast seasoning" is also interesting to me; it looks kind of like cinnamon sugar, but maybe there's a little extra magic going on there that makes it specifically French toast-like.
It's worth noting that this isn't the first time Pilot Flying J have offered Cinnabon-wrapped sausages; something similar hit the menu in 2015. The French toast seasoning was absent then, though — they were just regular Cinnabon Sausage Bites — so clearly these new treats kick the whole idea up a notch.
Grab 'em at Pilot Flying J locations across the United States for a limited time starting now. Happy snacking!