Claire Foy Is Finally Getting Justice For That Pay Gap On 'The Crown'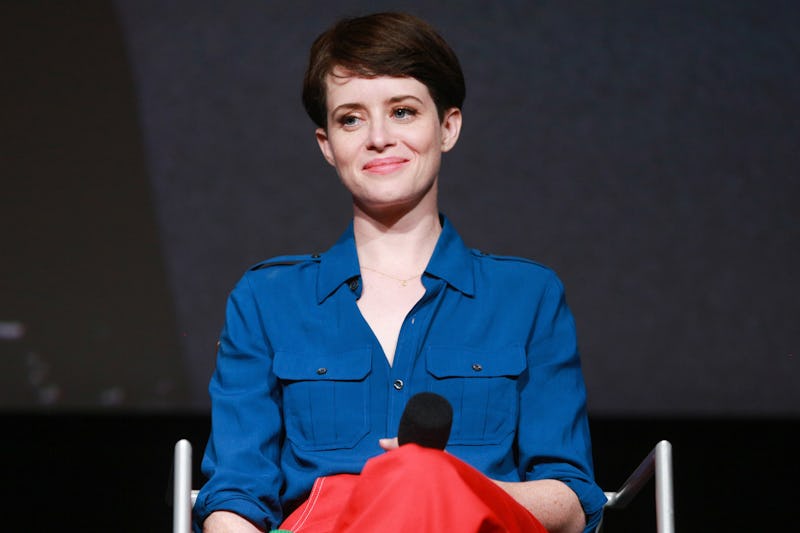 Rich Fury/Getty Images Entertainment/Getty Images
More than a month after The Crown found itself at the center of a pay gap controversy, the Daily Mail is reporting that Claire Foy will get $275,000 in back pay from the show's producers. While this information has yet to be confirmed by either Foy or The Crown's production company Left Bank Pictures, a retroactive bonus for the actor would certainly be well-deserved. (Bustle reached out to Foy's rep, Left Bank Pictures, and Netflix for comment, but did not receive an immediate response.)
According to Variety, Foy addressed The Crown's pay gap issue during a panel appearance for the show last Friday, and expressed appreciation that it had sparked a dialogue about gender-based inequality in Hollywood. She said,
"I have had the most extraordinary revelation about myself and womankind. It's sort of amazing that the conversations people are having now, people think we've always been able to have, but we haven't. You asking me that question is probably the first time in my career that anybody has ever asked me about being a woman in this industry, or just being a woman in general, and to me I find that amazing."
Back in March, Left Bank's creative director Suzanne Mackie made a surprising admittance while speaking at a television conference in Jerusalem. Mackie revealed that — due to his previous success on Doctor Who —  Matt Smith (who plays Prince Philip) was paid a higher salary than the show's star, Foy (Queen Elizabeth).
As Prince Philip, Smith's role in the first two seasons of The Crown was undoubtedly important, but Foy's is equally prominent, as she plays the titular Queen Elizabeth. And even though Mackie reportedly chalked the salary discrepancy up to Smith's established celebrity, many saw it as another glaring example of Hollywood's gender-based pay inequality problem.
After the pay gap news was revealed, Left Bank's Mackie claimed, "[Going] forward, no one gets paid more than the Queen," according to Variety. At that point, however, Foy's role on the show as Queen Elizabeth had ended — Olivia Colman will be portraying the queen in her latter years for the third and fourth seasons, Variety confirmed.
Later, in a March statement to Bustle, Left Bank made a more formal apology to Foy and Smith, "who have found themselves at the centre of a media storm this week through no fault of their own." The statement continued (and can be read in full here):
"As the producers of 'The Crown,' we at Left Bank Pictures are responsible for budgets and salaries; the actors are not aware of who gets what, and cannot be held personally responsible for the pay of their colleagues. We understand and appreciate the conversation which is rightly being played out across society and we are absolutely united with the fight for fair pay, free of gender bias, and for a rebalancing of the industry's treatment of women, both those in front of the camera and for those behind the scenes."
Despite the formal apology, that still didn't really cut it for some, including one of Foy's co-stars. In a March interview with Digital Spy, Jared Harris (who played King George VI in the first season of The Crown), was not shy about voicing his frustration with the production company's response. "I think it's an embarrassment for Left Bank Pictures," Harris said. The actor added,
"I understand they made an apology but, you know, an apology and a check would be more welcome. She worked longer hours. Her performance is a huge reason why this thing is going to have a season three, four, five, and six. Send her a pay check and, in retrospect, bring her pay up to parity."
There's no evidence that what Harris told Digital Spy had any influence on Left Bank's supposed decision to give Foy back pay —  but he did suggest a way for them to right the wrong and it's exactly what they're reportedly doing. Regardless, Harris seems like a solid person to have on your side. And hopefully, Foy will soon be getting the bonus she deserves.