Who Should Play Queen Elizabeth Next On 'The Crown'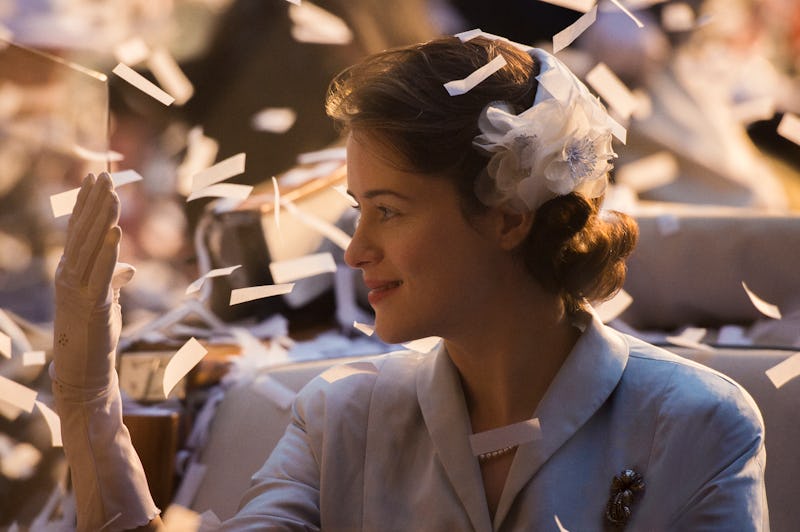 Alex Bailey/Netflix
Say it ain't so. Although we knew this day might come, it still hurts to hear official confirmation that Claire Foy will exit The Crown after Season 2, as the actress herself revealed at the BFI & Radio Times Festival this past weekend. It has always been the stated plan for The Crown to span the entirety of Queen Elizabeth's 65-year career, from her coronation in 1952 to the present day. This long-form story would be told over the course of six seasons, with each season roughly corresponding to one decade… and with three actors portraying the monarch at different stages of her life.
With three actors to share the role over six seasons, it's perhaps no surprise that Season 2 will be Foy's last. But given the critical raves and prestigious trophies she's won for her performance in the Netflix series' first season (including a Golden Globe and a SAG award), it's still hard not to wish she could stay on the show forever. For her part, Foy seems more than happy to bid the role adieu, as she told reporters at the BFI & Radio Times Festival when addressing her Season 2 swan song:
"That's not a shock — we always knew when we signed up to it, and also not to be funny but it's also a real plus. As an actor there's nothing worse than the sound of 'seven years'. I'm sure to some people it sounds amazing but to us it's like, seven years of playing the same person? And this is a tough job, you know?"
Still, "I'm going to miss it terribly," Foy admitted.
So who's worthy of filling her shoes? Surely, fans can predicat that the mature Queen Elizabeth could (and should) be played by Dame Helen Mirren, who has already portrayed the historical figure twice for The Crown creator Peter Morgan: once for his 2006 film The Queen (which earned Mirren an Oscar), and again for his 2013 play The Audience (which earned her a Tony). But who will play Elizabeth in her middle years?
Since it's impossible to say how old exactly the royal ruler will be when we pick up with her in Season 3 — will they try to make it a smooth transition, or resume after a noticeable time jump? — here's a list of nine British actresses fans could perhaps see as The Crown's next Queen Elizabeth.
1. Olivia Colman
On the younger end of the range, the 43-year-old Colman is closer to Foy's age than Mirren's — which might make her too young to play the middle Elizabeth. But I hope the casting directors at least consider her, since her Golden Globe-winning performance in AMC's The Night Manager — as well as her acclaimed turn in ITV's Broadchurch and her roles in films like Hot Fuzz, The Iron Lady, and The Lobster — prove that she has the acting chops necessary to play the iconic character. (And if she is too young for Elizabeth, then maybe a role as her younger sister Margaret?)
2. Emily Mortimer
Mortimer may be most recognizable to TV audiences as producer Mackenzie McHale on HBO's The Newsroom, but you may also know the 45-year-old actor from her starring role in the HBO comedy Doll & Em, or from her roles in feature films like Match Point, Lars And The Real Girl, Shutter Island, and Hugo. She'll also star alongside Emily Blunt and Lin-Manuel Miranda in the upcoming Disney sequel Mary Poppins Returns as the grown-up version of the titular nanny's former charge, Jane Banks.
3. Rachel Weisz
The 47-year-old actor won an Oscar for her supporting performance in 2005's The Constant Gardener. Although her resumé is more than impressive — boasting credits like The Mummy, About A Boy, The Fountain, The Lovely Bones, The Bourne Legacy, Oz The Great And Powerful, The Lobster, and The Light Between Oceans — a role on The Crown would mark her first-ever regular role on television.
4. Gillian Anderson
The 48-year-old actor actually has dual citizenship, having been born in Chicago and growing up in London. Audiences on this side of the pond may be most familiar with her American accent, thanks to her iconic role as Agent Scully on The X-Files, but she's still able to slip back into her British accent, which she showed off in her starring performance on the Netflix series The Fall. She's had a banner few years, what with that serial killer drama, the revival of The X-Files, and her scene-stealing turn on Hannibal. Landing the role of Queen Elizabeth would be the cherry on top of her enviable cake.
5. Helen McCrory
McCrory may be most famous for what role she didn't play, having to quit the Harry Potter films due to her pregnancy after being cast as Bellatrix Lestrange. Thankfully, the 48-year-old actor was later cast as Bellatrix's sister Narcissa Malfoy. You may also know her from her bewitching performance as the villainous Evelyn Poole on Showtime's Penny Dreadful. She even has a preexisting relationship with The Crown creator Peter Morgan, having worked with him on The Queen, in which she played Prime Minister Tony Blair's wife Cherie.
6. Helena Bonham Carter
Speaking of Bellatrix… 50-year-old actor who did end up playing Voldemort's staunchest ally (and baby mama?) would also be a plumb catch for the role of Queen Elizabeth. Bonham Carter has two Oscar nominations — for her leading role in The Wings Of The Dove and her supporting performance in The King's Speech — and is also famous for her many other films like Fight Club, Planet Of The Apes, Big Fish, A Series Of Unfortunate Events, Sweeney Todd, Alice In Wonderland, Les Misérables, Cinderella, and much, much more.
7. Emily Watson
Like Bonham Carter, Watson is a two-time Oscar nominee for her roles in Lars von Trier's Breaking The Waves (1996) and the Jacqueline du Pré biopic Hilary And Jackie (1998). You may also have seen the 50-year-old actor in Gosford Park, Punch-Drunk Love, Red Dragon, War Horse, Anna Karenina, The Theory Of Everything, and more.
8. Kristin Scott Thomas
Scott Thomas may be most recognizable for her starring role in Anthony Minghella's The English Patient (1996), which earned her an Oscar nomination for Best Actress, but that's far from her only claim to fame. Her lengthy credits also include roles in Four Weddings And A Funeral, Mission: Impossible, The Horse Whisperer, Gosford Park, The Golden Compass, and the acclaimed French-Canadian film I've Loved You So Long.
9. Miranda Richardson
On the opposite end of our range from Olivia Colman, Richardson is closer to Mirren's age then Foy's; which, conversely, might make her too old to play the middle Elizabeth. But she has more than enough qualifications for the part, including two Oscar nominations (for 1992's Damage and 1994's Tom & Viv), a part in the Harry Potter franchise alongside McCrory and Bonham Carter (as unscrupulous journalist Rita Skeeter), and countless other indelible performances in films like The Crying Game, Sleepy Hollow, The Hours, The Phantom Of The Opera, The Young Victoria, and more.
Whichever actress lands the coveted role, one of these nine or someone totally unexpected, it's great to see The Crown providing an opportunity for an older actress to headline her own high-profile Netflix series… a phenomenon that is still sadly all-too-uncommon in this day and age.
Season 2 of The Crown — and Foy's last — will premiere sometime in November.