Why Feminist Fans May Love 'Outlander' Even More When Jamie & Claire Are Apart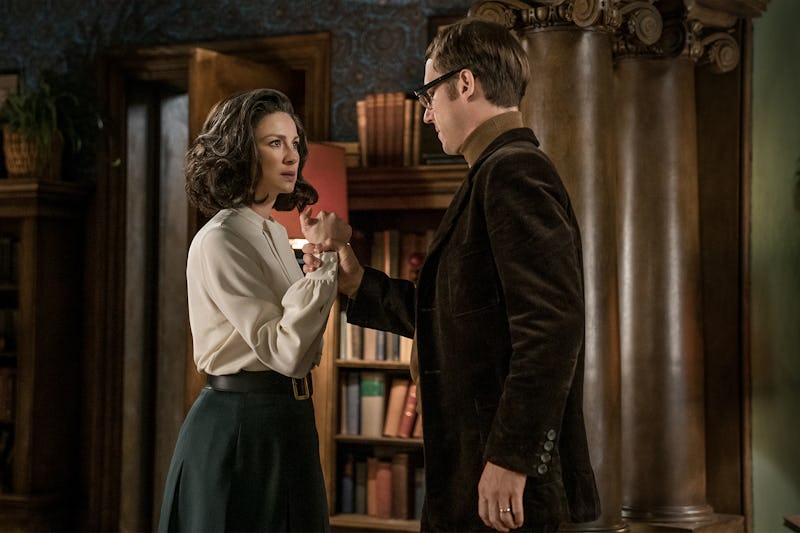 Starz
Time travel sounds like a fun hobby, unless you're not straight, white, and male. And while Outlander has been lauded for its sex positivity, its most feminist quality is the way which its heroine responds to gender-based discrimination in every era she encounters. In Outlander Season 3, Claire lands back in the 20th century and has to re-adapt, yet again. The show won't ignore the sexism that working women — especially working mothers — had to deal with in the '50s and '60s, but when speaking with Bustle at a season premiere screening, Outlander's Caitriona Balfe says that opposition is precisely what spurs Claire on to break down barriers.
"I think that when she encounters that kind of misogyny or whatever, somebody telling her that she can't do something," Balfe says, "it only encourages her more."
As the show's passionate fanbase knows, Claire is a trained nurse at the start of Outlander, reconnecting with her husband after World War II separated them. Her skills as a "healer" keep her alive after the stones throw her back to the 18th century. And though she's nursing a broken heart in Season 3, she'll be damned if she gives up her career. Claire seeks to further her education after returning to her "present," stretching beyond the socially acceptable role of "nurse" and refusing to return "back to the kitchen," as many women who served during the war were expected to.
"I've always thought of Claire as being very timeless," the actor explains. "So she was very forward-thinking in the '40s... when she went back to the 18th century, you saw her kind of buck the trend and be very independent. I don't think it's going to be any different [in this era.]"
And because she's Claire Randall-Fraser-Randall, she sets her sights high. Claire doesn't want to attend just any medical school. She wants to attend Harvard. According to the university's site, they first began accepting women to Harvard Medical School "on an equal basis with men" in 1945. So this co-ed atmosphere is still relatively new to the institution when Claire enrolls. And at that point, she's become somewhat used to the way gender operates in 18th century Scotland. "Modern" life offers her a new set of challenges and minds to change.
"I think there is a period of readjustment when she goes back to the 20th century," Balfe says. "So I don't know if you've seen certain trailers, where somebody puts her down. And I think that's the moment, she's like, 'Really? OK, I'm going to go to medical school. And I'm gonna become a doctor.' So you know, I think Claire takes it all in and uses it as fuel."
Claire also uses her sorrow as fuel; there's definitely an element of distraction involved in her dedication to her career. In Season 2, fans got a taste of the post-Jamie phase of the Randall marriage, with Frank becoming aware that his wife had fully committed herself to another man and Claire believing that the great love of her life was over. In Balfe's opinion, Frank does the "noble" thing in supporting Claire and raising Jamie's biological child, Brianna, as his own. But passion has turned to "compromise," in this case, according to the actor.
"Once you feel a love like she had with Jamie, you can't really just settle for something that doesn't match that anymore. But she does try, and I think that's the tragedy of it," Balfe says. "They're both trying to make this marriage work, but they can't give each other what they need. She focuses on her daughter, and she focuses on her career. But I think she loses a part of herself because of that. She's not the same vibrant person that we've seen before maybe, when she's with Jamie."
So there's complexity to Claire's eventual success in the medical field, and the fact that she's bound and determined to prove naysayers wrong. That doesn't mean that the hard work and study she undertakes to become a surgeon are meaningless. (According to the American Medical Association's 2014 statistics, only 19 percent of surgeons are women, and that's an entire lifetime's worth of progress from what Claire is dealing with.) But this part of her story and how her personal and professional lives intertwine are just more examples of what a multi-faceted and therefore feminist character Claire is... in any century.