This Clothing Brand Is Teaming Up With A Major Movement To Fight Slavery Through Fashion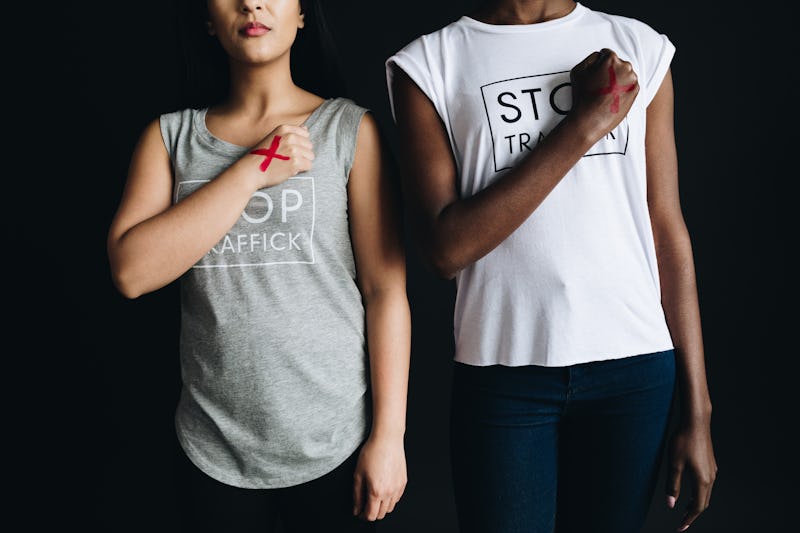 Courtesy MY SISTER
What you wear is more than just a piece of clothing. The money behind it, phrase on it, and production of it makes the outfit what it is. Clothing brand My Sister is teaming up with End It Movement to fight slavery through fashion. The brand has taken one of its most popular phrases and put it on its most popular shirt style in honor of Shine A Light On Slavery Day, but this top is about more than just the look.
My Sister's Stop Traffick tee was designed with the End It Movement in mind. The brand took the message off its classic tee and dressed it up a little to help spread the word about modern day trafficking, which, just like sweatshops, are a form of modern day slavery.
"The issue of sex trafficking is such an immense one that should be discussed and focused on more often," founder of MY SISTER Mandy Multerer tells Bustle.
"We believe we can make a more significant impact by centering our business around it and by doing that, we consider the cause with everything we do, as opposed to an end giving model. For example, we confront exploitation in our supply chains. Sweatshop-labor is human trafficking. Therefore, our garments are sweatshop-free and this year, we're focusing on taking the production of our products a step further, so we can truly empower women throughout our business model."
The shirt has rolled sleeves and is super soft. You know, so you can protest and still be comfortable. You can shop the style on the brand's website right now. Each tee is $34 and comes in sizes small to XXL. It was designed specifically in honor of End It Movement's Shine a Light on Slavery Day on Feb. 22.
My Sister is a brand with a mission. From the way it produces shirts to where the money goes, you can feel good about this purchase. The brand has donated over $127,000 and provided 3,431 hours of employment for survivors of trafficking since 2015. Not to mention that the company partners with awesome movements to try and inspire change through fashion
"Internally, we are building in programs to offer even more employment opportunities to survivors. Externally, we are utilizing our platforms to educate people and motivate action," Multerer says.
Now that's a brand that you can feel good buying from. There are tons of other charitable styles as well.
This day is about much more than fashion though. End It Movement is encouraging people to draw and "X" on their hand on Feb. 22 to, well, shine a light on slavery. Because it's not about just looking great. It's about spreading the word and opening people's eyes to the injustice in the world.
"Trafficking is a result of many other social injustices," Multerer tells Bustle. "We intend to stay centered around fighting trafficking, however, we must do that through also confronting sexual assault, gender inequality, LGBTQ discrimination, racism, and homelessness. So, yes, we fight for many causes now and will continue to do so in the future."
Besides just purchasing the tee, there are tons of ways to get involved in fighting slavery right in your community. You can volunteer at homeless shelters, learn the signs of slavery, speak out against injustices, and, most importantly, educate yourself on the issue.
At the end of your day, fashion isn't about more than what you wear. It's where your money is going and how many people benefit from your purchase. Because when you can make the world a better place and look great at the same time, it's pretty much a no brainer that you should support the brand.