These Clues That Taylor Swift's "Look What You Made Me Do" Is About Kanye West Will Make You Wonder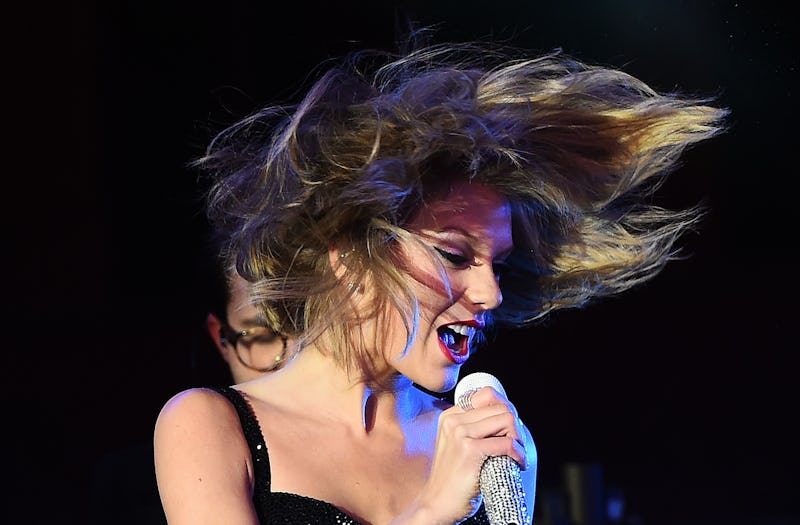 JEWEL SAMAD/AFP/Getty Images
The highly-anticipated release of Taylor Swift's new single "Look At What You Made Me Do" has happened, and the internet is ablaze with the good, the bad, and the ugly. But when you listen to the song, you might have picked up on some clues that Swift's "Look At What You Made Me Do" is about Kanye West. And though it's unlikely the singer would ever confirm fans' suspicion, luckily you can consider the evidence and form your own opinion.
Before actually dropping the first track from her upcoming album Reputation, Swift posted a series of snake videos on social media. Fans interpreted this as a hint that the singer was attempting to reclaim past comparisons to the sly reptile. After past drama with Kimye and ex Calvin Harris, snake emojis slithered into Swift's Instagram comments, as people's way of calling her deceptive.
After all of that, you know that the internet would try to piece together not only how the snake fit into this new song, but also who she's trying to call out. Given past public feuds or whirlwind breakups, there were seemingly ample subjects that the song could potentially call out. But the general consensus is that Swift's song is about Kanye. If you're not yet convinced, keep reading on for all the clues — ranging from oh-so subtle to in-your-face obvious.
The Snake Videos
Upon her return to social media after a one year absence, the pop star's first Instagram post was a cryptic and ominous snake video. She's possibly reclaiming the snake narrative after Team Kimye flooded her Instagram comments with snake emojis. The snake pit met its end a week later when Swift seemingly blocked snake emojis on her Instagram.
"Your Tilted Stage"
Tilted like Kanye's floating stage, you mean?
"The Old Taylor Can't Come To The Phone Right Now"
The secretly recorded phone call that started it all ...
Played A Fool
Lyric: "The role you made me play / Of the fool, no, I don't like you" — After Kim K released the receipts, audiences interpreted this as proof of TSwift's (backfired) attempt to play the victim. After what seemed like a humiliating public dragging, Swift stayed out of the media limelight and went off the Instagram and Twitter grid.
Uh Oh, Taylor's Got A Burn Book
Lyric: "I've got a list of names and yours is in red, underlined" — I think we can guess who might be at the top of Swift's list. This is one grudge that's not going away anytime soon.
Swift herself has not officially commented on whether "Look What You Made Me Do" is a diss track. But with the Kimye-Swift feud seemingly reignited, Twitterverse is in hot anticipation of the rapper's response.
Your move, Kanye.
Additional contribution by Priscilla Totiyapungprasert