Definitive Proof That Taylor Swift Is Releasing A New Single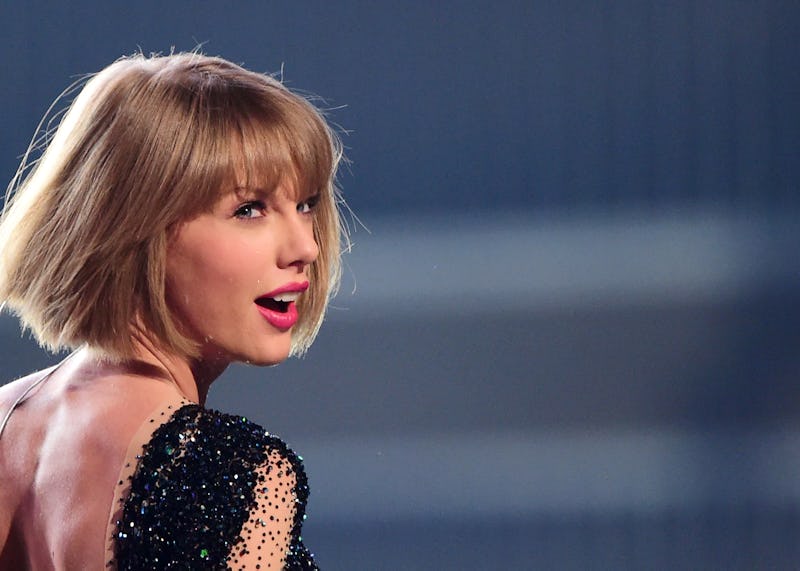 ROBYN BECK/AFP/Getty Images
The 1989 singer has been one busy lady, but Swift's second mysterious snake video on social media in particular should lead fans to believe Taylor Swift has a new single on the way. At this point, it's likely the only explanation. (Bustle reached out to Swift about the initial snake video, but did not receive an immediate response.) After wiping her social media accounts clean last Friday and posting the first cryptic snake video on Monday, it's clear Swift has been scheming to get a message out there for some time now. On top of that, the timing is right on cue.
Since the release of 1989 in 2014, Swift has been somewhat under the radar. That is, however, until mid-August when she won her countersuit against former radio host David Mueller, who the singer claimed groped her in 2013. (Mueller denies the incident happened.) But, prior to that, there were already rumors that she's been working on new music. In May 2017, a source told E! that Swift was solely focused on music, working "around the clock" for months writing and and recording new material in Nashville. But rumors have been swirling since December 2016, when Swift reportedly deleted a comment hinting at new music on her TV channel. Another telling sign is that the singer erased her social media posts on August 18, the three-year anniversary of the "Shake It Off" premiere and 1989 album announcement.
Which brings us to this week, when she's posted not one but now two mysterious snake videos. One could be a one-off of some kind, but two? That's the definitive sign that she's leading up to something. If the singer releases a new teaser every day, it's perfect timing for a single to drop on Friday. And, coincidentally, the 2017 Video Music Awards is on Sunday. The stars seem to be aligning for a clear-cut comeback.
The snake in itself is obviously promo for something specific, whether it be a theme or actual song name, but what it actually means is up for debate. Swift has fans right where she wants them: on social media, hopelessly guessing. One could argue the singer will perform with an actual snake like Britney Spears infamously did with her iconic, jungle-y take on "Slave 4 U" at the 2011 VMAs. It would be amazing, but perhaps there's another route she'll take.
The ominous nature of the videos teases that this could be yet another chapter of the Taylor Swift-Katy Perry saga. Perry released diss track "Swish Swish" this summer, with lyrics like "don't you come for me" leading fans to believe that the song was a counterargument to Swift's 2014 single "Bad Blood." "Swish Swish" caused quite the uproar, getting Swifties like Ruby Rose to step in and fans to argue the music video promo is awfully similar to "Bad Blood" and its A-list cast. But when performing the song in June, Perry changed the lyrics to end the feud, singing, "God bless you on your journey, baby girl."
Given that Perry is the host of the 2017 VMAs, Swift's possible surprise appearance could be super awkward (in the vein of Nicki and Miley's confrontation in 2015). Unless maybe, just maybe, the two will shock fans by collaborating, thus breaking the internet. Maybe Swift took Perry's latest cue as a white flag and the upcoming reveal will have nothing to do with their past at all. Or maybe the snakes are coming out for good. Regardless, this second snake video proves that this is gearing up for something — and that something simply has to be new music.