Here's Why Snakes Are Associated With Taylor Swift Now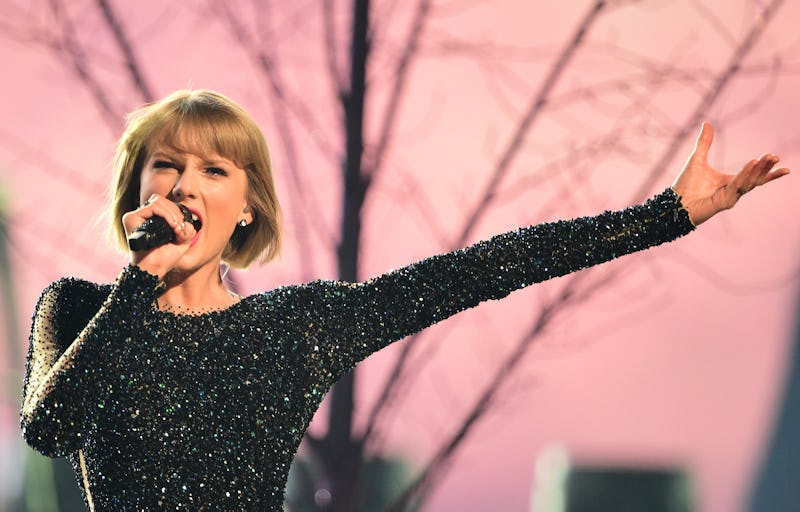 ROBYN BECK/AFP/Getty Images
Theories have been circulating nonstop since Taylor Swift's social media accounts were purged and then restocked with mysterious snake videos. We now know that both a new Swift single and album are on their way, and additional rumors are being spread about a possible music video release or even a surprise performance at the VMAs this Sunday. So what is the deal with Taylor Swift and this snake thing, anyway? The answer goes back as far as the summer of 2016.
Snake emojis started popping up in comments on Taylor Swift's Instagram account following her breakup with Calvin Harris and the conflict that arose after the release of his song "This Is What You Came For." Reports at the time claimed that Swift was upset by an interview that took place while Harris was promoting the single in which he said he couldn't see himself working with her on new music. Her team later revealed that she co-wrote the song under the pseudonym Nils Sjöberg, and Harris took to Twitter to reveal how he felt thrown under the bus by the situation. Could the snake theme of Swift's videos be related to this conflict with Calvin Harris? Well, the story doesn't end there.
The relationship between Swift and snakes became even more pronounced during her now well-known feud with Kanye West over his song "Famous," which featured the lyrics "I feel like me and Taylor might still have sex/ I made that b*tch famous." Swift initially claimed that she had not heard the lyrics to the song before it premiered and that she had "cautioned him about releasing a song with such a strong misogynistic message."
Soon after, Kim Kardashian posted a video on Snapchat in support of her husband, to prove that West had shared at least a portion of the song with Swift before its release, effectively calling the singer out on her misleading statement. That same day, Kardashian posted a not-so-vague tweet about snakes on Twitter that many believed to be aimed at Swift.
Unsurprisingly, the snake emoji began popping up even more on Swift's social media following Kardashian's post, some along with the hashtag #TaylorSwiftIsASnake. A few months later, the snakes suddenly stopped appearing on Swift's Instagram thanks to a filter that was created by the app that could automatically remove particular words or emoji from a user's comment feed.
After wiping her social media presence clean and flooding it with snake imagery, it seems Swift is more than eager to reclaim the snake for herself. With the new album title Reputation, it's likely she will be using these new tracks to dish out even harsher vibes than ever before.