Here's Why Blake Might Not Be The Next 'Bachelor' After All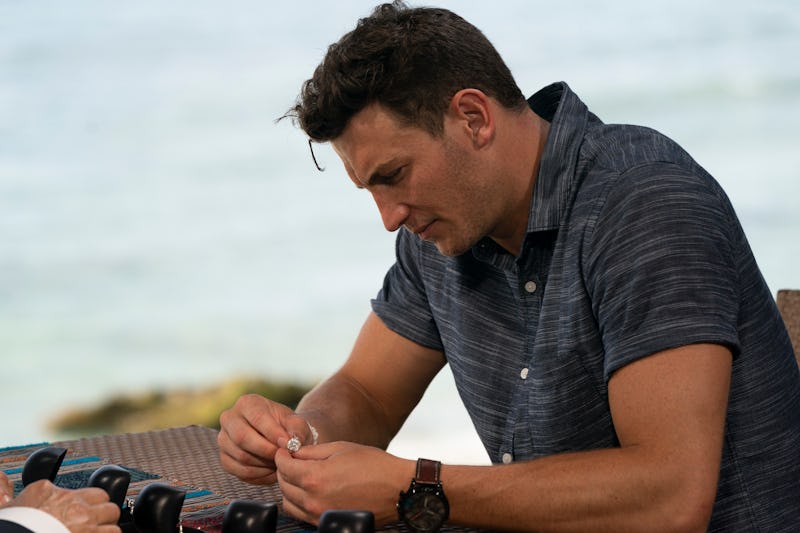 Paul Hebert/ABC
Monday night's Bachelorette finale ended on a rather heartbreaking note when Becca accepted a proposal from Garret Yrigoyen over one from poor, sweet, innocent Blake Horstmann, who never saw the rejection coming. But while his tears and genuine sorrow may make him prime Bachelor material, there are actually a few clues out there that Blake won't be the next Bachelor like so many fans seem to think he will. So if he's your top pick, don't go filling out those application forms just yet.
Of course, that's not to say that Blake isn't a top contender for the job, nor is it an insinuation that he wouldn't make a great Bachelor if he were to be chosen. Ever since he first stepped out of that limo, Blake has been one of the standout guys on this season of The Bachelorette — he was truly there for the so-called "right reasons." His love for Becca was never doubted, nor did it waver. And even when he had his heart shattered into a million different pieces, he still remained respectful and wanted what was best for Becca. Plus, the fact that he told Chris Harrison on the "After the Final Rose" special that he isn't scared to fall in love again certainly makes it feel like he was getting the classic Bachelor edit.
But nothing is a guarantee until ABC makes an official announcement. So while Blake definitely stands a good chance at being the next star rose distributor, here are a few things to keep in mind that may suggest being Bachelor just isn't in the cards for Blake.
There Are A Lot Of Great Contenders To Choose From
Sure, there are always a few standout guys to come out of each Bachelorette season, but Becca's round of suitors proved to be especially charming. From Grocery Store Joe, who was eliminated on night one, to Wills and Jason and Blake, it's impossible not to be smitten with each and every one of them. So as great of a guy as Blake is, the fact that he's surrounded by a pool of other great guys doesn't exactly help his chances, especially if they're all willing to find love again.
All Of The Blake & Peter Comparisons
It was hard to watch Blake's rejection without automatically thinking about the heartache Peter Kraus experienced last year when he was sent packing before the official rose ceremony. (He wanted to keep seeing Rachel, but wasn't ready to get engaged just yet.) Both Blake and Peter are two sweet (and very attractive) men, so naturally Twitter was quick to notice the parallels between the two of them. Some felt that Blake's departure was like losing Peter all over again. And since Peter didn't go on to become the next Bachelor, the same fate could befall Blake.
Being The Runner-Up Doesn't Automatically Make You The Next Bachelor
Granted, coming in second definitely gives you an upper-hand since you're given the most screen time and your sorrow is the freshest in the minds of fans. But having an advantage is not the same as a guarantee. There have been numerous runner-ups who haven't gone on to become the next Bachelor (just look at Season 9's Drew Kenney and Season 12's Robby Hayes for examples). So Blake may be in the running, but it'll take more than just his second place standing to cross that finish line.
The Jason Love Is Super Strong
Fans may love Blake, but the amount of love that they have for Jason might be even stronger. To help give you a better idea of that fact, a recent TVGuide.com poll showed that 50 percent of the voters want to see Jason as the next Bachelor. No other contender came close to matching his popularity. (The highest any of the other frontrunners got was 15 percent — including Blake.) Of course, this poll isn't an exact representation of Bachelor Nation since not everyone who watches the show voted, but, at the very least, it suggests that Jason stands just as strong of a chance as Blake to be the next Bachelor, if not more so.
Either way, let's hope Blake ends up getting the happiness he deserves, regardless of whether or not we get to see it play out on our television screens.