CNN Just Sued Trump For Banning Jim Acosta From The White House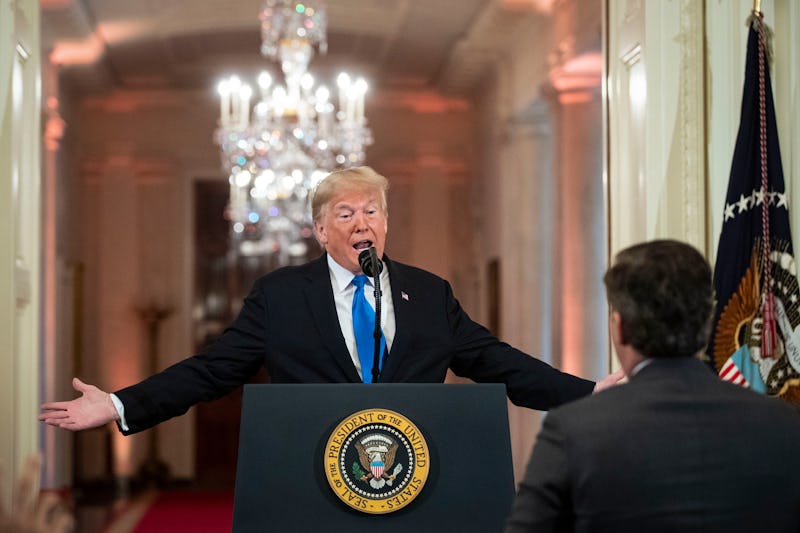 Pool/Getty Images News/Getty Images
In response to CNN chief White House correspondent Jim Acosta losing his press pass last week, CNN sued President Donald Trump, Sarah Huckabee Sanders, and four other aides on Tuesday morning. The suit alleges that the First and Fifth Amendment rights of both Acosta and the network were violated when the reporter was banned from the White House, and asks the court for a preliminary injunction so Acosta can go back to work as soon as possible.
"The White House punished Mr. Acosta and CNN for the contents of their reporting," Ted Boutrous, attorney for CNN and Acosta, said in a statement. "The arbitrary revocation of Mr. Acosta's press credentials is causing irreparable injury each and every day because it is stopping him from reporting on news from the White House." Bustle has reached out to the White House for comment.
If you missed the drama last week, Acosta was banned from the White House indefinitely after getting into an argument with POTUS at a Wednesday press conference. Sanders claimed in a series of tweets that Acosta placed "his hands on a young woman just trying to do her job as a White House intern." She called her version of events "absolutely unacceptable" and shared a video of the incident that critics say was deceptively edited, as The Washington Post reports.
CNN communications executive Matt Dornic tweeted that Sanders sharing the video was "absolutely shameful," adding that "history will not be kind to you" for promoting "actual fake news."
Acosta has been completely barred from attending White House events or asking questions of White House officials in person, according to CNN. The White House press corps and the White House Correspondents' Association (WHCA) similarly stood by Acosta and called for his press pass to be reinstated.
"Revoking access to the White House complex amounted to disproportionate reaction to the events of last Wednesday. We continue to urge the administration to reverse course and fully reinstate CNN's correspondent," WHCA President Olivier Knox said in a statement on Tuesday. "The President of the United States should not be in the business of arbitrarily picking the men and women who cover him."
Along with Trump and Sanders, CNN and Acosta's suit names Chief of Staff John Kelly, Deputy Chief of Staff for Communications Bill Shine, Secret Service Director Randolph Alles, and the Secret Service officer who took away Acosta's hard pass (who was only identified as John Doe). It alleges that the revocation of Acosta's credentials "is only the beginning" considering the president said on Friday that there "could be others also," as Politico reports.
"While CNN and Acosta have been favorite targets of abuse by the administration, the President's criticism has been directed at other news organizations too," the suit reads. "The President has actively criticized and discredited any journalist or media outlet he believes might report something he considers negative."
Acosta hadn't publicly commented on the suit Tuesday morning, but was in Paris this week to cover Trump's trip to France. He tweeted on Thursday, "Don't believe the lies coming from the WH. Believe in our freedoms. Thank you all for your support. We won't back down."