Coldplay's Linkin Park Cover Has A Completely Different Vibe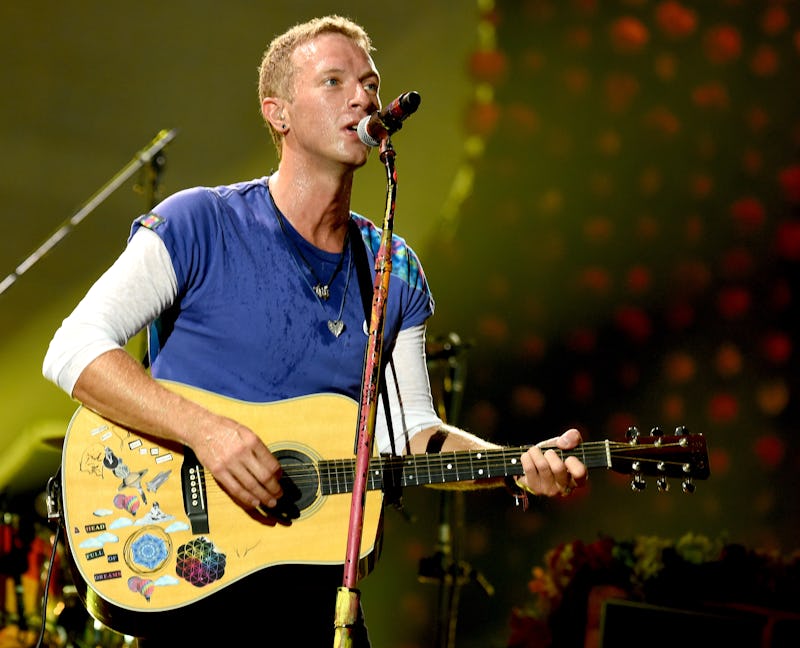 Kevin Winter/Getty Images Entertainment/Getty Images
On Tuesday, at the first date of their North American tour, Coldplay covered Linkin Park in tribute to Chester Bennington. Chris Martin performed a solo version of the band's single "Crawling", stripping the song down to an emotional piano ballad. Bennington, whose vocals and songwriting defined Linkin Park, died by suicide on July 20. The singer was upfront about his struggles with depression and substance abuse throughout his career, and both were prominent themes in his music. Martin's cover was meant to honor the musical legacy that Bennington left behind, and recognize the struggles he faced. While the performance didn't attempt to recreate powerful vocals of the original track, it is one of the band's most iconic singles, and the cover did the song emotional justice.
According to Billboard, Martin dedicated the performance to all who had lost someone. "This is to everybody who misses someone," he said, and started the song over after a mistake in order to do perform it respectfully.
Coldplay's debut album, Parachutes, was released within months of Linkin Park's first release, Hybrid Theory, and the two groups reached critical and mass acclaim during the same time period. Prior to Bennington's passing, Linkin Park had tour dates planned across the country, and was slated to perform in the New York area with Blink-182 just nights before Martin's performance. The similar trajectory of Martin and Bennington's career only makes the loss more profound, and the performance on Tuesday that much more impactful.
Bennington died at home in Palos Verdes, California, and was 41 years old. The members of his band have spoken out about the loss in recent weeks. In the wake of Bennington's passing, Linkin Park set up a website with support information and messages of appreciation to the late singer from fans.
Martin did not attempt to tap into the singer's visceral performance style, and instead recreated "Crawling" with his own sound. Stripped down to the piano, fans can appreciate the lyrics. The moment served as a quiet reminder of what music fans and friends of the star alike had lost. Mike Shinoda, who is a member of Linking Park and whose rapping is featured prominently on "Crawling", posted a video of Coldplay's performance. While the cover omitted his verses, he was moved by the tribute.
In a post on Instagram, Shinoda wrote: "Thank you @coldplay 🙏 It sounded beautiful."
This isn't the first time that Coldplay has honored a lost star onstage. In the past, they've put on performances to remember the likes of George Michael, Prince, Gene Wilder, and Adam Yauch from the Beastie Boys. Their piano renditions are a moving reminder of these late musician's work, and help fans to keep these singers and songwriters in their memory.