Cole Sprouse Wants Jughead To Be Asexual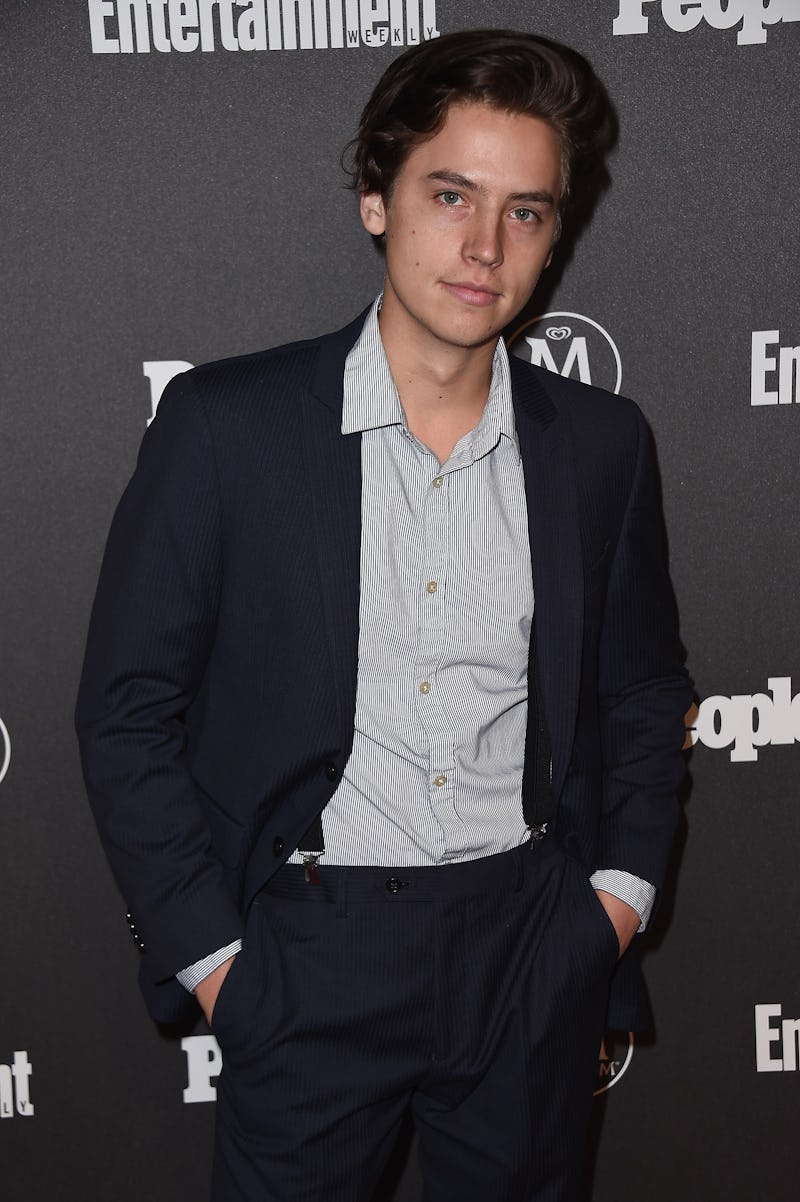 Nicholas Hunt/Getty Images Entertainment/Getty Images
Anticipation for the CW's new series Riverdale, based on the teen comic series Archie, is high. But fans of the comics should prepare themselves some things in the teen drama won't be quite the same as they are in the literary universe. According to Cole Sprouse, who plays Archie's best friend Jughead Jones in the new series, he's fought for Jughead to be asexual in Riverdale like he is in the comics, but hasn't been successful — at least not yet.
After many hints of disinterest in romance throughout his history in the comics, Jughead officially described himself as asexual in February 2016, in Jughead No. 4. Yet despite this major revelation, there's no mention of Jughead's asexuality in Riverdale, according to Hollywood Life's interview with Sprouse at the Television Critics Association winter press tour. It's a fact the actor hopes to change in later seasons.
Said Sprouse, "Jughead will have romances with women … and burgers, but at the end of the day, I still had to do my job." He added that in the future, he hopes to keep "fighting for this pretty heavily" because "asexuality is not one of those things in my research that is so understood at face value and I think maybe the development of that narrative could also be something very interesting and very unique and still resonate with people, and not step on anyone's toes."
Fighting for his character's sexuality is a brave course of action for Sprouse take, and a highly important one, considering how few representations of asexuality there are in pop culture. By making Jughead asexual, Riverdale could help to normalize so many different types of sexualities and provide some much-needed representation. Besides, the series is all about the trials of adolescence, so focusing on teens figuring out who they truly are would make so much sense. In many ways, Riverdale already doesn't look like your average Archie derivative. Why not keep up the theme for the benefit of Jughead and viewers everywhere?
According to MTV, Sprouse also shared at the TCAs that he is hopeful that Riverdale Season 1 will lead to his character coming into his own when it comes to his sexuality. "If Season 1 is one of those events or something like that needs to happen in Season 1 for Jughead to eventually realize that kind of narrative, I'd love to play with that too."
Let's hope that we do get to see some of Jughead's self-exploration in Riverdale when the show premieres.
Editor's Note: The original version of this story incorrectly attributed a quote by Sprouse.