Archie Gets A Grim Reboot In 'Riverdale' Trailer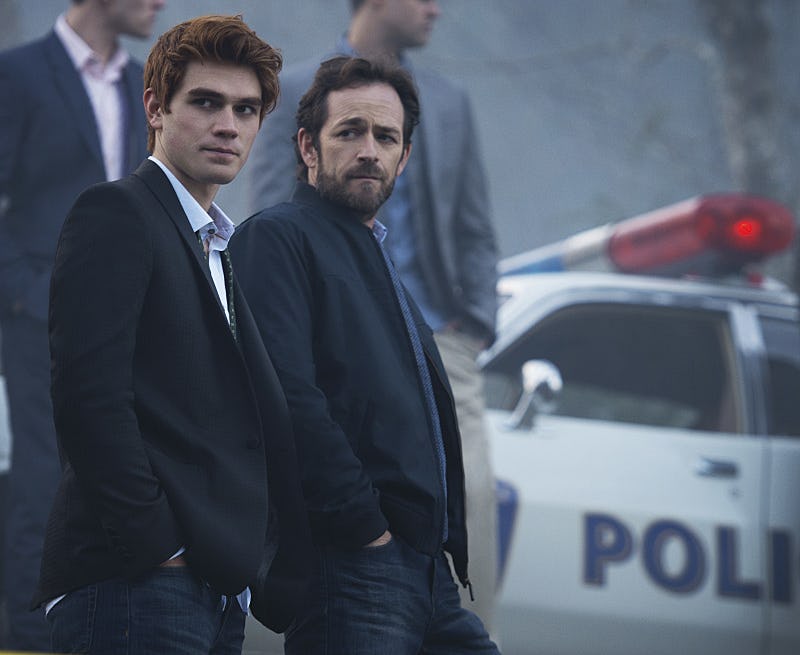 You could watch all 30 dark and ominous seconds of the new trailer for The CW's Riverdale and, unless you were already familiar with the source material behind the new show, you would still probably have no idea that it's based on the ubiquitous 1940s comic book series Archie. The upcoming drama from the network's Arrow-verse executive producer Greg Berlanti bears only a passing resemblance to the Archie of yore — that is, if your idea of Archie is still the bright and cheerful cartoon, the one you never really followed and yet still managed to know all about red-headed Archie and his BFF Jughead and their romantic foils Betty and Veronica. Well, this version of Archie is decidedly not that version of Archie, if the Twin Peaks -esque Riverdale trailer is any indication.
In the recently-released teaser, viewers are treated to a number of decidedly un-cheerful images, starting with a soaking wet young woman crouched on the banks of a misty river. Then there's shirtless boys, bloody palms, women in cloaks, suitcases full of money, fistfights, and body bags. The promo doesn't give much of a sense of the show's plot, but it does a good job of conveying Riverdale's gloomy-yet-sexy tone.
The official Riverdale synopsis reveals even more shocking goings-on in the titular fictional town — including a murder, a student-teacher affair, and a steamy love triangle:
Archie Andrews is still the all-American teen, but the summer's events made him realize that he wants to pursue a career in music … despite the sudden end of his forbidden relationship with Riverdale's young music teacher, Ms. Grundy. … When a new student, Veronica Lodge, arrives in town from New York with her mother Hermione, there's an undeniable spark between her and Archie, even though Veronica doesn't want to risk her new friendship with Betty by making a play for Archie. And then there's Cheryl Blossom, Riverdale's Queen Bee is happy to stir up trouble amongst Archie, Betty, and Veronica, but Cheryl is keeping secrets of her own. What, exactly, is she hiding about the mysterious death of her twin brother, Jason? Riverdale may look like a quiet, sleepy town, but there are dangers in the shadows…
Just what, pray tell, does any of this have to do with Archie? Why didn't they just create their own original high school-based TV show to follow in the steps of Gossip Girl?
Actually, this darker take on the happy-go-lucky cartoon is more in line with the source material than you might think. In recent years, Archie has gotten a lot weirder than perhaps you remember. Some issues have seen Archie & Co. crossing paths with Barack Obama and Sarah Palin, spending a summer at Camp Crystal Lake, or joining the cast of Star Trek — among other unexpected crossovers.
Riverdale was developed for The CW by Glee writer Roberto Aguirre-Sacasa, who has also been the chief creative officer of the Archie comics since 2014, according to the New York Times — and under his guidance, the series has taken an even sharper turn towards the surreal. Aguirre-Sacasa started his tenure with the franchise by publishing Afterlife With Archie, a storyline that found Riverdale coping with a sudden (and gory) zombie outbreak. He also focused on another horror-themed spin-off, Chilling Adventures Of Sabrina. Compared to those series, Riverdale seems positively tame by comparison.
You can see this new and improved — and gritty — version of Archie in action when Riverdale premieres on The CW on Jan. 26, 2017.
Images: Diyah Pera, Katie Yu/The CW