The 'Colony' Stars Have A LOT To Say About Its Cancellation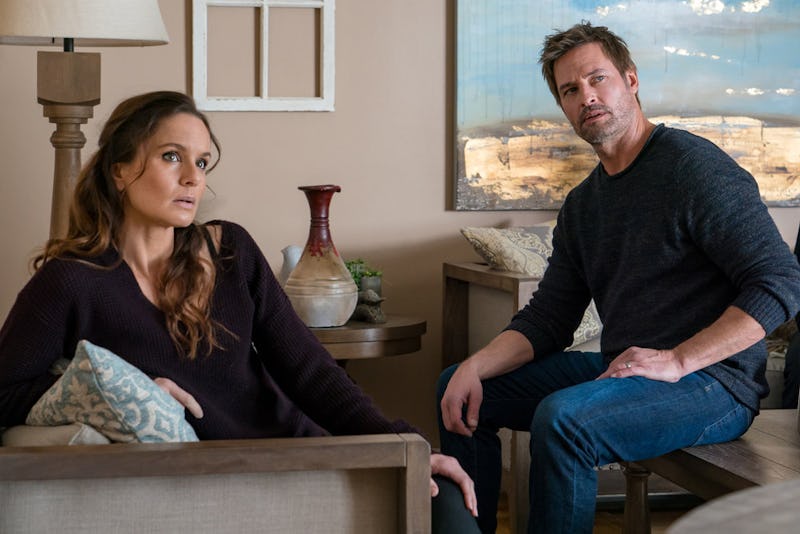 Daniel Power/USA Network
USA Network's dystopian science-fiction drama Colony is wrapping up its third season on July 25. The futuristic series has followed the journey of the Bowman family and their survival after a band of humanoid aliens sought refuge (and took over) Earth following an attack by an even worse alien species. Colony originally premiered at San Diego Comic Con in 2015 and became a staple at the mega convention. But, Colony did not have a presence at this year's event. The show's absence is likely because Colony will not return for Season 4, according to Deadline.
Colony seemed to have all the hallmarks for longevity and success. The show was co-created by screenwriter and producer Carlton Cuse, who is known for his work on the infamous Lost series, and starred Lost alum Josh Holloway as well as Prison Break and The Walking Dead star Sarah Wayne Callies. So, why did USA pull the plug on Colony?
The Deadline report suggested that ratings may have played a role in USA's decision to end the series, which started airing on Wednesdays after previously occupying a Thursday night slot. Colony's viewership numbers slipped to an average of 1.3 million viewers, which is a drop from its start at around 2.2 million viewers.
USA Network has not confirmed any additional reasons why the show was dropped, but fans are not happy about this news. The sudden cancellation caused fans to rally on Twitter and react by using #RenewColony in hopes of saving their favorite series. Many of the tweets were hopeful that Netflix would add the show to its growing list of sci-fi stories like Stranger Things, Dark, and Lost in Space. And, one fan suggested that the show get a Sense8 sendoff with a final movie to give fans some finality to the storyline.
There Were A Lot Of Feelings Going Around
So far, the show's Twitter page and most of the supporting cast have not addressed the cancellation. But, Sarah Wayne Callies, who portrays Katie Bowman, hopped on Instagram to send a message to #TeamColony and thank them for their support. She praised the fandom for being smart, supportive, loving, and loyal and said the show has had a great run.
Her co-star Josh Holloway posted a series of tweets to thank his TV family and the fans for the honor of being on Colony. The tweets were accompanied by photos of Holloway alongside several main cast members as well as a photo of the Bowman family smiling in the woods.
He Got A Little Sappy On Twitter
At last year's Comic-Con, Callies joked about never surviving the third season of a show during an interview with TV Line. Her character Lori Grimes was killed off of The Walking Dead early in its third season after giving birth at a prison. Speaking of prisons, Callies also "died" as Dr. Tancredi in Season 3 of Prison Break, but later made another appearance after she was discovered to be alive. Unfortunately, Katie Bowman's fate won't matter because the Colony saga is coming to an abrupt end.
There is always a sliver of hope that another network or streaming service will pick up Colony, especially after NBC picked up Brooklyn Nine-Nine after Fox dropped the show. But if the July 25 episode is truly the end, then hopefully viewers won't be left with loose threads that will never be tied up.